'This the season for all the vivid, bold and adventurous manicures. There's nothing that improves a girl's mood more than a freshly manicured set of nails. Celebrities and influencers around the world of social media, wearing various types of nails and doing various types of nail art, can have you wondering what you should be doing for yourself too. As a girl we are always comparing, so why not with our manicures too?
Appearances and self grooming counts a lot in the modern day and times. Gone are the days when women went on their day without paying heed to the condition of their nails. We are now living in the times whereby, nails are just as much as a priority as are the clothing, shoewear and other stuff. It has been long said that if you want to appear more feminine and ladylike, make sure your nails are not crooked.
In the era of nail evolution, we have coffin nails which have been hyped up by celebrities like Kylie Jenner and Selena Gomez. Though many others too, are a fan of them, these mysterious and bold coffin nails form an angular shape towards its ends, making them edgy. Where most girls get confused is when they have to decide whether to get them in the matte appeal or the glossy one, to ensure that their manicure is ultra-chic.
Disclosure: This post contains affiliate links. When you purchase a service or a product through the links, I sometime earn a commission, at no additional cost to you. Read my full disclosure here.
Let's discuss both of them below.
Coffin Nails Matte
Matte has been the major trend when it comes to coffin nails. In 2023, people prefer the professional, bold and dull look, and then they tend to mix it up with some embellishments and other hues. Similar is the case for matte coffin nails. Women include various kinds of gemstones, glitter, nail art and a lot more to give a boost of energy to their coffin nails – they're not as dead as they sound after all!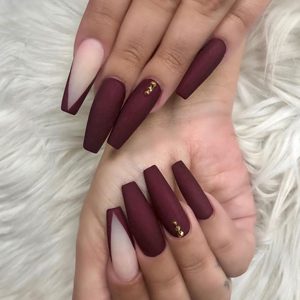 Coffin Nails Glossy
Though these are becoming rare, yet remain the classic style most nail enthusiasts opt for. The glossy, shiny and exciting look that's bound to grab attention from all spectrums. Not only do they make your hands appear more feminine and soft, but they also look more neat and tidy. Most celebrities still prefer glossy over matte any day. It's all about preferences though – glossy or matte, both can look gorgeous if they're styled well.


A Comparison Chart
 

Coffin Nails Matte

 Coffin Nails Glossy

Appearance

Boring, dull and rough

Can seem intimidating too, owing to the edgy look

Masculine, professional and bold appeal

Exciting, glowing and shiny

Feminine, soft and friendly appeal

The edgy look can give the appearance of 'high maintenance '

Durability/Lasting

Do not last long – prone to visibility of imperfections

Last longer and you can hide the imperfections well

Appropriateness

Winter and fall season

Spring/Summer season

Occasions

Formal/Halloween Parties

Informal/casual

Nature

Absorb light

Reflect light

Popularity

More trendy and preferred by celebrities

Less trendy and outdated
Final Thoughts
You may feel that both of them do not make a drastic difference on your nail appeal, but surely other people do notice. The matte nails are growing more as a trend in 2023 as people are done with the same old designs. The glossy Stiletto nails were always available to them, hence now they're opting for something new in the form of matte nails.
Women don't really stay content with just matte color, they also opt for various kinds of nail art to go along with the appeal of the nail. For example, adding other hues or patterns on the nail, or adding gemstones to make them somewhat exciting.
Just because matte nails are in trend, doesn't mean you forget about the classic and timeless glossy Stiletto nails. They're the attention grabbers. So if you have an important event to go to, glossy touch can be your best choice. Glossy stiletto nails make your nails appear more groomed and organized.
Such an appearance leaves a good impression on the audience that you are generally an approachable person. However, the vibe that matte nails give off is reserved, standoffishness. Therefore you may end up seeming unapproachable or unfriendly when you put these on for a night out. This is just my opinion though, both can be great if paired well with a cute nail art or some decorative items on top of the nails!