Whether it's the emery board that's bothering you or the metal files – time to say goodbye to those and say hello to the seamlessly classic glass files for your nails. All that sawing, nail peeling and the messy situation will become a long lost memory if you make the glass file a staple of your beauty bag.
Why Should You Use Glass File?
They seal the keratin layers together at the edge of the nails and minimize chipping.
They hardly wear off and stay etched for an unbelievable amount of time.
They are easy to maintain and clean – all you need is some water and soap.
It works well with both, natural and artificial nails.
The abrasive surface or the glass file will leave the edges of your nails smooth and chip-free.
How Long does it Last?
It lasts for up to 6 months, depending on how well you clean it and maintain it. Since most of them are dishwasher friendly, you can simply use the soap and water to wash it off. It may lose its grit overtime like that of an emery board, but after each go, if you wash it off, it'll last you a long time.
Disclosure: This post contains affiliate links. When you purchase a service or a product through the links, I sometime earn a commission, at no additional cost to you. Read my full disclosure here.
How To Use Glass File To Get Shiny Nails?
If you're a nail filing expert, then you'll easily understand how to use a glass file too. The process is the same as that with an emery board or a metal file, just with a bit more freedom. The steps are as follows:
Use the clippers to shape the nail and start off with the edges, working your way towards the middle
Grab your filer and file away to the desired nail shape. You don't have to worry about the directions as you can file back and forth as you please
Apply cuticle oil later
Cuticle oil should naturally bring some shine to your nails

After you're done filing, glass files tend to come with two sides, matte and glossy. The matte side grinds the nail, but the glossy part polishes it to leave a long lasting shine. In a glass file, the glossy side consists of Nano glass particles which consist of no chemicals and help you achieve the perfect shine on just a few rubs. Even rubbing the glossy side on your nails for 30 seconds can do the job better than any top coat!
How To Clean Glass File?
You can easily clean your glass file by either sanitising it after the first use and each time you use it, or using soap and water. Be sure to not dump your glass file into the dishwasher and handle it with precision. You don't want to make the glass file lose out on its grit by scrubbing too hard. Just be gentle and brush off the residue with your fingers. You can also sterilise it if you want to remove bacteria for good. It won't damage the glass file.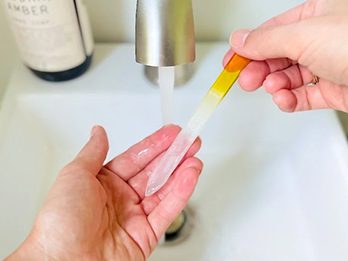 Should You Choose Glass File or Emery Board?
In terms of longevity and grit, glass file takes the lead. Glass file tends to be gentler on your nails while emery boards can be harsh. Those with brittle nails tend to go for glass files as the boards are gentler on the nails and the course material doesn't roughen them up.
At the same time, emery boards can shape your nails quickly owing to the paper material. People who want a professional look, should go for energy board as they give a short lived, but a finer look than that of a glass file. Though the argument is debatable and glass file is becoming increasingly popular these days, you should try them both and see what works best for your nails.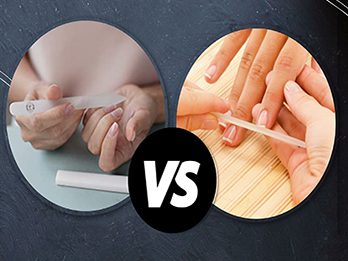 Final Thought
All in all, in a world where manicures have become very important for personal grooming purposes, you shouldn't stay behind either. Nail filing is a crucial part of manicures and nail care. You shouldn't be ignoring this aspect. Whether it's emery board that you're going for, or glass file, be sure to test it on your nails first. All in all, we recommend you to try other methods for nail shining too. For example, using argon oil, cuticle oil massage and related techniques to get a long lasting shine which also gives you healthier nails.