Ladies, imagine this: You are absolutely flaunting your glamorous pair of stilettos at an event and everything seems fine until you realize that your heels becoming awfully painful with every passing minute.
Sounds terrible, right?
Well, at that very moment, the only solution one could think of is to possibly pull the nearest chair or maybe even a magic carpet to take you away from the discomfort. However, that's not among the ideal ways to make heels more comfortable!
Get ready to feel like you're ruling the world whenever you wear those chic pair of high heels because we are here with 8 amazing ways to make heels more comfortable. You no longer have to suffer in silence just to look fabulous.
In this guide, we'll reveal all the hacks to make heels more comfortable. And guess what? We've got some recommendations up our sleeves so that you can walk with ease and confidence in your favorite high heels.
Disclosure: This post contains affiliate links. When you purchase a service or a product through the links, I sometimes earn a commission, at no additional cost to you. Read my full disclosure here.
Let's get started!
8 Best Ways to Make High Heels More Comfortable
1. Choose the Right Size and Shoe
Picking out the best heels is super important if you want to feel comfy and look stylish. To start, make sure they fit well by measuring your feet accurately and trying on different sizes until you find the perfect one.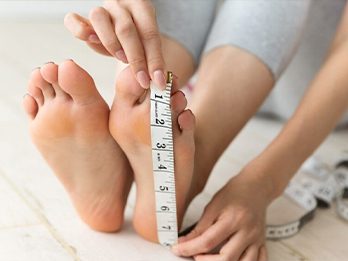 Selection Process:
Get the right size of 3 inch comfortable heels by measuring your feet properly.
Experiment with different sizes and styles until you find a pair that fits perfectly.
Think about what heel height makes you feel at ease and confident.
Go for materials like leather or suede that are flexible and let your feet breathe.
Look for heels not too high that have extra cushioning or support features like padded insoles or shock-absorbing soles.
Take your time while choosing low heels with arch support to prioritize both style and comfort.
2. Choose the Right Size and Shoe
To make your heels feel even more comfy, you might want to try using insoles and inserts. These additions can give you extra cushioning and support, which really makes a big difference in how your feet feel in heels. Gel or foam insoles are great for some added cushiness and shock absorption.
They just add another layer of comfort and help spread the pressure evenly across your feet in the low heels with arch support. And if certain areas of your feet tend to get sore, like the arch or ball, there are special inserts that offer targeted support.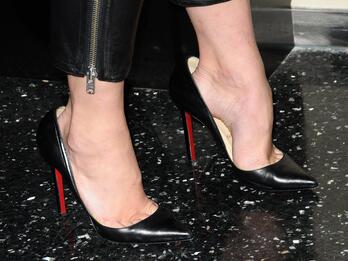 Selection Criteria:
When picking out insoles and inserts, it's good to think about what kind of feet you have or any issues you're dealing with already. If you've got high arches, look for insoles with built-in arch support so they can take away some strain while keeping everything aligned nicely in your 3 inch comfortable heels.
And if the ball of your foot is always hurting, metatarsal pads could be a lifesaver – they take away some pressure and bring relief from pain.
Recommendation: Furtaa Sponge Shoe Pads top the list for this! They are super reasonable and the best part is its ergonomic design which offers support to your metatarsal bones. And don't worry about them moving around because they come with adhesive pads that keep them securely in place.
3. Stretching and Breaking in Heels
One among the several hacks to make heels more comfortable is by breaking in them and stretching them a little.
Start by wearing new low heels with arch support for short periods so that your feet can adjust gradually and the shoes can mold to the shape of your foot. If your heels feel tight, try wearing any thick socks to gently widen or lengthen them.
Just take it easy during the breaking-in phase and pay attention to how your feet feel. If you're in constant pain or discomfort, you might need to rethink if they fit properly or consult with an expert.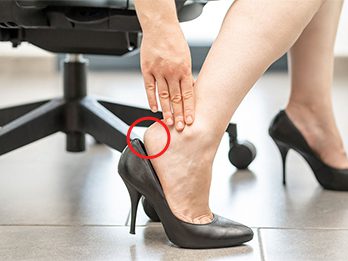 Pro Tip: While searching for hacks to make heels more comfortable, we landed on another amazing trick. And for that you need -is a blow dryer and some thick socks to fix the problem.
Pop on those cozy socks and then use the blow dryer on medium heat to gently soften up the tight areas until they start fitting comfortably. It won't take long, just be sure to keep moving the hairdryer around so as not to harm the leather of 3 inch comfortable heels.
Once you're done stretching them out, give your shoes a little love by applying some leather conditioner for extra care. The Leather Honey's Leather conditioner works perfectly whether it is a 3 inch comfortable heels or any other shoe.
4. Toe Tape for Blister Protection
One way to prevent blisters when wearing high heels is by using tape on your toes. This involves wrapping tape around the parts of your feet that are prone to rubbing and blistering, like your toes.
The tape will act as a barrier and protects against friction, which reduces the likelihood of getting blisters. Just make sure not to wrap it too tightly so that blood flow isn't affected. Adding toe taping to your routine can help you enjoy a more comfortable experience in heels without any painful blisters.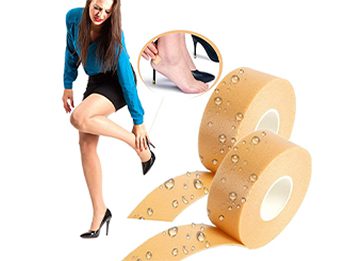 Recommendation: Zen Toes Toe Tapes are funky little toe tubes that are actually pretty amazing. They have a gel lining that feels so good and helps to make your toes nice and soft. Not only this, you can cut them to fit however long or short you need them, depending on your 3 inch comfortable heels.
So whether it's your big toe, your middle toe, or even one of your fingers – these bad boys got you covered. They're perfect for stopping pesky blisters from forming in those hard-to-reach spots between your toes too!
5. Cushioning Pressure Points
Want to make your feet feel good while wearing heels? Make them extra comfy by adding some cushioning. It certainly tops the chart of all the hacks to make heels more comfortable!
Find areas where you usually get uncomfortable, like the front or back of your foot, and choose cushions that fit those spots. You have options like gel or silicone pads which give support and lessen the impact, or foam and fabric ones for added comfort.
But wait! Comfort doesn't mean ugly-looking. You can go for colorful pads with cool patterns that go well with your stylish heels. This way you'll rock both fashion and function at the same time in your low heels with arch support.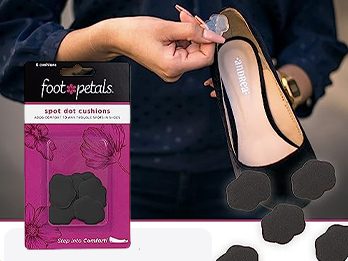 Recommendation: You can benefit from the Brison ball of foot cushions if you suffer from common prolonged foot problems while wearing heels. Medical-grade silicone was used to create the transparent pads.
Plus, these pads are the ideal size to fit all styles and sizes of 3 inch comfortable heels. They aid in reducing the forefoot shock that comes with wearing high heels. They also relieve pain from neuromas, callus formations, bunions, and other conditions.
6. CBD Stiletto Cream
Do you want to learn the Oscar-winning trick out of all the hacks to make heels more comfortable? You read it already- it's CBD Stiletto Cream.
Celebrities absolutely love CBD Stiletto Cream, the ultimate savior for their feet when they're rocking that red carpet glam.
Isn't it amazing how this Lord Jones CBD product can save us from the pain of wearing heels all night? Although it's a little pricey for many, reviews say it's totally worth the money.
The texture of the cream is quite like a silky lotion. All you need is a small amount before breaking in your low heels with arch support. It makes them feel soft and gives off a cozy sensation, making them resilient enough to conquer any shoe out there.
And don't worry; its scent is subtly pleasant without being overpowering or obvious!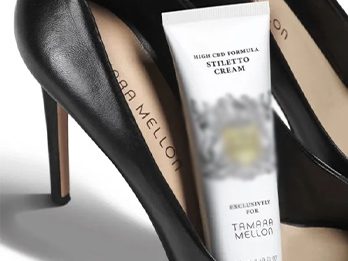 7. Anti-Blister balm
Anti-Blister Balm is seriously a game-changer! It is one of the best ways to make heels more comfortable for your feet!
You know that annoying rubbing and blistering you get from shoes? Well, this balm instantly gets rid of it and gives you immediate relief. No more painful blisters forming, just pure comfort. The best part is that it's invisible so you can wear it with any kind of open shoes without sacrificing style or confidence.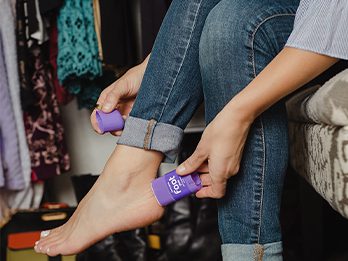 Recommendation: Just apply a little bit of Foot Glide Anti-Blister Balm to your toes and heels before putting on your shoes, and feel the relief of having blister-free feet. Moreover, the vitamins A and C in this balm nourishes and moisturizes the dry skin too!
You can easily find this must-have item on Amazon for your 3 inch comfortable heels.
8. Heel Spray
The Heel Spray or Heel mist is like a secret weapon for your tired feet! It gives you relief and comfort even before you put on those killer heels. Heel Spray is considered one of the most effective ways to make heels more comfortable by forming s a shield that stops any rubbing. So, no more painful steps from the second you slip into your go-to pair.
Say goodbye to heel agony and say hello to carefree painless days with the amazing spray for low heels with arch support!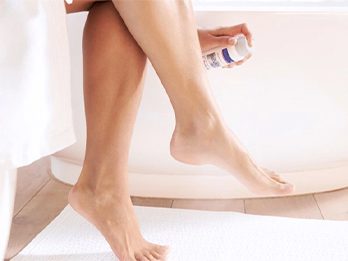 Recommendation: Check out the Still Standing Foot Spray! This miraculous spray is packed with natural anti-inflammatory ingredients to give you relief for hours. Just a few sprays and you'll be feeling good as new for up to six hours. It's super convenient too – it dries quickly and won't leave any greasy residue, so you can use it even if you're barefoot or wearing stockings. Also, it's perfect for open-toe low heels with arch support as it works like an invisible tape.
Final Thoughts
We've all been in that situation before – struggling to make it through a never-ending workday while dealing with the agony of our trendy yet cruel high heels!
It's like an undercover battle between looking fashionable and enduring foot aches. And no doubt, those glamorous shoes can turn into torture footwear for your feet anytime! But now that we have discussed all the possible ways to make heels more comfortable and as cozy as your slippers, you can slay at any event with poise and grace.