A colour that brings energy into everything is Orange. The ever zesty color is the go-to color and is preferred by all the creative and adventurous women. Also, people who want to have color coordinated looks would definitely prefer this color. As lively as the color can be, this color has the capacity to uplift any dull outfit, so when it's available in heels, you're sure to leave a lasting impression on your audience owing to the eye catching appeal of the color. So, even though orange heels may not be trending throughout the year, they may be the top trending ones in the festive season like summer or spring.
What You Need To Know Before Buying Orange Heels:
You may assume that Orange heels would look tacky or flashy. However, we have newer versions of Orange heels which are suited to many occasions and preferences. Ranging from ankle strap Orange heels to slingbacks and many others – the choices are limitless. A few things that you need to know before investing in orange heels include the following:
Your Individual Requirement


Some women want to have a pair of Orange heels for Parties, while some like to have them for Casual strolls or to match them with a similar colored outfit. Whatever the individual requirement may be, it is important to note that a more formal version of orange heels would be appropriate for wedding sort of events, while informal versions with a strappy look would be better for party type events.

Who Should Buy Orange Heels?


Women who have creative and bold taste in fashion should buy orange heels. Orange color is associated with energy and enthusiasm, so they should be bought by women who are outgoing.  

Features To Look Out For


Orange Heels can come with a strappy look, embellishments, buckles, various textures, heel shapes, heel height and a lot more. You can pick the one that best suits your needs as you browse through the popular designer brands like Nine West and others.

Becky G

Gigi Hadid

Olivia Culpo
Disclosure: This post contains affiliate links. When you purchase a service or a product through the links, I sometime earn a commission, at no additional cost to you. Read my full disclosure here.
Without further Ado, let's head onto our list.
Best Orange Heels in 2023
1. Schutz Nivia Stiletto Heel Single Sole Tie up Wrap Pump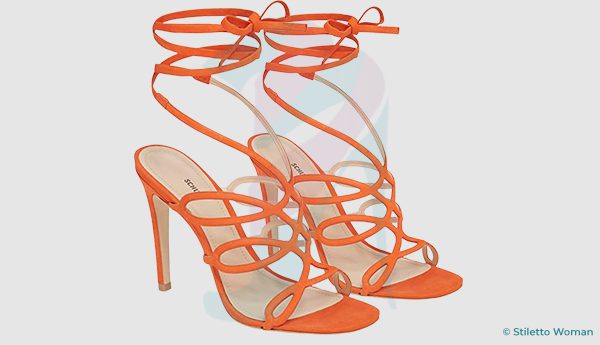 Featuring an Uber chic and ultra modern version of orange heels with an intensely strappy and lace up look, these heels by Schutz are sure to make heads turn. They can easily add a few inches to your height and can make your legs elongated. They'd be suitable for parties and they'll look best under a nice dress. Moreover, the lace up look adds to the alluring appeal of the heels.
2. COACH – Audree Kitten Heel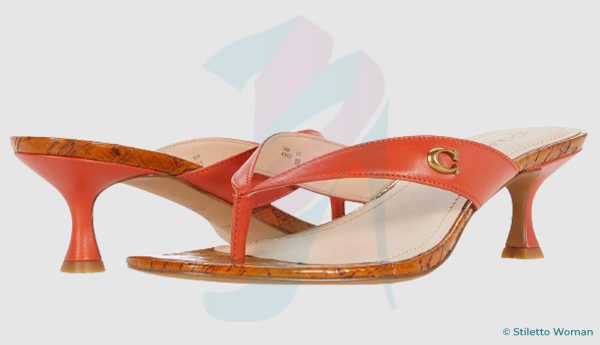 Want to achieve an effortlessly classy look? Then go for this orange heels by Coach. Available at economical price, these heels come with a convenient heel height which makes them appropriate for everyday use. They're great for casual strolls and you won't feel uncomfortable wearing them. They feature the kitten heel style with a thong design and a coach label on it which makes it seem quite exclusive.
3. Betsey Johnson Women's Sb-Capri Heeled Sandal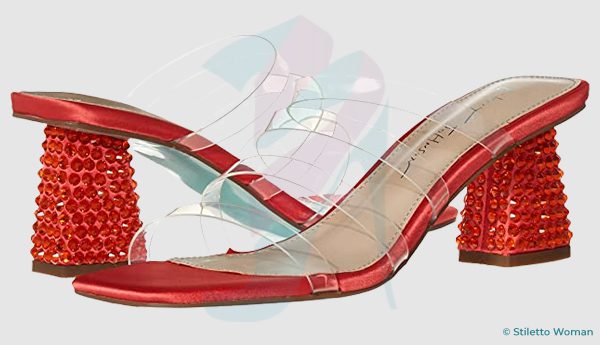 Are you a fan of the glitz and glam? Then these heels by Betsey Johnson are for you! These orange heels comprise of embellishments over the heel with transparent straps. Featuring an open toe design, they're breathable and lightweight too. Besides that, you can wear these heels to informal events like parties or prom too.
4. Guess Women's Hirani Wedge Sandals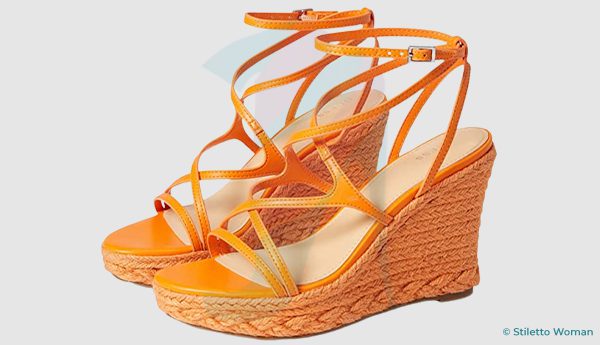 Another cool pair of orange heels would be that of Guess. These espadrille inspired wedges are a keeper. They can give you an additional height boost and make you achieve the ultra modern look. You can make a strong fashion statement with these heels owing to the strappy look and the overall design. The orange straps can bring life into any one of your dull outfits too, so get your grabs!
5. Sam Edelman Dominique Women's Strappy Heeled Sandal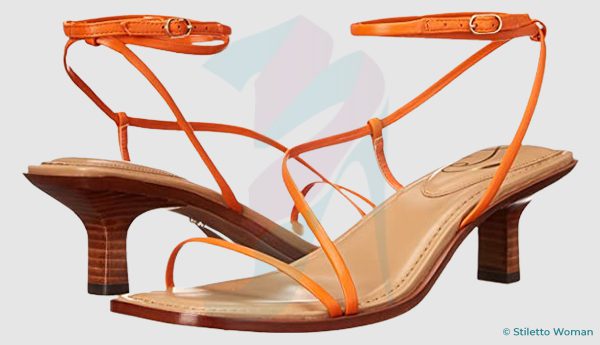 Here's another really gorgeous pair of orange heels by Sam Edelman which is sure to blow your mind. They come in a convenient heel height with a minimalistic look. They're suitable for the women who prefer everyday heels and who love low maintenance heels. They not only make you look chic, but also make you feel comfortable as you walk in them.
6. Vince Camuto Women's Brelanie Woven Strap Dress Mule Sandal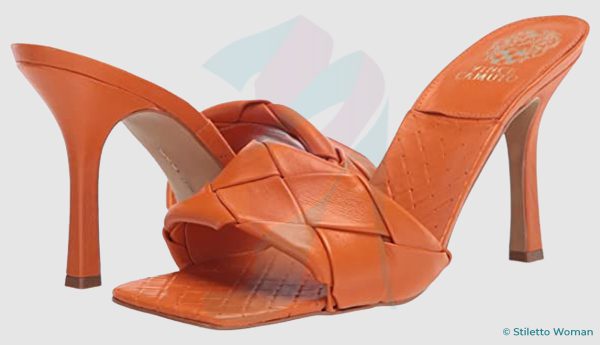 Featuring a slip on style heel, with a high heel height and can make you appear tall, these heels by Vince Camuto consist of a braided toe strap which can make you look fashion forward. They're not only stylish, but they're also very comfortable and lightweight. They are sturdy and have a breathable design which makes them great for everyday wear too.
7. Steve Madden Women's Uplift Orange Heel Sandals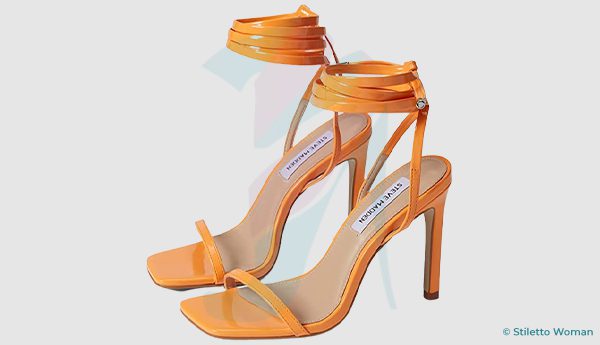 Featuring another lace up style, these orange heels by Steve Madden are a keeper. The high heel height can make your legs elongated and make you appear more attractive than ever. You can wear these multipurpose heels on most party and casual events, except formal though. Nonetheless, these heels are sure to not disappoint you.
8. Marc Fisher Casper Faux Leather Slip-On Block Heels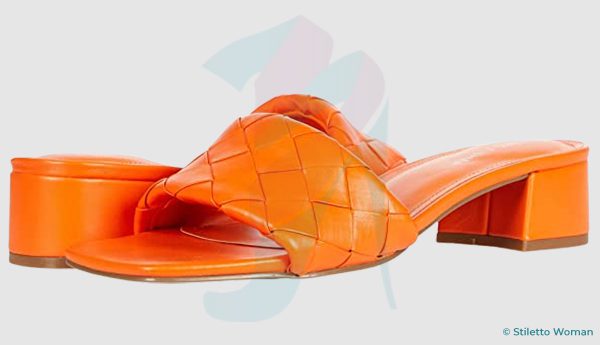 Tired of seeing all the ankle strap and other lace up heels? Then Marc Fisher's heels might impress you. Consisting of an easy going design, and a slip on style, these orange heels can save heaps of your time. They are simple, lightweight and breathable. With these breezy heels, you'll be feeling comfortable and at the same time looking chic as ever.
9. Journee Collection Ruffle Heel Pump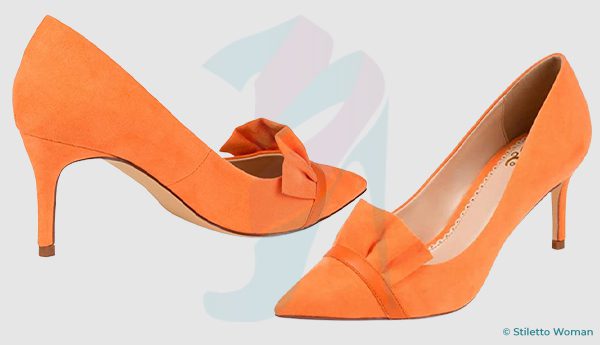 Featuring a pump style look, these heels by Journee Collection ooze finesse and modernity. They can impress anyone who wants to make a strong fashion statement. They'd be ideal for formal events on which you can color coordinate these pump style heels with your outfit to look put together and sophisticated.
10.  Anne Klein Ayla Wedge Sandal
Featuring a wedge heel style, these orange heels by Anna Klein are sure to leave you stunned. With simplicity and modernity oozing out of these wedges, Anna Klein makes sure to satisfy its customers at the max. These heels can grip your feet well, thanks to the straps, and they can prevent slip offs too. They're a keeper.
11. Marc Fisher Scully Pump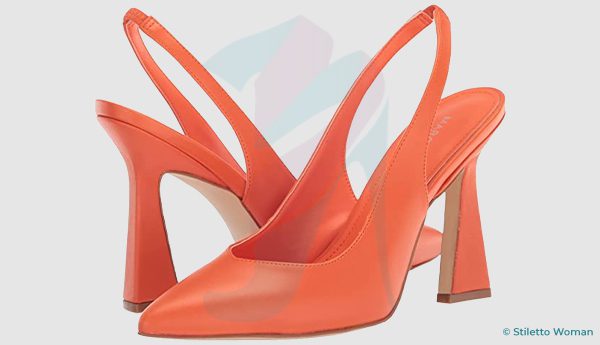 Another one from Marc Fisher, but this time, featuring a unique Slingback style, these heels exude confidence and sophistication at its best. They consist of a convenient heel height which makes it easy for you to walk in them. Besides that, the closed toe design makes you look together, hence these heels would be appropriate for formal events.
12. Calvin Klein – Beccy Heeled Sandal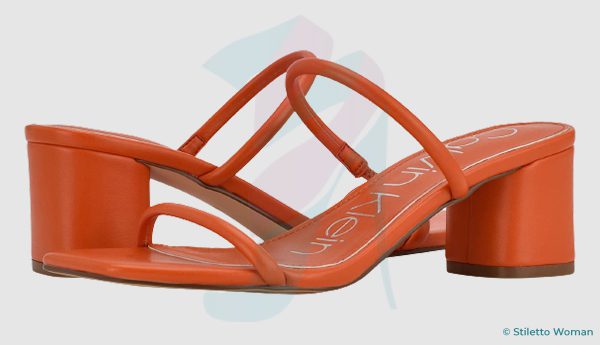 Calvin Klein has been around in the market for quite some time now and has never failed to surprise its customers with the opulent and unique designs in terms of heels. These orange heels are a representation of that. These heels exude confidence and effortlessly chic vibes, so they'd be a good addition to your collection of heels.
13. Chinese Laundry Women's Yita Heeled Sandal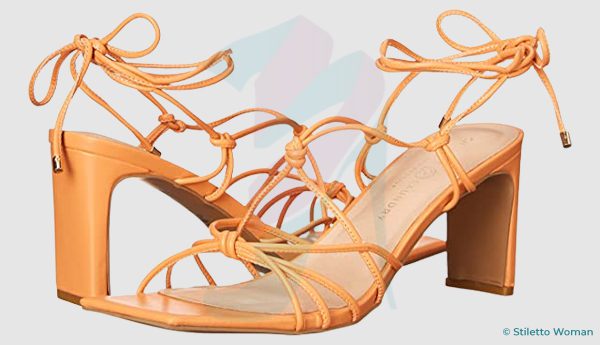 If you're in love with the strappy look, then look no further as Chinese Laundry has just the right pair for you. These orange heels can be your dream pair if you don't mind spending more time wearing your heels in order to look super fashionable and stylish. They can grip your feet well and prevent slip offs too. So, they'd be a good investment.
14. Vince Camuto Women's Haydorn Platform Mule Sandal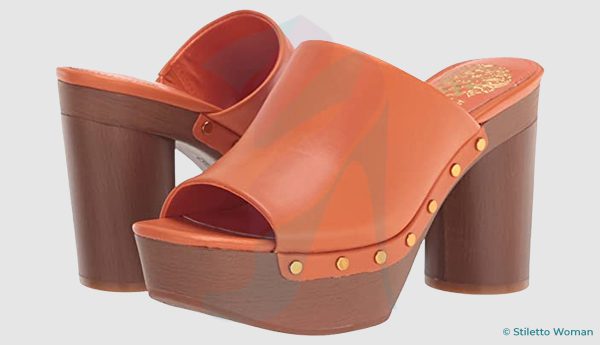 A pair that's definitely going to last you a really long time would be that of Vince Camuto. These orange heels by Vince Camuto ooze modernity and luxury. They feature a thick sole which give you more support and balance. Besides that, they're very comfortable and sturdy. These heels would be great for casual events as well as informal ones.
15. NINE WEST Zadie Ankle Strap Heels