If you have bought yourself a pair of mules or received it as a gift then you must be searching – How to style mules and what are the best outfits with mules that go well? We got you!
How to wear mules or how to style mules is not as difficult as it sounds. It's pretty easy! Thus, prepare yourself to enter the realm of mules, where fashion seamlessly combines with comfort and there are no boundaries to style.
These incredible slip-on mule shoes are not only meant for pairing with denim and jumpsuits; they possess an extraordinary power to enhance your dresses, skirts, and even dress pants by adding a touch of elegance.
So, are you ready to embrace the sleek and sophisticated appeal of mule shoes?  These mule shoes outfit have now become a must-have in everybody's spring and summer wardrobe. Explore the amazing versatility of mule shoes and unleash countless possibilities of "How to style mules or How to wear mules?"
Disclosure: This post contains affiliate links. When you purchase a service or a product through the links, I sometimes earn a commission, at no additional cost to you. Read my full disclosure here.
How to Wear Mules- Best Ideas to Style Mules!
Due to their open-toe design, open-toe mule shoes are a fashionable option for summery days. These adaptable mules can easily match a variety of summer outfits. From casual wear to formal attire, outfits with mules open-toe can never go wrong!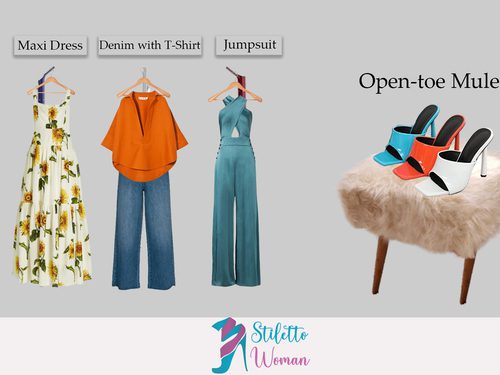 Denim with T-shirt/Tank Top: Get a relaxed summer look by matching denim shorts and a breathable
tank top or t-shirt with open-toe mule shoes. Enhance your outfit with mules by wearing accessories like
sunglasses and a straw hat to complete the laid-back vibe.
Jumpsuits: If you want elegant office attire, wear a tailored jumpsuit along with open-toe mules for a chic and formal appearance. Opt for sleeveless or short-sleeved jumpsuits in solid colors or subtle patterns that can be complemented by minimal jewelry and small handbags.
Maxi Dress: Flowy maxi dress with open-toe mule shoes is another way to achieve elegance in your outfit of the day. A lightweight fabric in vibrant shades or beautiful prints will elevate your style of mule shoes outfit. Add dainty jewelry pieces together with bohemian-inspired handbags to finish off the look.
Closed-toe mules are a type of shoe that covers the toes and provides a more polished and sophisticated appearance. They can be worn for both professional occasions as well as informal evening hangouts.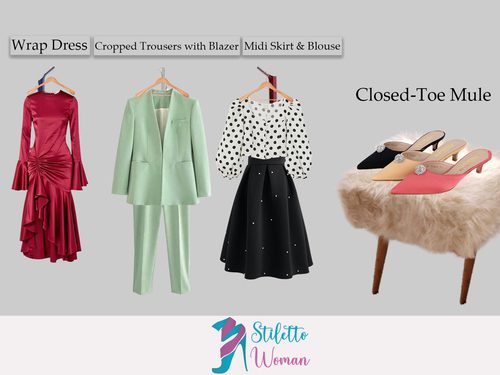 Midi Skirt and Blouse: Pair your closed-toe mules with a flowy midi skirt and tuck in a blouse for an effortlessly chic and feminine outfit. Add a belt to accentuate the waist, along with delicate accessories to complete the mule shoes outfit look.
Cropped trousers and Blazer: Create an elegant office ensemble by combining closed-toe mules with tailored cropped trousers and a blazer. Opting for monochromatic colors will add sophistication to your mule shoes outfit.
Wrap Dress: Closed-toe mule shoes with a flattering wrap dress, is definitely a vibe! Choose bold color or print options for the dress, complemented by minimal jewelry to elevate your appearance of outfits with mules.
About this one, people get confused with the open-toe mules!
Peep-toe mules are a type of mule shoes with a small opening at the front that exposes the first and second toes only while open-toe reveals all the toes. They strike a balance between open-toe and closed-toe styles, offering an elegant yet playful look. Here are some suggestions on outfits with mules peep-toe.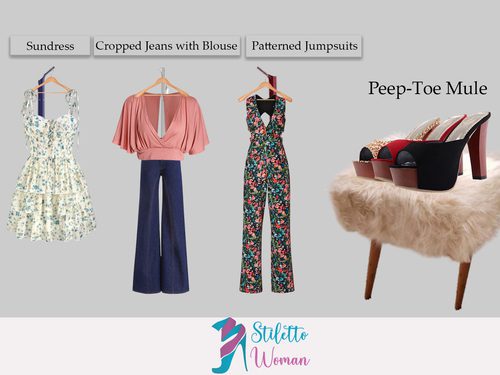 Sundress: Pair them with a flowy floral sundress for a feminine and romantic vibe. Look for dresses in midi or maxi lengths and complete the outfit with accessories like a straw hat and delicate jewelry.
Cropped Jeans with Blouse: For daily wear and a cute mules shoes outfit, combine your peep-toe mules with cropped jeans and a breezy blouse. Finish off the look by adding a statement handbag and sunglasses for that cool summer feel.
Bold or Patterned Jumpsuits: Once again, a modern and stylish outfit with mules can never be created without jumpsuits. Style your peep-toes with tailored jumpsuits in solid colors or bold patterns. Opt for sleek minimalistic jewelry to add sophistication to this contemporary combination of mule shoes outfit.
Platform mules are a type of shoe that has a thick, raised sole which adds height and makes a bold fashion statement.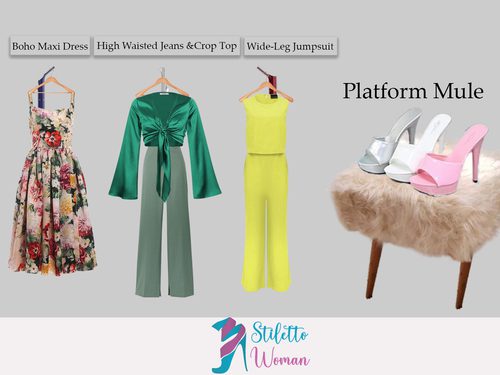 Boho Maxi Dress: For a trendy and free-spirited look, pair your platform mules with flowy boho maxi dresses. Look for dresses with vibrant prints or earthy tones that will complement the platform soles. Complete the mule shoes outfit by choosing any of your favorite accessories like necklace or bracelet, and if you're heading out in day, don't forget to wear a wide-brimmed hat for a fine touch.
High-Waisted Jeans and Crop Top: Create a casual yet fashionable outfit by wearing your platform mules with high-waisted jeans and crop tops. This combination of outfits with mules not only elongates the legs but also showcases the unique design of the shoes' platforms. To add an edgy vibe to your look, accessorize with statement jewelry like chunky earrings or layered necklaces.
Wide-Leg Jumpsuit: A retro-inspired style can be created by pairing your platform mules with wide-leg jumpsuits. These jumpsuits can either feature bold patterns or come in solid colors. Add oversized sunglasses, a handbag, and you're set for an effortlessly glamorous finish of mule shoes outfit.
Slingback mule shoes are a type of mule that includes a strap wrapping around the back of the foot, creating both support and an attractive open-back design.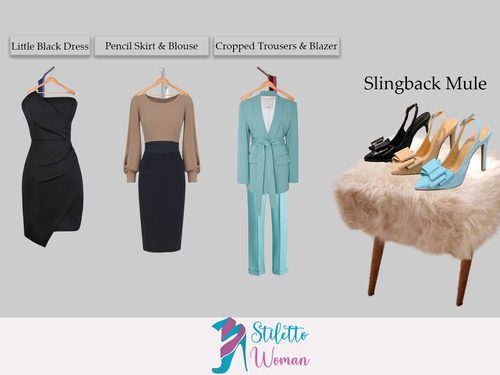 Pencil Skirt and Blouse: This one works well for an ideal office look. Pair your slingback heels with a fitted pencil skirt and tuck in a blouse. Complete this fine mule shoes outfit by adding minimalist jewelry and accentuating your waist with a statement belt.
Little Black Dress: Take your classic little black dress up several notches by wearing it with slingback heels for an effortlessly chic outfit. Opt for a sleek silhouette dress and accessorize with delicate jewelry while carrying an eye-catching clutch along with a mule shoes outfit.
Cropped Trousers & Blazer: For those seeking modern looks, pairing your slingbacks with cropped trousers adds contemporary flair to any occasion or workplace setting while giving you comfort throughout busy workdays. Add trendiness using tailored blazers, opt for either monochromatic colors, or incorporate colorful accessories as per preference with your outfits with mules.
Embellished mules are shoes that have decorative details like beads, studs, or embroidery. These embellishments add a special and attention-grabbing element to the footwear.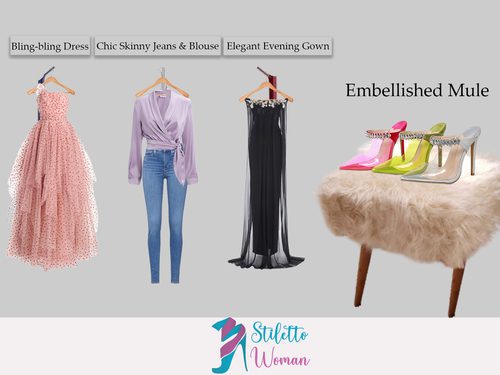 Bling-bling Dress: For a glamorous and red carpet kind of look, pair your embellished mules with a sequin dress. Make sure to keep the rest of your outfit simple with minimal accessories so that the focus remains on the eye-catching outfits with mules.
Chic Skinny Jeans and Blouse Combination: If you are getting ready for dinner which is formal but not too formal then a trendy outfit like embellished mules with skinny jeans and a stylish blouse, is a win-win for you! The sparkly elements on the shoes will bring in some extra sparkle to elevate this overall look while making you look not too overdressed or underdressed.
Elegant Evening Gown Ensemble: At formal events, make heads turn by wearing those dazzling embellished mule shoes along with a plain, silk evening gown! Be ready for some amazing compliments when wearing this mule shoes outfit.
Final Thoughts
Done reading "How to style mules and how to wear mules"? Perfect!
Now, that you have got some amazing mule shoes outfit ideas, let us know in the comments which one did you opt for and did it worked for you?
These various outfits with mules provide you with a range of options to choose from. Therefore, choose the best style which perfectly showcases your personal fashion style. Slide into mule shoes pair, radiate confidence, and let your feet leave an impactful impression wherever you step!