Sure classic colors can be super classy and elegant, but there's something so striking and energetic about neon and bright colors which is why multicolored heels are a thing these days! They bring vibrance and zest into your overall appeal, making you look ultra gorgeous. In the era of the 21st century where everyone wants to look fashionable if you want to stand out from the crowd, go for a pair of bold and adventurous multi-colored heels.
What You Need To Know Before Buying Multicolor Heels:
You may assume that such heels would look very flashy and extra as compared to the look of simpler heels. However, we have newer versions of multi-colored heels which are suited to many occasions and preferences. The electric and striking heels can come in the form of open-toe, closed-toe, square-toe, multicolor block heels, and many others – the choices are limitless. A few things that you need to know before investing in such heels include the following:
Your Individual Requirement

Whether it's a casual event or a party, a nice pair of multicolored heels can uplift your look and make a statement as they can be quite eye-catching. So make your picks wisely according to the occasion, the color of your outfit, and your preference.

Who Should Buy Heels With Multicolor Heels:

Women who love to look creative and feminine. Those who have adventurous and extravagant fashion tastes would love to go for a nice pair of multicolored heels

Features To Look Out For

Multicolored heels can come in the form of multicolored heels with straps or with embellishments, buckles, various textures, heel shapes, heel height, and a lot more. You can pick the one that best suits your needs as you browse through popular designer brands like Gianvito Rossi, Jeffrey Campbell, and others.

Olivia Munn

Gigi Hadid

Caitlin Fitzgerald
Disclosure: This post contains affiliate links. When you purchase a service or a product through the links, I sometimes earn a commission, at no additional cost to you. Read my full disclosure here.
Without further ado, let's head on to our top picks for the best multicolor heels:
 Stiletto MultiColor Heels in 2023
1. Anne Klein – Hadya Wedge Sandal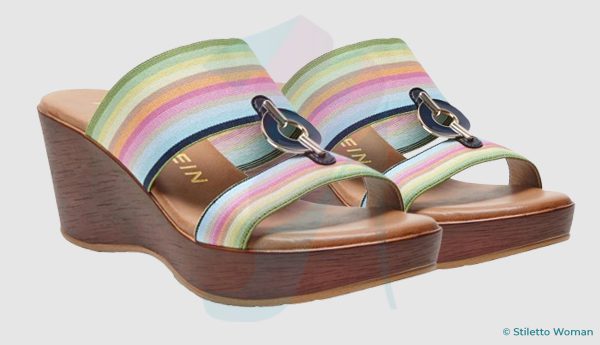 First up on our list, are the multicolor sandals heels by Anne Klein that are practical and easy to wear. They are ideal for casual and daily use. Thanks to the wedge heel design, you can walk in them for hours without feeling tired. You can't go wrong with these multicolor sandals heels.
2. Katy Perry – The Sissy Pump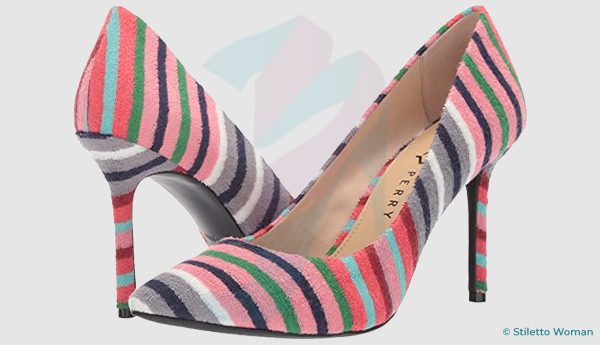 Next up are the heels by none other than Katy Perry. These heels ooze the club and party vibes. Ideal for night outs and parties, these heels come with a stiletto heel and a pump style which can accentuate your feet, making them look super attractive.
3. Betsey Johnson – Skyee Heeled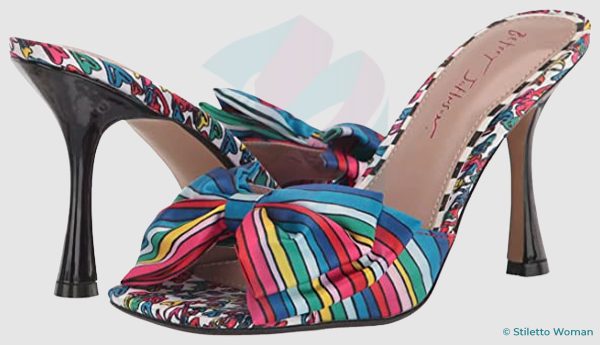 Another great pair of multicolored heels are by Betsey Johnson. These heels exude the funky look with finesse. They consist of a nice bow and a flare heel along with a slip on style which makes them manageable too.
4. Cape Robbin – Celestial Pumps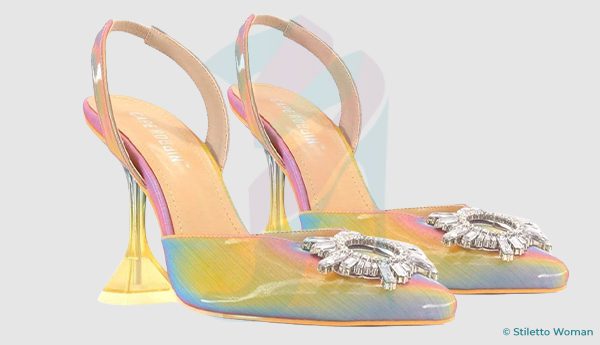 A great pair by Cape Robbin that's sure to leave you stunned. These heels come with a slingback style and a spool heel design. They can give you a nice grip and would look great on bridal events as well. The heels have a dulled down appearance so they're not very flashy either.
5. SCHUTZ – Naama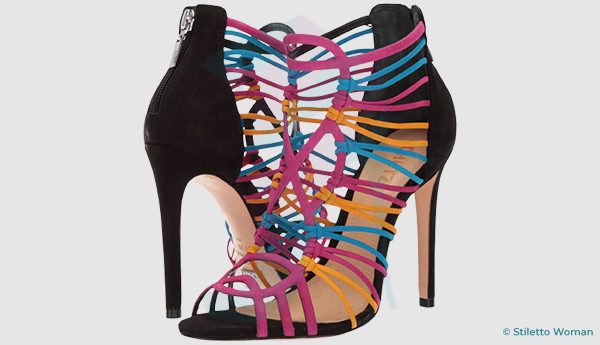 These heels by Schutz ooze modernity and creativity. They come with an intensely strappy look – almost like a gladiator heel design. These multi colored heels with straps consist of a stiletto heel design which can add a few inches to your height too.
6. Marc Fisher – Acres Heeled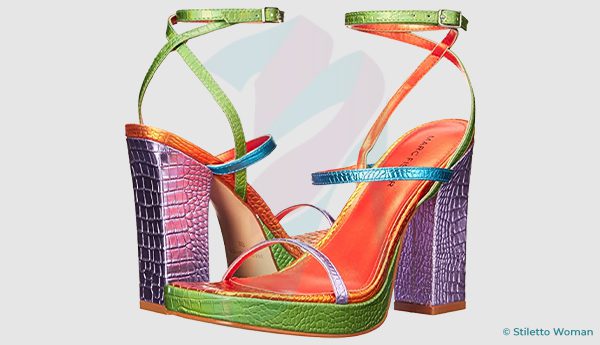 A unique, yet opulent pair that oozes elegance and creativity at its best. These platform heels by Marc Fisher are sure to catch your attention if you're a bold-looks lover. These multicolor block heels with straps come with an ankle strap design to grip your feet well too. With these multicolor block heels you will surely nail every look.
7. Jessica Simpson – Preppi Pump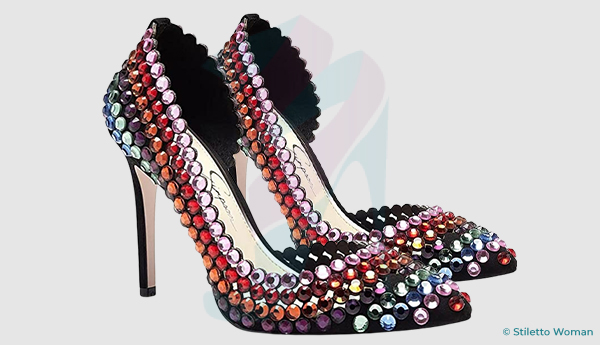 A pair that you can't go wrong with would be that of Jessica Simpson. These D'Orsay he's come with multicolored studs which ooze party vibes. They're not only vibrant, but can uplift any dull looking outfit as well.
8. Kenneth Cole – Brooke Cross Heeled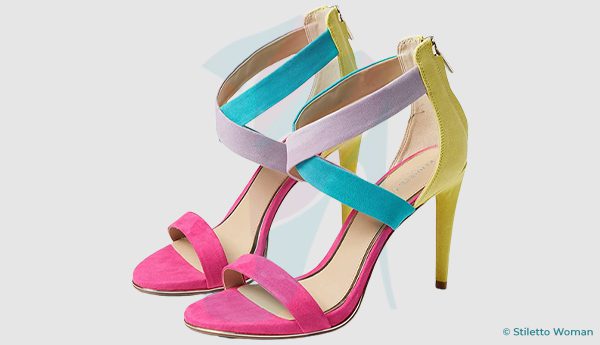 Kenneth Cole, a brand that you can never go wrong with. These heels feature an X-strap look with multi-colored straps. These multi colored heels with straps come with stiletto heels to help you get an additional height boost.
9. Kate Spade – Panama Nights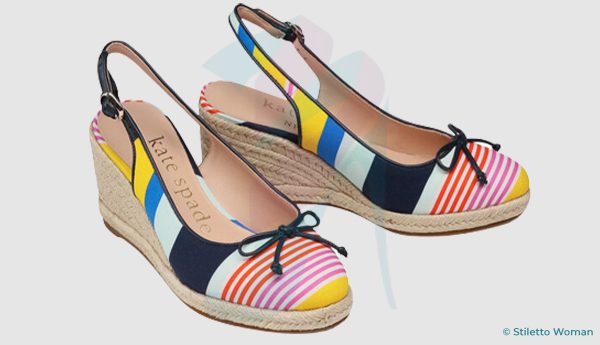 An espadrille inspired wedge heel design that's sure to leave you amazed. These heels by Kate Spade come with a Slingback style which takes a contemporary twist. You won't regret investing in these heels as they ooze easy-going vibes and modernity.
10. Franco Sarto – Clemens Wedge Sandal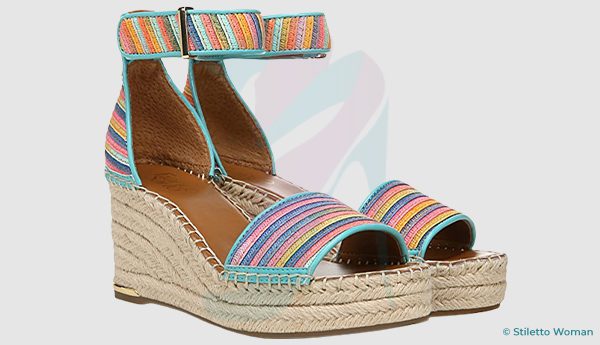 Another great option in terms of espadrille designs would be that of Franco Sarto. These multicolor sandals heels come with a dulled-down appearance and an ankle strap design to grip your feet well. Besides that, it comes with an open-toe style which makes these multicolor sandals heels lightweight and breathable.
11. GUESS – Cacei Pump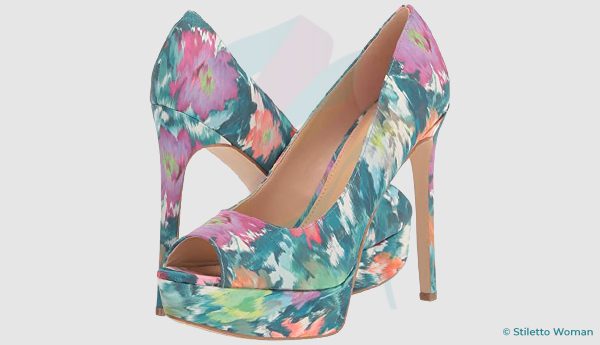 Looking for something unique and upbeat? Then without further delay, go for these peep toe design heels with a platform sole and a stiletto heel. These heels can make you look feminine and trendy at the same time.
12. Stuart Weitzman – TIA Lucite Wedge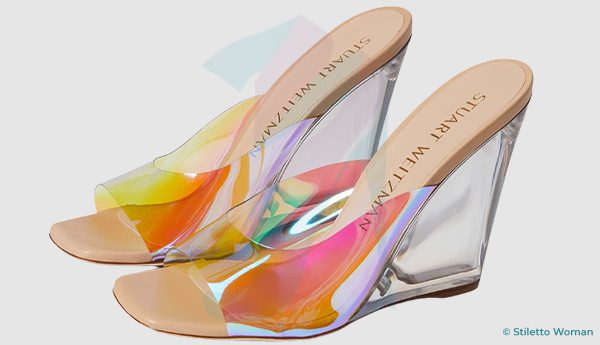 A great wedge heel inspired pair of multicolored heels by Stuart Weitzman is sure to win your heart at the very first glance. They come with a multicolored strap and transparent heel. Moreover, the square toe design makes them more trendy as well.
13. Miu Miu – Pumps-Shoes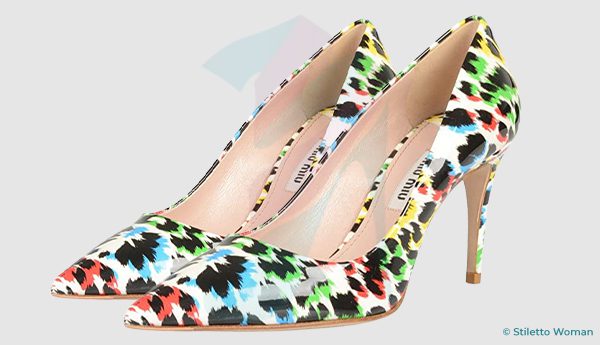 A classy, yet a striking appearance – these heels by Miu Miu scream creativity at its best. Marked by Italian detailing and excellent craftsmanship, these pump heels can last you a lifetime. They come with a pointed toe and medium heel height to facilitate the walking process.
14. Just Cavalli – Laminated Heel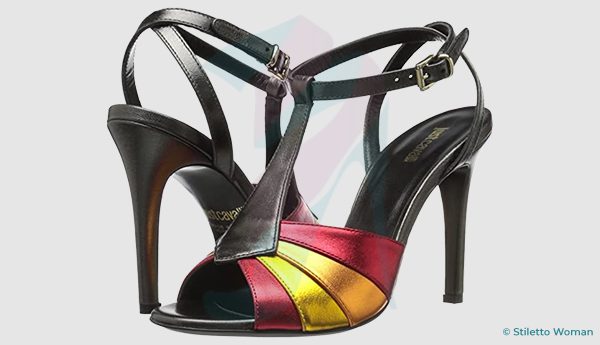 Another exquisite and a classy pair by Just Cavalli – these heels come with a uniquely shaped t strap design. They come with an ankle strap too, to grip your feet well. Besides that, the stiletto heel can elongate your legs, making you appear attractive too.
15. Aquazzura – Nude Plexi Sandal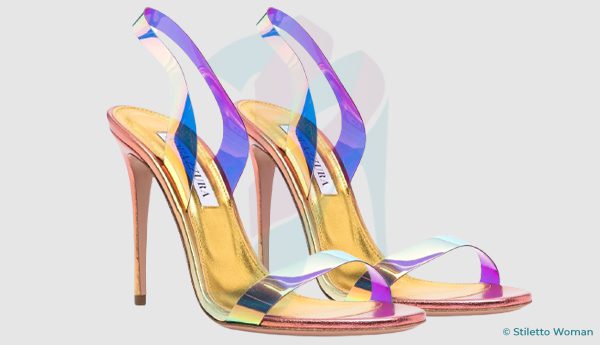 Last, but not least, these multi colored heels with straps come with a slingback style and a metallic color. These multicolor sandals heels by Aquazzura are a high-end and luxury option for you to consider in terms of multicolored heels. The heel height can give you a nice height boost as well.