One of the most dominating industries across the globe is that of the fashion industry. From celebrities to influencers, everyone is obsessed with the idea of well-coordinated outfits and looks. Many designers have worked relentlessly over the past few decades to come up with newer styles, especially in terms of heels and this is where American designers excel. One of the most popular and renowned American designers is known as Kate Spade New York which has a diverse range of heels available.
About Kate Spade
Founded in 1993, in New York, New York, United States by Kate Spade and Andy Spade, Kate Spade has been the brand which has been thriving ever since its inception. It has a diverse range of products like clothing, handbags, heels, and a lot more. It has around 191 stores internationally.
Kate Spade heels are made in USA, Italy, China, Taiwan, Dominican Republic, and Indonesia. The brand targets fashion-forward women who can afford quality heels at affordable prices. The typical age range includes 20-40, however it is not restricted to that range either. Many people outside that range also buy products from Kate Spade.
The Types of Heels Available at Kate Spade
Kate Spade offers a range of stiletto heels for women under the category of heels.
Types of Heels
Stiletto Heels
Block Heels
Sandals
Boots & Booties
Wedges & Espadrilles
Pumps
Disclosure: This post contains affiliate links. When you purchase a service or a product through the links, I sometime earn a commission, at no additional cost to you. Read my full disclosure here.
Who Wears It?
This is an American-inspired brand, but people wear it across the globe including countries like UK, Canada and even Australia. Some of the people who love to wear Kate Spade religiously include:
Celebrities Who Wear Kate Spade:
Victoria Justice
Zosia Mamet
Millie Bobby Brown
Taylor Swift
Kate Middleton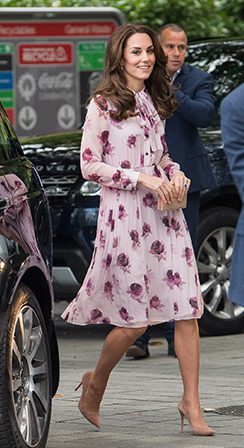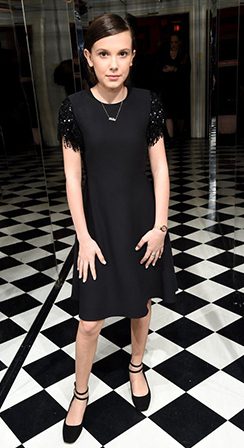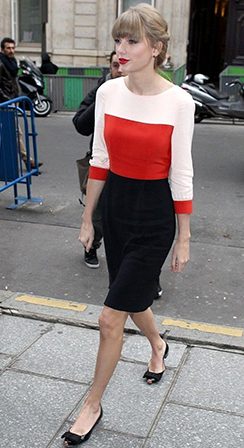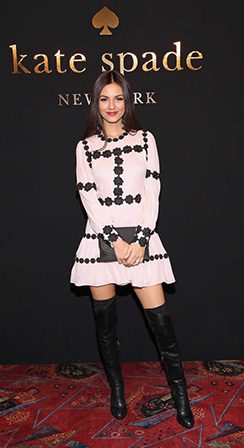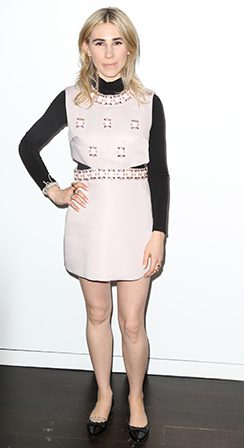 The brand is not just for celebrities and famous people, even you can get a pair of Kate Spade wedges through their official website, stores, and online retailers! I own a pair of Kate Spade heels too, and I love them because of their durability and excellent quality.
Is it for me?
Kate Spade is considered as a luxury brand, but it offers utmost comfort too! So, if you want the best of both worlds, then the brand is for you. Also, if you love wearing heels which are sophisticated, yet chic and stylish at the same time, then this brand is for you. Marked by its American and New York-Inspired designs and bold looks, their heels would be best suited for the boisterous and adventurous type of girls. It can give you an elite look too!
Criteria Based Rating: Kate Spade
Design & Style
 9.5/10
From open toe to closed, straps to non-straps, embellishments, printed versions, Kate Spade has a lot to offer.
Colour Range
8.5/10
With more than 15 colours available at Kate Spade, there's not one colour you won't find here! It has got them all.
Affordability
6.5/10
The prices can go up to $300 but can be generally afforded by the masses.
Celebrity Preference
9.5/10
Most celebrities like Taylor Swift, Kate Middleton, love Kate Spade even for their casual strolls.
Similar Stiletto Brands like Kate Spade
Similar to Sarah Flint, Kate Spade is a high-end brand which is aimed at women. Both the brands feature lots of embellishments and other detailing over their heels. They have lots of colour options available too.
Contrary to top brands like Versace and Prada, Kate Spade is a relatively cheaper brand which features various types of heels including ankle straps, wedges, stiletto heels, and other versatile versions.
Some of the Best Kate Spade Stiletto Heels!
Where To Buy Kate Spade
Some of the platforms where you can find Kate Spade Heels at:
When Do You Wear Kate Spade Stiletto Heels?
| | |
| --- | --- |
| Types of Heels | Suitability Rating |
| Casual | 8/10 |
| Party | 8.5/10 |
| Formal | 8/10 |
| Bridal | 7.5/10 |
Kate Spade – Shipping and Return Policy
Countries
Shipping & Return Policy
United States
Shipping: 3-5 working days

Return: within 30 days from the date purchased.

United Kingdom
Shipping: 1-2 working days

Return: within 30 days from the date purchased.

Canada
Shipping: 7-9 business days

Return: within 30 days from the date purchased.

Australia
Shipping: 3-5 business days

Return: within 30 days from the date purchased.
At A Glimpse: Customer Feedback Regarding Kate Spade
Based on the customer reviews online, most customers are happy with their purchases in terms of quality, detailing, styling, and related factors of the heels. They claim that the heels are super chic and fashion-forward. However, the only off-putting factor about Kate Spade for them is the terrible customer service. Most customer claim that for a high-end brand, they do not live up to the standards in terms of offering effective solutions to its customers. All in all, we'd highly recommend you try the brand out for yourself too after a careful inspection of their heels and your requirements.