The 90s trend of sleek square toe heels has officially kicked in. Say goodbye to the boring round toe and point toe styles, 2023 is all about rediscovering old trends and making them ultra modern to suit the contemporary needs. Take mom jeans, kitten heels and similar fashion fads for example. All have evolved into much more convenient and chic versions which are loved by all the style icons, including celebrities too! From Kendall Jenner to Sophie Turner and Taylor Swift, all the celebrities are seen gushing over the 90s trends which also includes square toe heels.
What You Need To Know Before Buying Square Toe Heels:
Anyone who cares about fashion and knows how to style will definitely have square toe heels in their wardrobe. Even if they don't, they'll soon start adding a pair of two to their heels collection. With brands like Gucci and Guess coming up with the most unique square toe heel designs, the trend is expected to grow further. But before investing in such heels, here's what you should consider:
Your Individual Requirement

All of us have our own reasons to wear square toe heels. If the reasons include wearing them for a casual night-out, then a strappy version of the square toe heels would be more appropriate. On the other hand, if you are the one who prioritizes fashion above societal norms and would love wearing square toe heels to formal occasions too, then you can go for the silver embellishments on these heels. Whatever the case may be, make your picks wisely.

Who Should Buy Square Toe Heels?

Women who are upbeat and bold, those who have adventurous and creative fashion tastes, should buy square toe heels as they exude confidence, femininity, and an alluring charm.

Features To Look Out For

Square Toe Heels can come with a strappy look, embellishments, buckles, various textures, heel shapes, heel height and a lot more. You can pick the one that best suits your needs as you browse through the popular designer brands like SJP, Ted Baker, and others.

Kendall Jenner

Sophie Turner

Taylor Swift
Disclosure: This post contains affiliate links. When you purchase a service or a product through the links, I sometime earn a commission, at no additional cost to you. Read my full disclosure here.
Without further Ado, let's head onto our list.
Best Square Toe Heels in 2023
1. Dream Pairs – High Stilettos Heels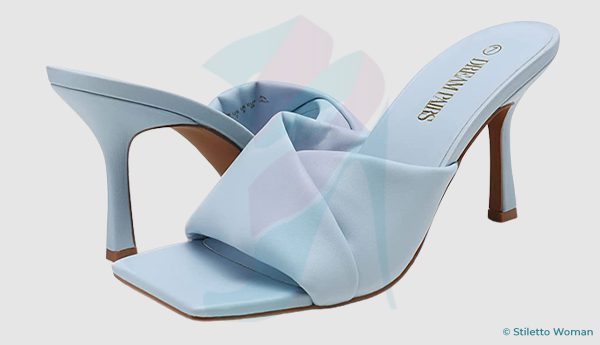 These square toe heels by Dream Pairs oozes finesse and luxury. They're available at an economical price, yet owing to the timeless pastel color, they look very elegant and chic. With the given heel height, you'll be able to add a few inches to your own height too, so it'll be a win win situation. Besides that, they'd be great for most events.
2. Cape Robbin – Lithe Heels
Featuring the alluring and bold, rust colour, Cape Robbin's square toe heels are a keeper. They not only make a strong fashion statement but also ooze the ultra modern vibes. The height shape is unique and they're comfortable along with sturdy too! They'd make a great pair for most occasions too.
3. Steve Madden – Brigitte Heeled
Featuring a block heel design and a strappy look, these square toe heels by Steve Madden are the ultimate go-to for all the fashionistas. If you're scared of the long and sharp stiletto heels, but also want to get square toe heels, then you'll fall in love with this pair. Also, they're available in a variety of colours for you to choose from.
4. GUESS – Darias Heeled
Another strappy look with an ankle strap design and a low stiletto heel height, these square toe heels by Guess will have you gushing over these beauties. The classic black color goes well on most outfits and occasions, so they serve as a multipurpose solution for your fashion problems.
5. Dolce Vita – Noles
Another great pair by Dolce Vita that comes in a neon yellow colour with simple puffy straps, these square toe heels by Dolce Vita grip your feet well preventing slip offs and mishaps. They're great for casual wear for example, strolling in the park or similar activities which require you to walk a lot.
6. Calvin Klein – Fabian Heeled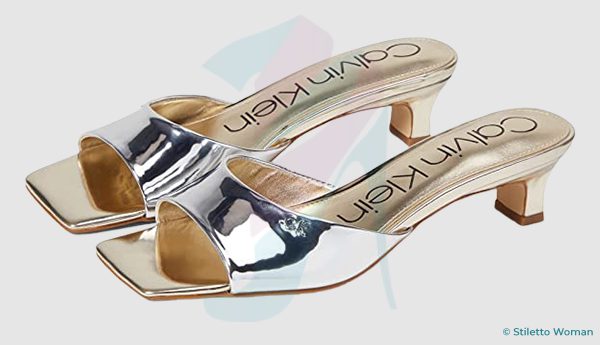 If you absolutely hate the idea of high heels and even mid length heels, then these square toe heels by Calvin Klein will win your heart without a doubt. They come in a classical black color with a low heel height which is suited for events which require you to dance or walk around a lot. They're study and very comfortable too.
7. Sam Edelman – Carmen Heeled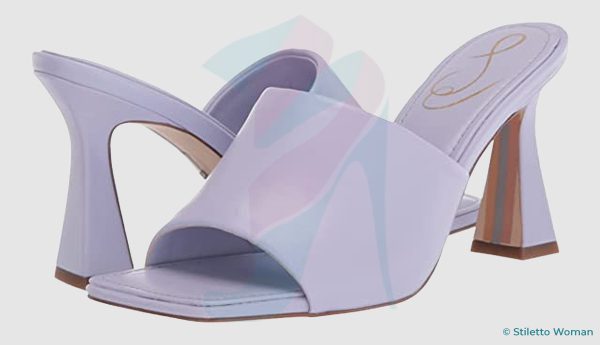 Nothing oozes the chic vibes like a pair of Sam Edelman's heels. These square toe heels by Sam Edelman exude femininity and summer vibes. They are available in a range of other colors too which can make your look more attractive. Besides that, the mid height heel length will ensure that you look taller and are able to walk easily.
8. Jessica Simpson – Sassia Woven Strap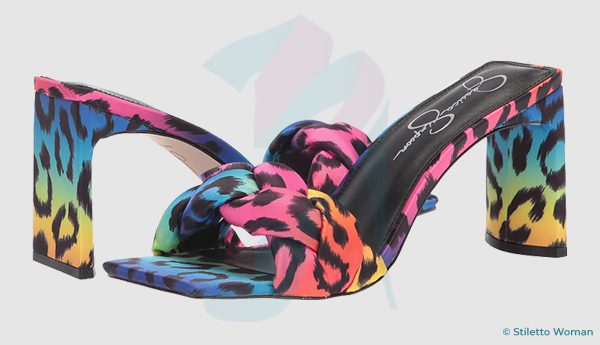 These multi coloured, animal printed square toe heels by Jessica Simpson can make jaws drop. Jessica Simpson does not fail to impress its customers – ever. These heels are no exception. They come as a slip on style which makes them convenient and less time consuming. They're very easy to carry too.
9. SCHUTZ – Flat Sandals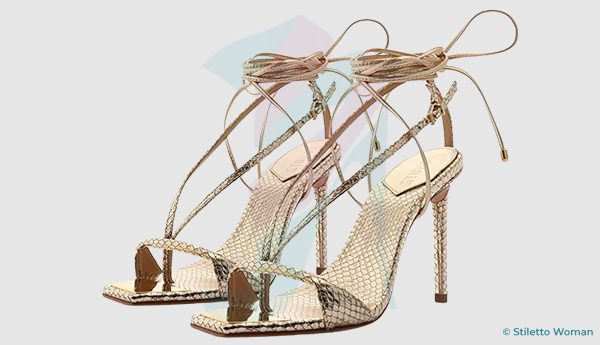 Featuring another Uber chic, yet a classy strappy square toe heel design by Schutz. These heels are indeed ideal for events where you need to make heads turn and leave a lasting impression. Be it a night out, date night, a late night dinner, or any similar occasion, these heels are sure to have you covered in terms of all elements like luxury, sophistication and finesse.
10. Franco Sarto – Belle Sandal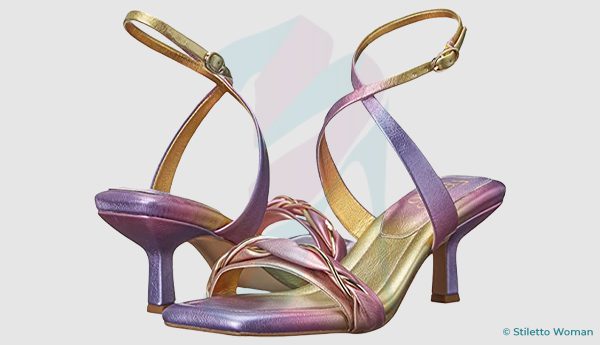 This one's for all the newbies or the ones who dread the idea of wearing sky high stiletto heels – Franco Sarto's square toe heels are sure to grab your attention in an instant. Thanks to the timeless design and a convenient heel height, you can wear them comfortably to most events and still look fashionable and attractive.
11.  NINE WEST – Hotz3 Heeled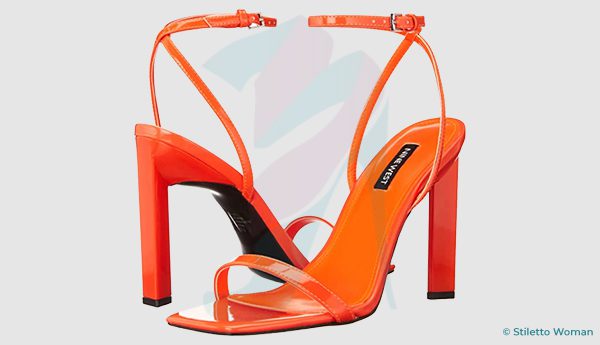 Nine West is known for bold looks and designs – and these square toe heels are no exception. These heels features hot pink colour which can make any outfit pop out. Yet again meeting the criteria for typical Nine West heels. These heels are sure to make a strong fashion statement owing to the timeless design and strappy look.
12. Marc Fisher – LTD Davia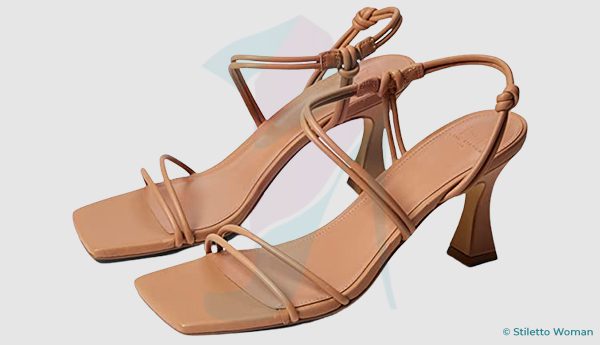 Here's a simplistic version of square toe heels coming in a pastel green colour and a convenient heel height. These heels by Marc Fisher are sure to be the charm of any outfit. Available in a variety of colours, these may look great if you colour coordinate them well with your attire. They can up your ante in terms of being a trend follower.
13. Vince Camuto – Arlinala Mule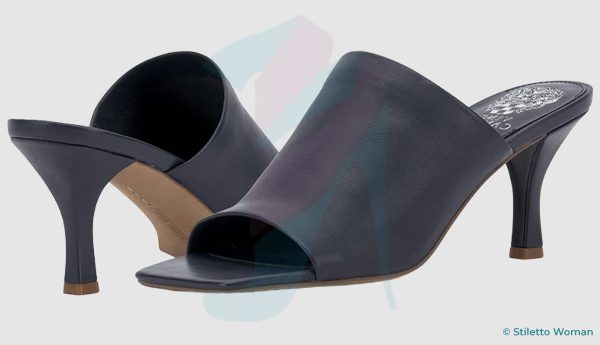 Featuring a classical black color which looks great on all events, these square toe heels by Vince Camuto exude confidence and boldness. They also feature a convenient heel height which makes them super comfortable and easy to carry. They're also very lightweight and sturdy which means they'll last you for a long period too.
14. Stuart Weitzman – Playa Sandal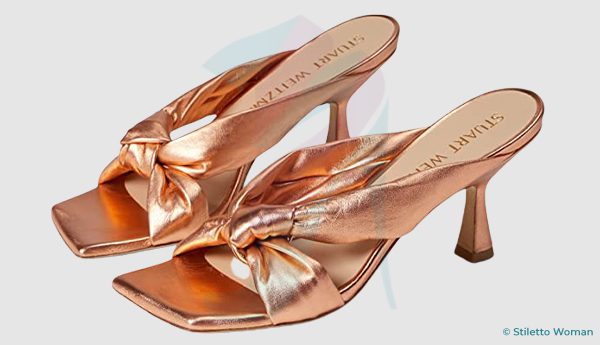 Here comes one of the most high end luxury brands Stuart Weitzman. These square toe heels by Stuart Weitzman ooze the party vibes. They do not consist of added embellishments but the extra glossy appeal of the footwear makes them stand out from the rest. They come as a slip on style which makes them easy to wear too!
15. Giuseppe Zanotti – Heeled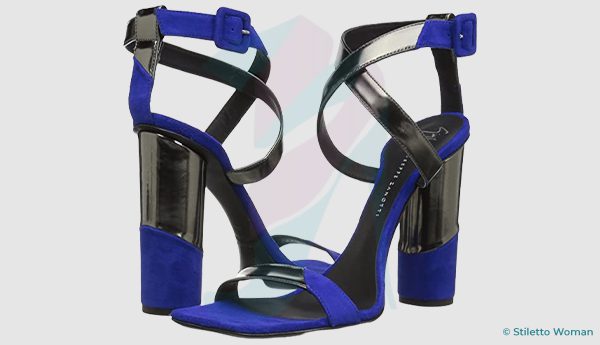 Just by the looks of it, you can tell that you're looking at something super glamorous and luxurious. These are no ordinary paid of square toe heels but the most elite version of them. Featuring Giuseppe Zanotti's square toe heels which come in a black and electric blue colour and a high heel height which can boost your height too, these heels can be irresistible. Even if you invest in them, they'll last you a long time, thanks to the amazing quality of the footwear.