A colour that represents seriousness, class, sober and sophistication. In other words, a color that's appropriate for all occasions would be brown. There's something so alluring and irresistible about the color brown that it's seen in every woman's closet. Brown colored heels, fortunately go well with every other outfit. Be it a casual event or a formal one, you're sure to leave a lasting impression on your audience with a nice pair of brown heels which are styled appropriately.
What You Need To Know Before Buying Brown Heels:
Anyone who cares about fashion and knows how to style will definitely have Brown sandals in their wardrobe. Brown is not a manly colour, but it is very ladylike and unique. If you wear brown on an outing or to a party, there are high chances that people will be wearing it because of the common assumption that they'll look great with every outfit. Hence, you have a great chance of rocking brown heels with a beautiful dress on such occasions. But before investing in such heels, here's what you should consider:
Your Individual Requirement

All of us have our own reasons to wear Brown stiletto heels. If the reasons include wearing them for a casual night-out, then any type of Brown heels would be more appropriate. On the other hand, if you are the one who prioritizes fashion above societal norms and would love wearing brown stiletto heels to formal occasions too, then you can go for the leather brown or glossy brown heels. Whatever the case may be, make your picks wisely.

Who Should Buy Brown Heels?

Women who are upbeat and bold, those who want to look classy and have a finer taste in fashion. Women who love wearing multipurpose heels should also invest in these.

Features To Look Out For

Brown heels can come with a strappy look, embellishments, buckles, various textures, heel shapes, heel height and a lot more. You can pick the one that best suits your needs as you browse through the popular designer brands like SJP, Ted Baker, and others.

Meghan Markle

Olivia Culpo

Lah Luvie
Disclosure: This post contains affiliate links. When you purchase a service or a product through the links, I sometime earn a commission, at no additional cost to you. Read my full disclosure here.
Without further Ado, let's head onto our list.
Best Brown Heels in 2023
1. Sam Edelman – Dominique Heeled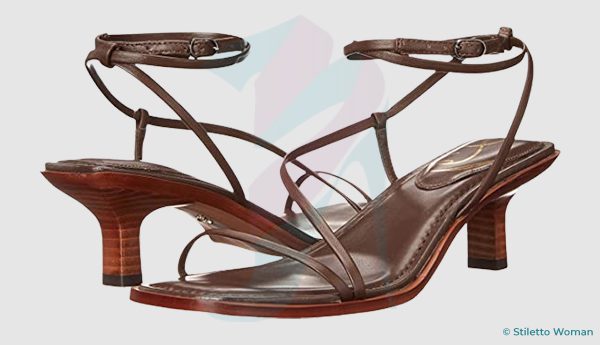 One of the most easy going and casual heels you could get, these brown heels by Sam Edelman ooze sophistication and modernity. Thanks to the convenient heel height, you can walk around in them for hours without feeling too tired. Moreover, the strappy style can grip your feet well, avoiding slip offs. You can pair them up with any outfit and you're sure to look great!
2. Vince Camuto – Renneya Sandal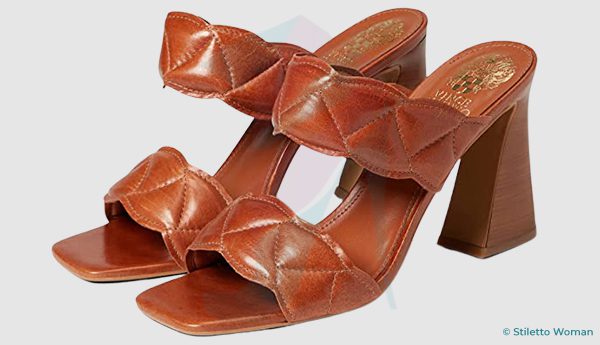 Vince Camuto promises excellent quality of its footwear. The craftsmanship is brilliant and this is shown in these brown heels by the brand room these heels come with two braided straps and a convenient heel shape which gives you enough support to walk comfortably and with ease. They're manageable and breezy. We will definitely recommend these for casual events.
3. Steve Madden – Twice Loafer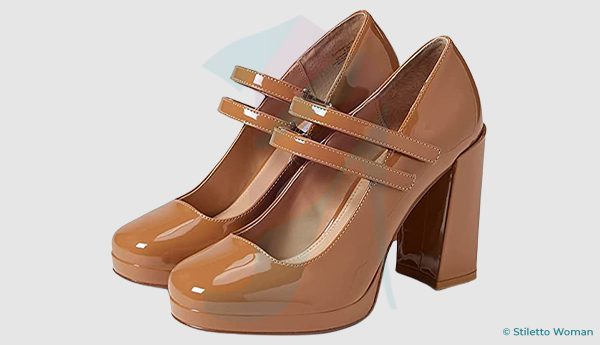 These stunning pair of brown heels are sure to leave you impressed. The glossy appeal and the Uber chic look of the heels make them irresistible too. These heels by Steve Madden are a convenient pair which won't make you feel uncomfortable either. They consist of a very sophisticated appeal which makes them appropriate for most occasions.
4. Steve Madden – Lafayette Heeled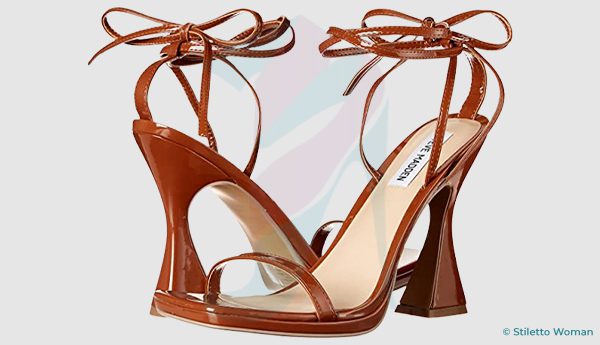 A more informal version of brown heels would be these heels by Steve Madden. They come with a lace up look with a unique heel shape. They ooze ultra modern vibes and wearing them will make you look fashion forward too. Not only do they make a strong fashion statement, but they are also sturdy and long lasting, so investment in these heels won't make you regret it.
5. Kenneth Cole REACTION – Card T-Strap Wedge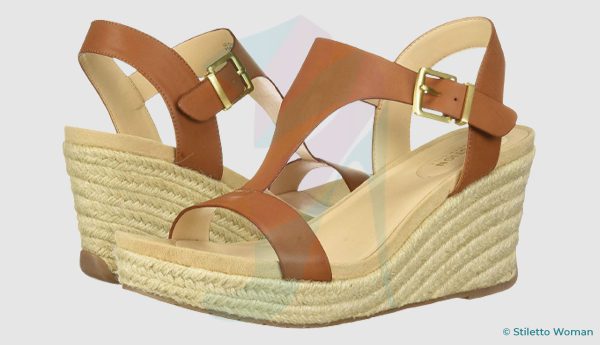 A more minimalistic version of brown heels would be these jute inspired, ever classy and simplistic brown heels by Kenneth Cole. They ooze comfort and modernity. These heels exude confidence and charm. You're sure to make a strong fashion statement with these ultra modern heels.
6. Madden Girl – Lifft Heeled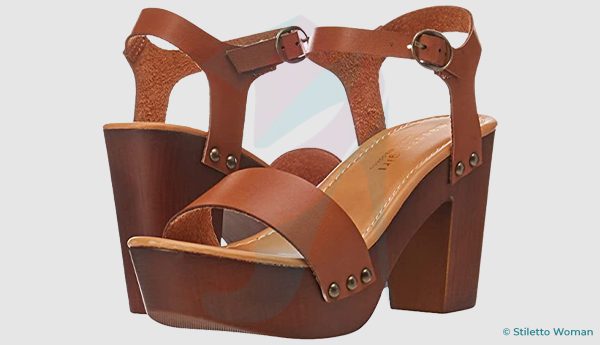 Some women prefer comfort over styling and if that sounds like you, then these brown heels are for you! They not only grip your feet well, but they're study, lightweight and breathable. These are appropriate for most occasions and would be suited to everyday wear as well. Besides that, they'll give you a nice height boost as well.
7. Lucky Brand – Mollwin Pump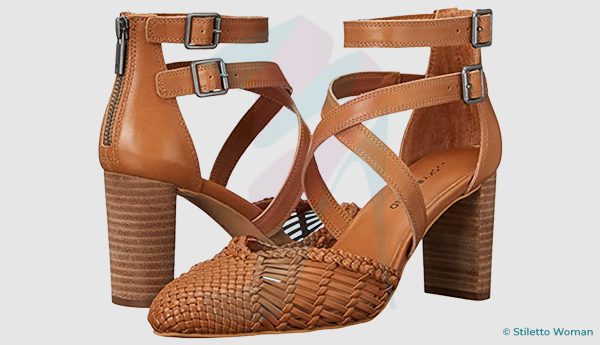 Scared of slip offs from slip on style heels? Then go for these stretchable strappy brown heels by Lucky Brand. These heels come with a closed toe design which can accentuate your feet and make them appear more ladylike and feminine. These are definitely worth the investment.
8. Circus NY – Miranda Heeled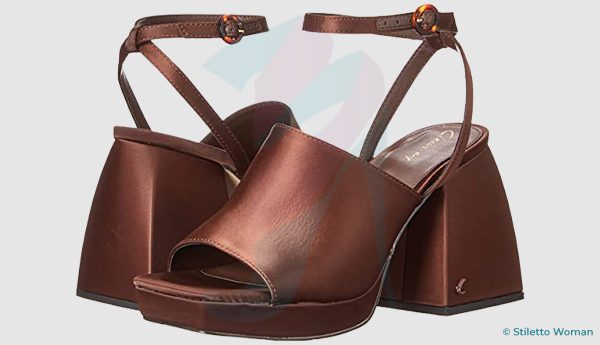 A pair that's bound to catch your attention, these brown heels by Sam Edelman exude luxury, finesse and all the nice words you can think of. Featuring an opulent design, they consist of block heel shape which gives you maximum support and balance, allowing you to walk comfortably at your own pace. They're a keeper.
9. Calvin Klein – Gayle Pump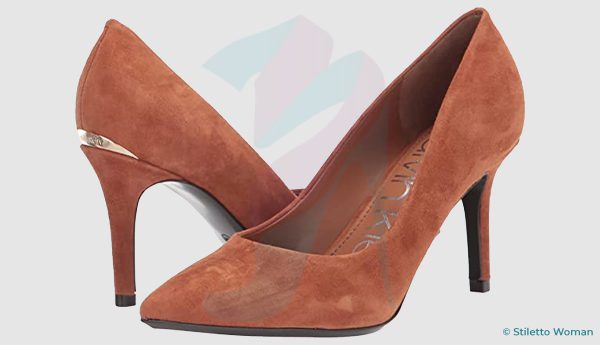 If all fails, you can always opt for the classic pump style brown heels by Calvin Klein. These heels ooze stylishness and classiness. Wearing these heels will make you feel like royalty as they emphasize on your feminine pace and accentuate your feet too. You'll look super attractive wearing these gorgeous pair of heels.
10. Tommy Hilfiger – Ezma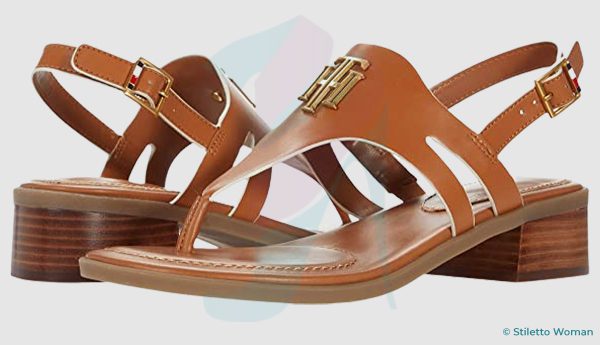 Another really cool pair that you should invest your money in would be these classic heels by Tommy Hilfiger. The brand promises excellent quality and utmost comfort when it comes to heels and these are no exception. These heels can be used for everyday wear and even on formal occasions too. They'd be a great addition to your heels collection.
11. Vince Camuto – Rendivi Lucite Sandal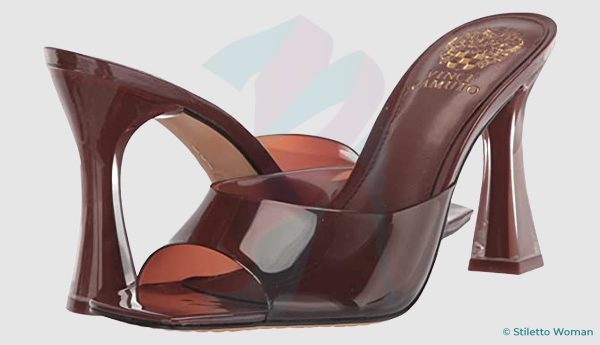 Prefer a slip on style more than the strappy look? Then look no further as Vince Camuto has the perfect solution for all your fashion problems. Consisting of a simple slip on style, these heels consist of a transparent strap which transforms the look of the footwear completely. So, get your grabs now!
12. Clarks – Giselle Beach Wedge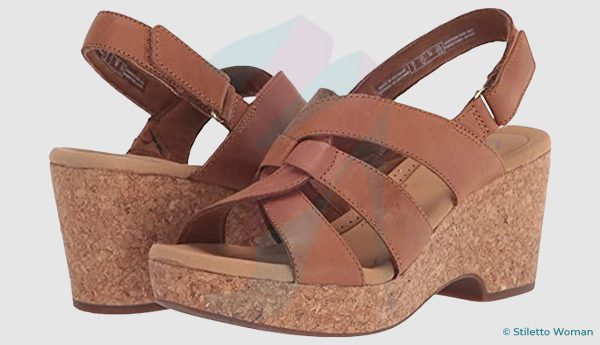 Clarks is a brand known for offering utmost comfort in terms of footwear. All types of heels appropriate for corporate wear or casual wear – you're sure to find it here at Clarks. These heels grip your feet well and come in a wedge heel design which makes it super easy to walk in them. They're comfortable and sturdy.
13. Schutz – Blanck PVC Dress Sandal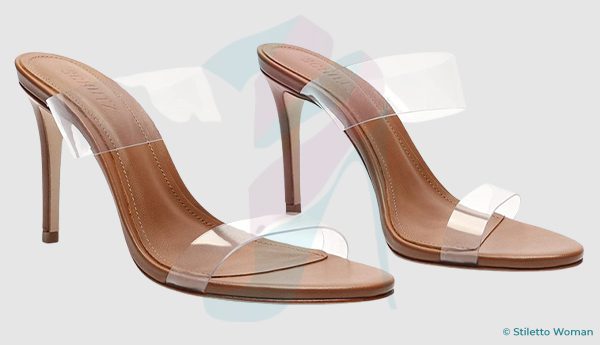 A brown bottom with transparent straps, a combination that most women crave, these brown heels by Schutz are a keeper. You can wear these on several occasions and you're sure to make heads turn. With a simplistic look, it can have a significant impact on your audience.
14. Vince Camuto – Hamden Slingback Pump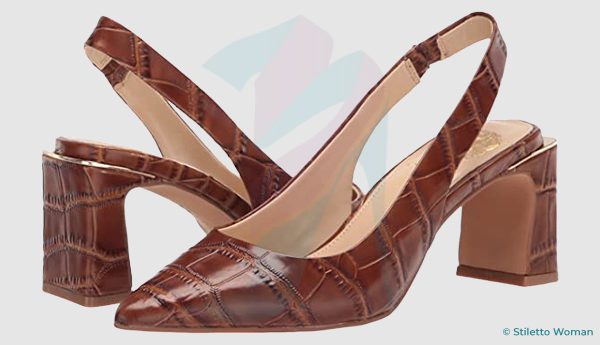 Featuring a Slingback style and a unique design, these brown heels come with an innovative touch. Differing from the rest of the brown heels, these heels by Vince Camuto ooze modernity and sophistication. They'd be great for work wear as well as casual events. You'll achieve the put together look easily with these gorgeous heels.
15. Naturalizer – Tiff Sandal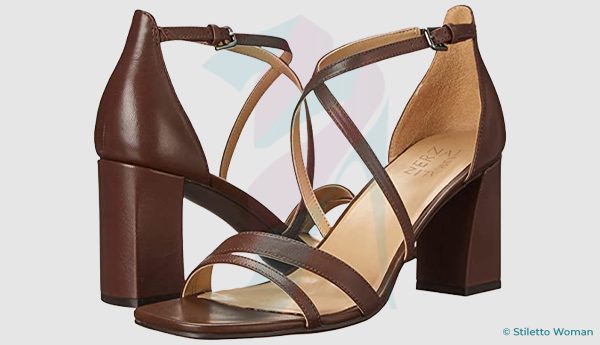 Last, but not the least, these brown heels by Naturalizer are great for casual events. They come with a simplistic design with some straps to grip your feet well and to add to the styling of the footwear. It'll be super easy to walk in these heels owing to the heel height and timeless design. These heels will help you walk with utmost poise and grace.