In the modern era where there is a contemporary evolution for everything, fashion doesn't get left behind either. Digging deeper into fashion, when it comes to heels, we have a plethora of options available as designers around the globe strive hard to make sure they come up with opulent and exquisite heels which are not only convenient but also fashion-forward and suit the tastes of all consumers. Narrowing down the types to lace up heels, the boldest and most adventurous types, can uplift any outfit in an instant, which is why many women opt for them.
What You Need To Know Before Buying Lace Up Heels:
You may assume that Lace Up heels would look very flashy and extra as compared to that of the look of simpler heels. However, we have newer versions of lace up heels that are suited to many occasions and preferences. Ranging from open-toe, closed-toe,  square toe lace up heels, lace up block heels, and many others – the choices are limitless. A few things that you need to know before investing in lace up heels include the following:
Your Individual Requirement

Some women want to have a pair of lace up heels for weddings, while some like to have them for parties. Whatever the individual requirement may be, it is important to note that wearing lace up heels at weddings may be a risky move unless your outfit is plain and you want to uplift it. They are more appropriate for informal occasions.

Who Should Buy Lace Up Heels?

The answer is very simple – women who love to look creative and bold. Those who have adventurous and extravagant fashion tastes would love to go for a nice pair of lace up heels. Not just that, but those who love comfort would also love to invest in a pair of lace up heels.

Features To Look Out For

Lace up heels comes with a strappy look, embellishments, buckles, various textures, heel shapes, heel height, and colors including black lace up heels, white lace up heels, and a lot more. You can pick the one that best suits your needs as you browse through popular designer brands like Giuseppe Zanotti and others.

Alexa Chung

Kendall Jenner

Rihanna
Disclosure: This post contains affiliate links. When you purchase a service or a product through the links, I sometimes earn a commission, at no additional cost to you. Read my full disclosure here.
Without further ado, let's head on to our top picks.
 Best Stiletto Lace Up Heels To Buy in 2023
1. Billini – The Lace-up Pointed Toe Sandal
Presenting the ultra modern heels with a lace up look and a stiletto heel design, these heels feature an open toe style which makes them breathable and lightweight too. Besides that, you can get an additional height boost by wearing them too! You're sure to make jaws drop as you walk into a room wearing this pair.
2. Soludos – Tall Wedge Espadrilles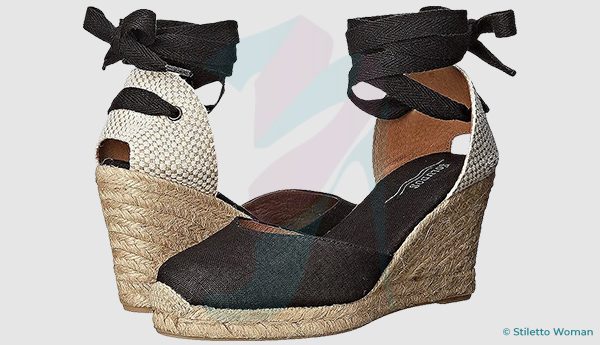 A unique, yet a chic option for you to try in terms of lace up heels would be this espadrille infused wedge heel style lace up heels which offer you superior comfort and durability. They can last you a really long time and can surely help you make a strong fashion statement. You can walk in them for hours without feeling tired too.
3. Steve Madden – Uplift-r Heeled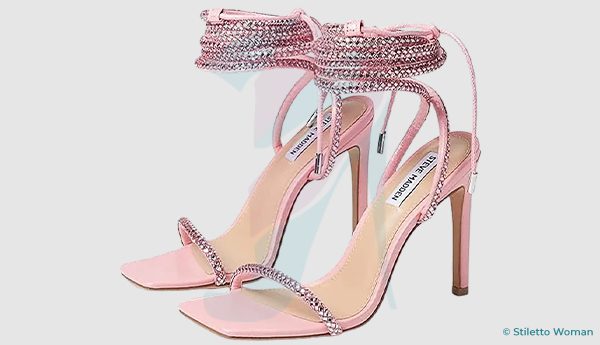 Another cool pair of lace up heels that you'd love to have would be that of Steve Madden. These heels come with a square toe style and a stiletto heel which makes it an elegant pair and a unique one. They ooze modernity and creativity at its best. Also, since Steve Madden is a renowned brand, these square toe lace up heels last you a long time too!
4. Sam Edelman – Serene Sandal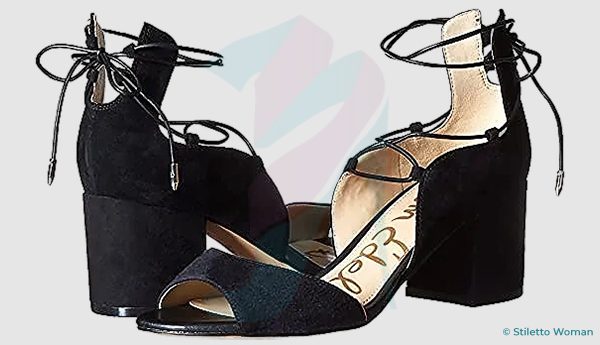 Featuring another timeless classic, a block heel design with a lace up style crafted in an opulent way, these lace up block heels by Sam Edelman exude zest and vigor for fashion trends. They can not only make you look fashionable, but also super chic at the same time. With an open toe style, you can appear more modern too with these lace up block heels. These black lace up heels surely make you look elegant in the best possible way.
5. SCHUTZ – Siena Heel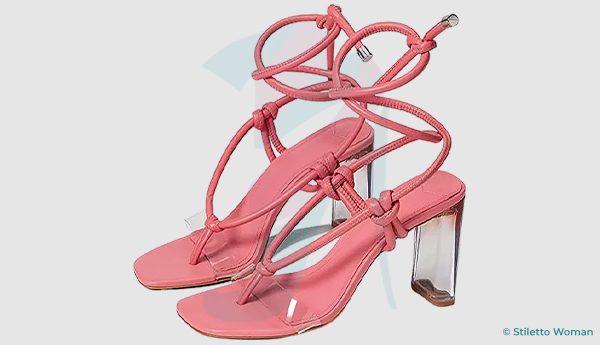 Featuring a puffy heel style with a transparent heel and disorganized strappy look which oozes easy going vibes and finesse too. They can grip your feet well, preventing slip offs and they make a lightweight and breathable pair. Also, the brand promises excellent quality and craftsmanship so you can be sure that the money is going at the right place.
6. Jeffrey Campbell – Demi D'Orsay Pump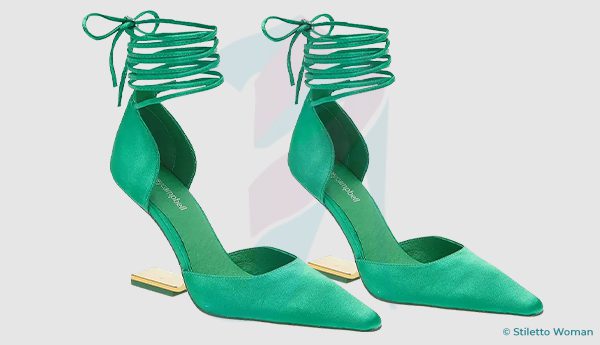 With style and finesse oozing from these ultra modern and unique mules, they come with a convenient block heel design with a separating thumb-toe strap to grip your feet well. They make a breathable and lightweight pair that you can wear to formal events too! They'd be a great addition to your heels collection.
7. Patricia Green – Leon Espadrille Wedge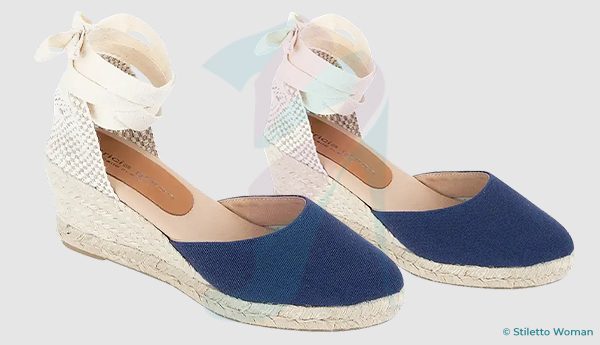 If you're a fan of comfort above everything else, then these espadrille inspired wedges may catch your attention. These heels would be perfect for summer pool parties and casual strolls. Also, they're super comfortable to walk into as they do not have a narrow heel like that of a stiletto heel. They'd make a great, convenient pair.
8. Loeffler Randall – Cosette Strappy Sandals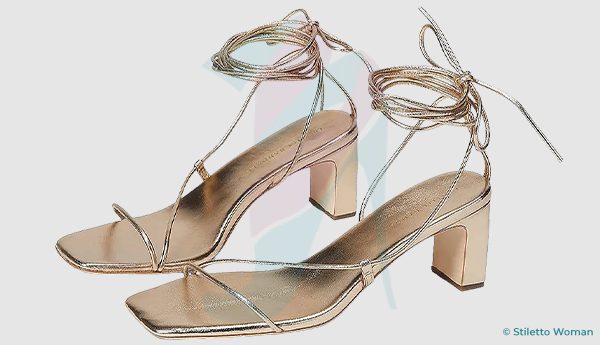 These tapered lace up block heels coupled with a square toe style can catch anyone's attention in an instant. They consist of a strappy look followed by a lace up style which can accentuate your legs, making them appear super attractive. Also, these lace up block heels ooze style and finesse at their best when you're wearing them.
9. FRAME – Le Doheny Strappy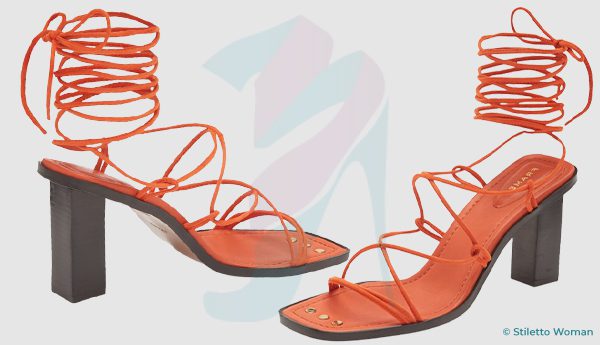 Similar to Loeffler Randall's lace up heels, these square toe lace up heels come in a similar design but with differently organized straps. These lace up block heels also come in a square toe style with a block heel design which can make them easy to walk into. Also, you can appear fashion-forward, ultra-modern and Uber Chic in this pair of lace up block heels.
10. Tory Burch – Artisanal Knot Heeled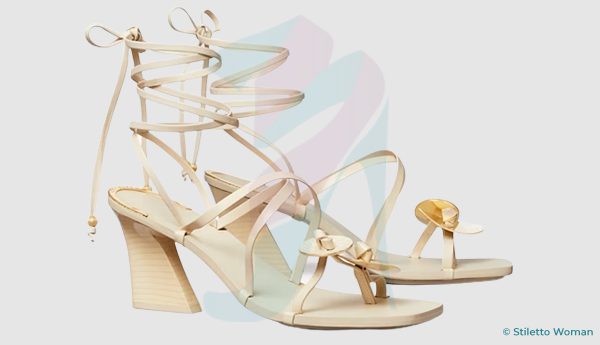 Tory Burch, a brand known for its timeless American-inspired designs and travel-infused styles, these heels by the brand exude the same. They come with an embellishment on the toe strap area followed by many straps behind it. Also, since the laces are thin, they can be easily tied up and managed. Though it's a pricey option, it's worth considering.
11. Brother Vellies – Bike Ankle Strap Sandal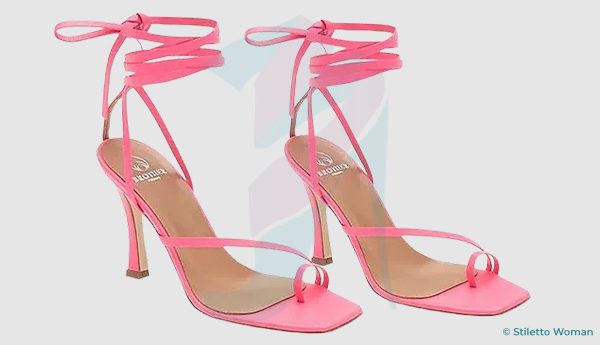 These heels scream luxury and glamor at their best. They consist of an intensely strappy look with a stiletto heels design that can help you gain a few inches too. Also, you can make jaws drop owing to the glossy appeal of these square toe lace up heels. Simply pair them up with a dull outfit to uplift your entire look!
12. Stuart Weitzman – Nudistwrap Sandals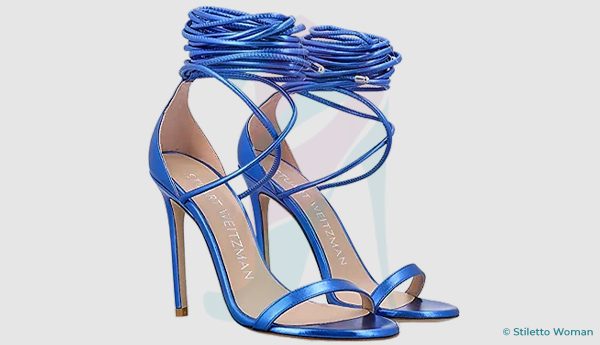 Featuring a thin strap design with an open toe style and a high stiletto heel height, these lace up sandals heels exude timeless class and finesse. You can never go wrong with a nice pair of stiletto heels with accentuated and elongated legs that can help you appear super attractive and chic. Since Stuart Weitzman is a luxury brand, this is an investment you won't regret!
13. Jimmy Choo – Antia Strappy Heels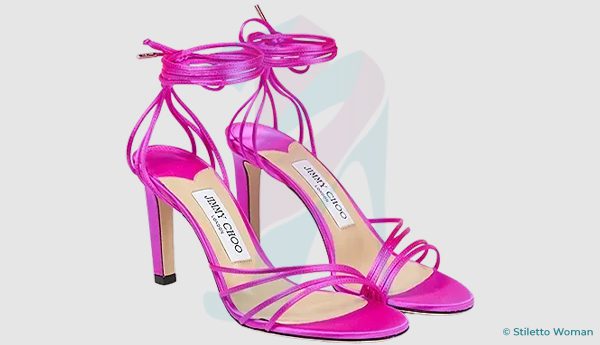 If you do love lace up heels but with a moderately strappy look, then these lace up sandals heels are for you! Gripping your toes and ankle well, these heels can make a comfortable pair. Also, they exude chic and fashionable vibes. It would be easy to wear these lace up sandals heels owing to the less strappy look and as compared to other lace up heels which are hard to manage.
14. Dolce & Gabbana – Keira Sandal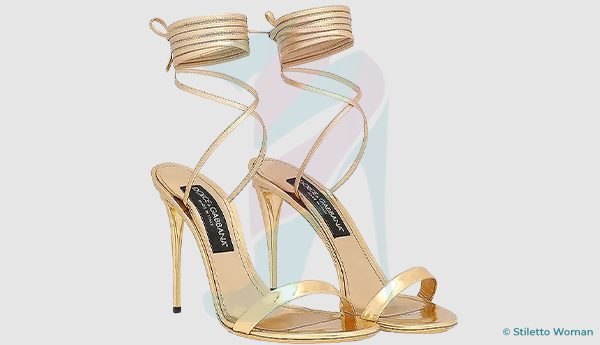 When we talk about luxury and finesse, D & G takes the lead for sure! The brand has been around in the fashion industry for quite some time now and has been excelling ever since its inception. These lace up sandals heels come in a breathtaking gold color which has a glossy appeal and can help you make a strong fashion statement about your preferences. This one's for all the stiletto heels lovers.
15. Bottega Veneta – Dot Strappy Sandal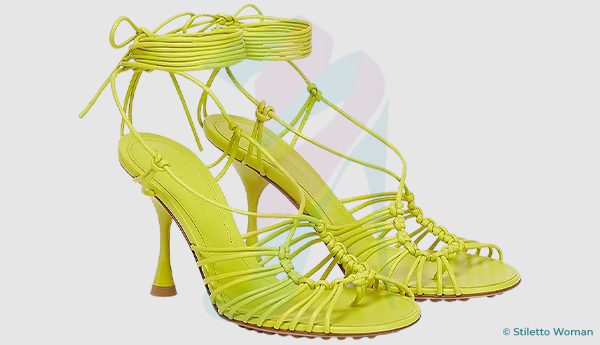 Last, but not least, these lace up sandals heels by Bottega Veneta define modernity at its best. These heels consist of an upbeat vibe with a densely strappy appeal, especially towards the toe area. Since the laces are quite delicate, you'd have to handle them with care and it may take some time to put them on. However, once you've got these lace up sandals heels on, you're ready to make heads turn and jaws drop as you enter a room!