In a world where one wrong move can lead to a fashion disaster, animal prints have gone a long way. Be it a zebra print, cheetah print, or leopard print – they're all the safest bet in times of confusion relating to fashion choices. One of the easiest ways to add personality and statement to an outfit or look would be to pair it up with animal-printed shoes.
When we talk about printed leopard heels or shoes, they ooze confidence, boldness, and fashion safety nets! You could pair them up with any casual outfit and they're sure to be the eye-catchers of the event. Thanks to the intimidating appeal of the leopard print, they easily make the best pair for night outs too!
In modern times, leopard print heels come in various forms, colors, styles, and designs, which makes them more of a viable option in case you get confused. We've compiled a list of the best leopard heels to make this task easier for you, on the basis of brand, styling, and price!

Maria Menounos

Melania Trump

Sarah Paulson
Disclosure: This post contains affiliate links. When you purchase a service or a product through the links, I sometimes earn a commission, at no additional cost to you. Read my full disclosure here.
Without further Ado, let's head onto our list of the top-rated leopard heels to buy in 2023.
Best Leopard Heels To Buy in 2023
1. Jessica Simpson – Waldin Leopard Print Pumps
There's nothing like a pair of stiletto heels in the classic glowing appeal and leopard print heels with a closed toe and buckle around the ankle. Jessica Simpson's leopard heels are a keeper. Not only do they offer all of the features mentioned, but they also make the best pair for casual and informal events. They're useful and grip your feet well, preventing any slip-offs.
2. Betsey Johnson – Prince-P Leopard Print Pumps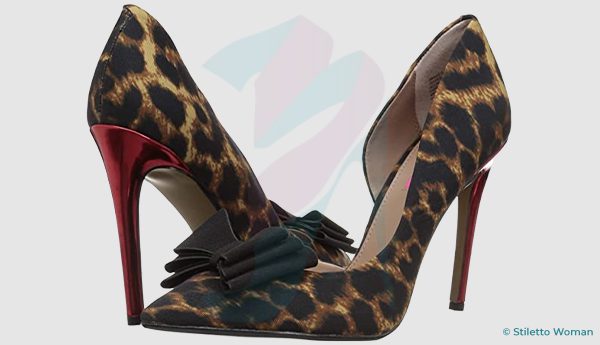 Betsey Johnson is known for coming up with the most feminine and stylish leopard print heels. These leopard high heels by Betsey Johnson ooze cuteness and style. With a bow at the toe area and a mysterious look, these leopard print heels are sure to be show-stoppers. They reinforce your femininity and make your legs appear more youthful. They come with an alluring stiletto high heel which can add a few inches to your height too.
3. Steven Madden Leopard Heels – Malibu-l Pump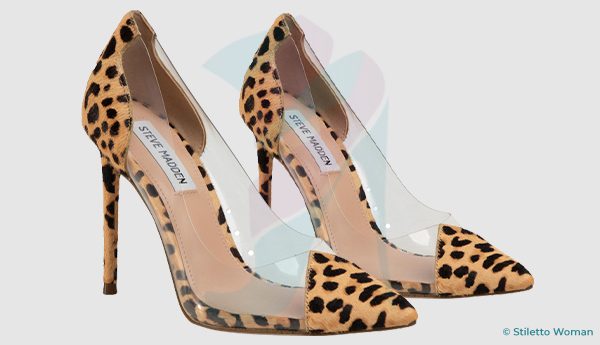 Steve madden leopard heels are no less than a luxury. Just by its appeal, you can tell that they look premium and classy. Coming with a unique leopard print with a transparent cover too, these leopard high heels make the best pair for informal events like parties and night outs. They come with an easy slip-on style without the hassle of buckle straps. These heels should be on your bucket list!
4. Chinese Laundry – Jam Heeled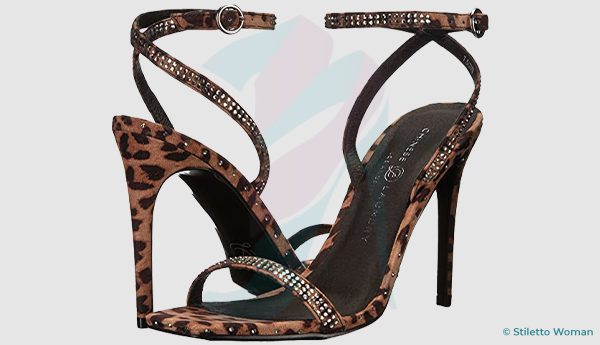 Sometimes covering the entire heel with a leopard print can be boring and mainstream too. To stand out from the crowd, opt for these innovative Chinese Laundry leopard print heels. Coming with an elegant leopard print and straps consisting of decorations, they have a minimalistic leopard print design which makes them less tacky and more glamorous. Without appearing too bold, these leopard high heels make a strong statement if worn correctly with the appropriate outfit.
5. Katy Perry – Sissy Leopard Print Pumps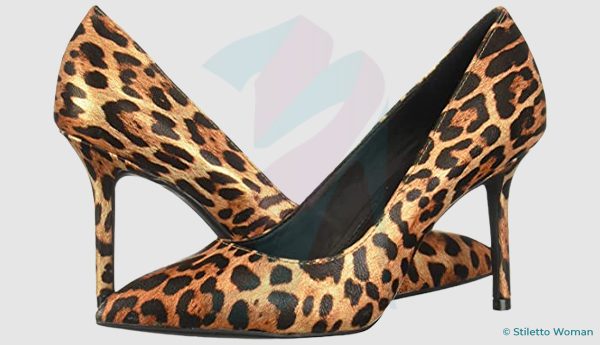 Though some women prefer minimalistic leopard print design, some women love to go all in – which is why Katy Perry's leopard print pumps are covered entirely with the leopard print. They exude luxury and classic stiletto heel design with a slip-on style and a long heel size which can make you appear tall too. They will elongate your legs and add a personality to your overall look.
6. Clarks – Viola Dress Leopard Print Pumps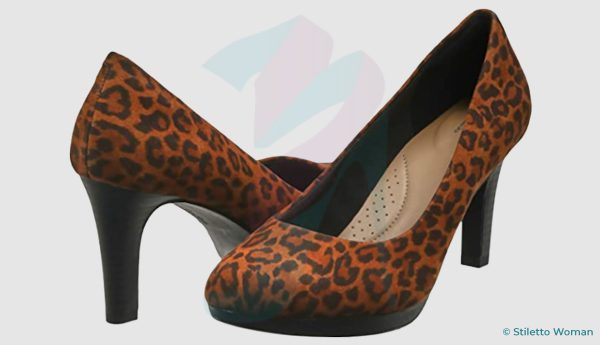 Featuring a pump heel stiletto design, these leopard print heels make a comfortable pair for everyday events. If you want to try leopard print or cheetah print heels, but are scared of extremely high heel height, then these leopard print pumps heels by Clarks would be the perfect trainer pair for you. They're convenient, and useful, and can also be used as a multipurpose solution for all your heels problems.
7. STEVEN by Steve Madden – Local-Lw Pump
Featuring a closed-toe design with a full-cover leopard print, these Steve Madden leopard heels are Uber cool. They appear fancy and at the same time, they're not very tacky either. They comprise a dull look rather than a bright or eye-catching one. With a simple slip-on style, these steve madden leopard heels would make the most useful pair for many events!
8. Kenneth Cole – Riley Pump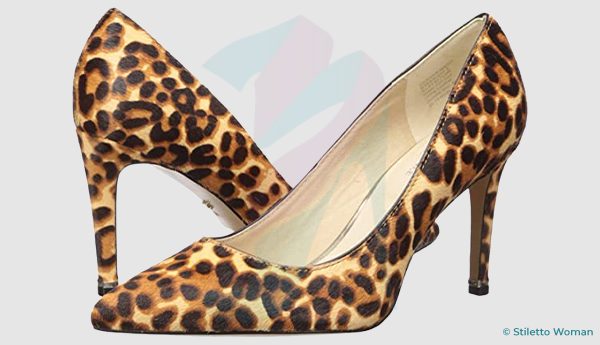 Speaking of dull appeal, most women aren't impressed by that. If you're a person who loves bright and bold looks, then Kenneth Cole's leopard high heels are the ones for you. They comprise a bright leopard print with stiletto heels which will elongate your legs and make you appear very stylish at the same time. Kenneth Cole is known for offering amazing quality footwear, so you can be sure that you're making the right investment!
9. Nine West – Tatiana3 Pump

In a list of stiletto heels, you're sure to see Nine West's name somewhere. Thanks to the innovative designs and colors, they're a woman's savior, even though the company has shut down its operations. Women all over the world still buy them religiously from other retailers. These leopard print heels by Nine West exude boldness and excitement. They'd be perfect for parties, as well as casual wear, to make a strong fashion statement.
10. Marc Fisher – Christa Leopard Print Pumps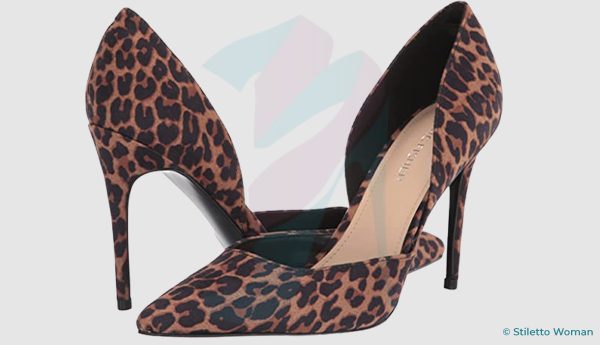 Another really classy pair of leopard high heels would be that of Marc Fisher. They offer excellent quality and durability which ensure that your heels will last several years, making them quite a good investment. Marc Fisher's leopard print heels come with a closed-toe design to carefully grip your toes and give them a feminine shape!
11. Calvin Klein – Leopard Print Pumps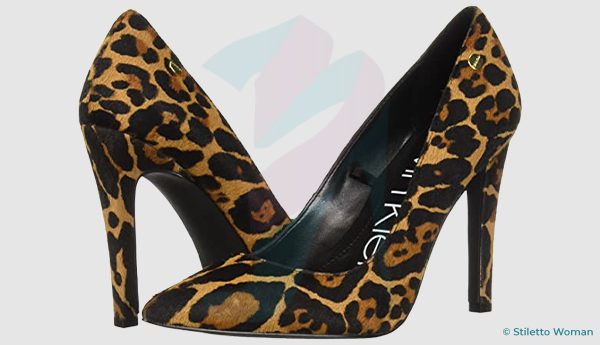 Coming in a unique leopard print design, leopard high heels ooze modernity and finesse. They come in a slip-on style which is easy to wear and carry. They have a lightweight design and are made up of high-quality material which makes them long-lasting and useful. You can wear these leopard print heels at several events too!
12. CHARLES DAVID – Leopard Print Pumps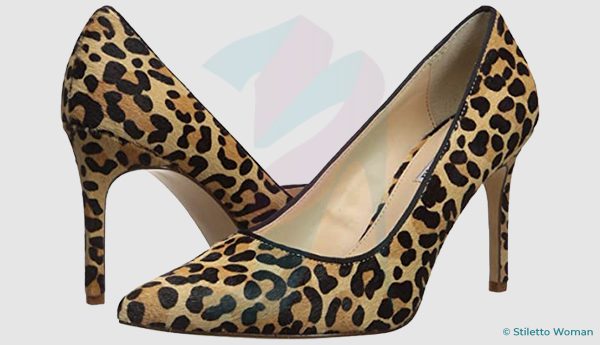 Featuring a classic leopard print and a slip-on style, Charles David's leopard print pumps heels consist of stiletto heels but the heel size is relatively smaller than average. They're just enough to add a few inches to your height and not make you feel uncomfortable with extremely high heel sizes. Charles David leopard print heels are sure to leave you in awe!
13. Sam Edelman – Hazel Leopard Print Pumps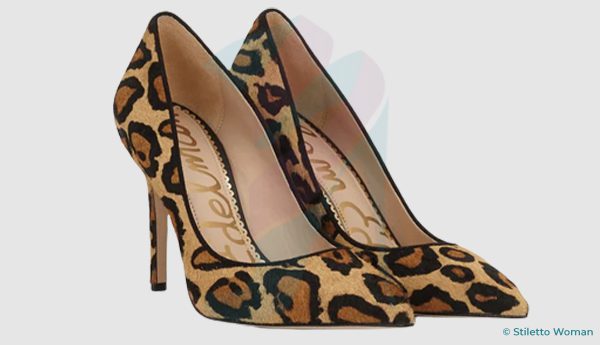 A classy pair of Sam Edelman leopard heels, consisting of a subtle glow and full cover leopard print is sure to be a show stopper. They consist of a stiletto heel which will make your legs appear more attractive and will add a strong fashion statement to your overall appeal. Sam Edelman leopard heels are always must-haves and these are no exception.
14. Giuseppe Zanotti – Ylenia Leopard High Heels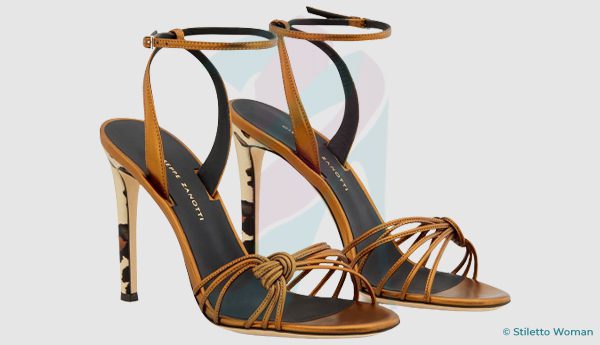 A luxury and high-end brand, Giuseppe Zanotti promises superior luxury and glamor. Heels by this brand are always premium and all women wish to own at least one pair. The brand is loved by celebrities too! These leopard high heels by Giuseppe Zanotti ooze elegance and femininity. Coming with a unique leopard print on the heel shape, with straps covering the upper part, they appear less tacky and more contemporary. They ooze modern glamor and would be the perfect pair for formal as well as casual events. Though these leopard print heels are a bit expensive, they're definitely worth the price.
15. Taryn Rose – Slip-on Leopard Print Pumps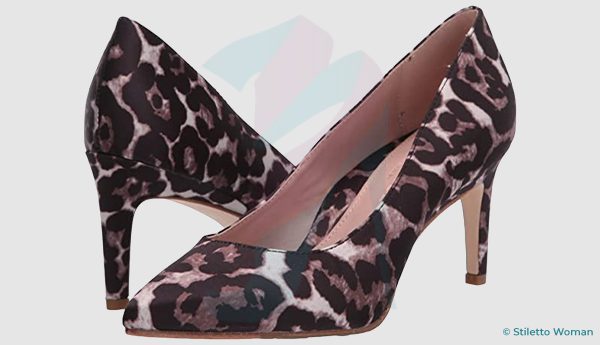 Last but not the least, coming in a convenient and useful design that is sure to offer you the utmost comfort along with style, Taryn Rose offers luxury, yet comfortable leopard print heels. They can be worn on any occasion, so they serve as a multipurpose. They consist a dull appeal, but with a full leopard cover and a smaller heel size which makes them a very comfortable pair. You can be sure to have invested in something useful that will also you for several years. So they're definitely worth the price, much like Giuseppe Zanotti's leopard heels mentioned above.