You may have come across many animal printed heels, but to be very specific, crocodile skin heels may be something that piques your interest the most. Snake skin or crocodile skin, both are the top picks when it comes to looking for durable and long lasting heels. The sturdy and textured print makes it resistant to stains and creases which means that they'll last you a really long time as well. Not just that, but they're super trendy too.
What You Need To Know Before Buying Crocodile Heels:
At first glance, Crocodile heels may look very tacky and extra as compared to that of the look of simpler heels. However, the newer versions of such heels are sure to win your heart as they are suited to many occasions and preferences. Ranging from open-toe, closed-toe, square-toe, block heels, pointed toe crocodile skin high heels, crocodile print kitten heels, and many others – the choices are limitless. A few things that you need to know before investing in Crocodile heels include the following:
Your Individual Requirement

Everyone has their own reasons to get crocodile heels. Yours may be to create more diversity in your heels collection or to simply have the long lasting pair of heels which can go well with most outfits. Whatever the requirement may be, make your picks wisely.

Who Should Buy Crocodile Heels?

Women who love to look exquisite and unique. Those who have practical fashion tastes and prefer durable heels should go for a nice pair of crocodile heels. Besides that, they can leave a lasting impression so all the working women should go for a gorgeous pair of crocodile heels too.

Features To Look Out For

Crocodile skin heels can come with a strappy look, embellishments, buckles, various textures, heel shapes, heel height and a lot more. You can pick the one that best suits your needs as you browse through the popular designer brands like Jimmy Choo, Miu Miu, and others.

Jennifer Lopez

Kate Middleton

Selena Gomez
Disclosure: This post contains affiliate links. When you purchase a service or a product through the links, I sometime earn a commission, at no additional cost to you. Read my full disclosure here.
Without further ado, let's head on to our top picks.
 Stiletto Best Crocodile Heels in 2023
1. Calvin Klein – Daria Sandals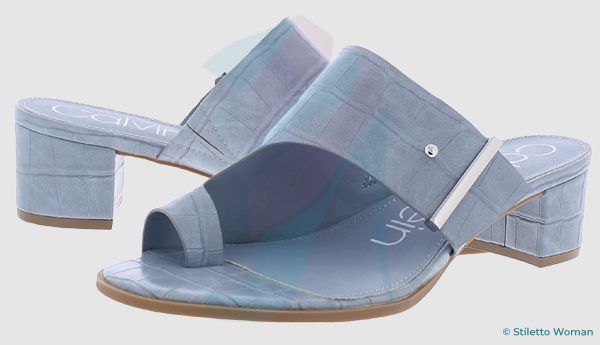 Ranking at the very top, these slip on heels consisting of a block heel design and a crocodile skin heels ooze finesse. These heels are not only convenient, but also reliable as they're offered by the well reputed brand, Calvin Klein.
2. Kenneth Cole – Dee Two Band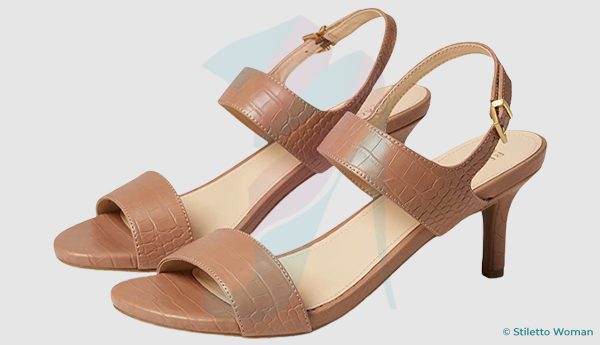 Featuring a timeless classic with a convenient heel height and a slingback style, these heels come with an open toe style, making them breathable and lightweight. These heels can be great for everyday and causal events.
3. Kate Spade – Jadena Loafer Heels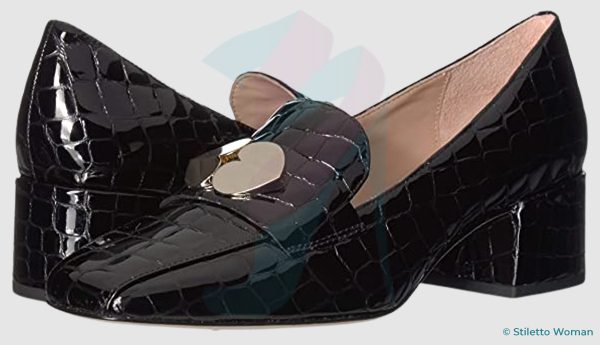 An exquisite and an ultra modern option for you to try in terms of crocodile skin heels would be that of Kate Spade. These heels feature a loafer inspired style with a nice gloss. They come with a block heel design which makes them comfortable and easy going too.
4. Journee Collection – Vivvy Pump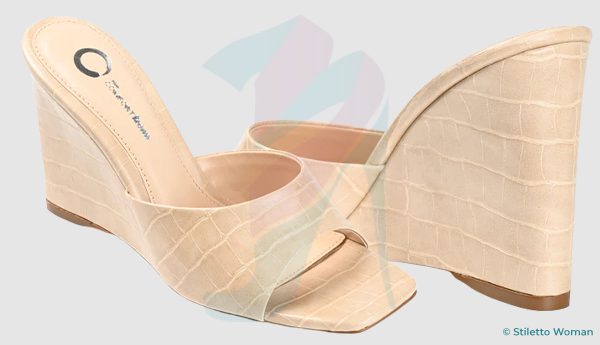 Another great option that you should consider would be that by Journey Collection. These slip on wedge crocodile skin heels characterized by a square toe exude modernity and creativity. They make an easy going and flexible pair, ideal for every events.
5. Steve Madden – Irenee Heeled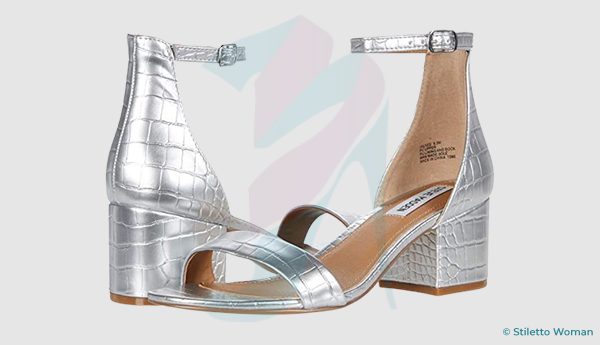 Speaking of everyday events, it can be a hassle to choose the ideal heels. Not to worry as these crocodile skin heels  by Steve Madden exude simplicity which makes them appropriate for all kinds of events. They are marked by the ankle strap design and an open toe style.
6. Franco Sarto – Sabello Sandal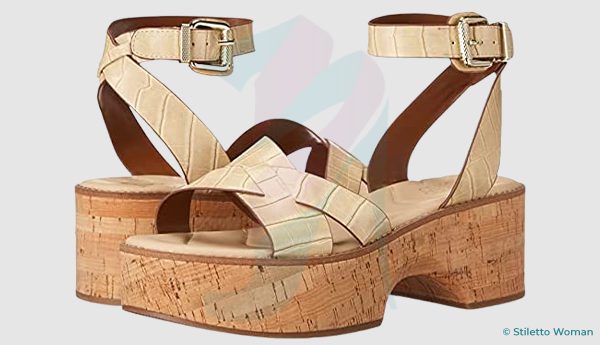 Another great option would be that of Franco Sarto. These heels come with a cork heel style and an ankle strap which can grip your feet well. The heels come with an x strap which makes them modern and unique too.
7. Sam Edelman – Doran Heeled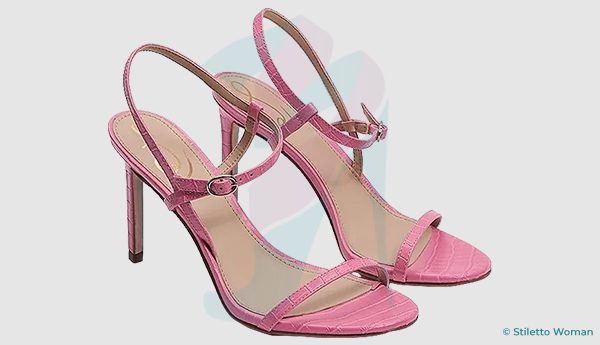 Featuring a sleek and a stylish pair of crocodile skin heels which takes a minimalistic approach. These heels come with a buckle strap and an open toe style which makes them convenient and easily manageable. The heel height can give you a nice height boost as well.
8. SCHUTZ – Darah Platform Heeled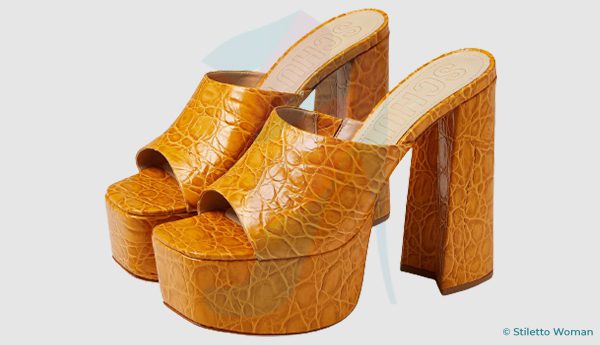 Presenting you another ultra modern and glamorous pair of crocodile skin heels by Schutz, these heels come with a platform style. These heels can not only add a few inches to your height, but can also help you appear fashion forward and trendy. The slip on style makes them easy to wear too.
9. Lauren Ralph Lauren – Grayce Sandal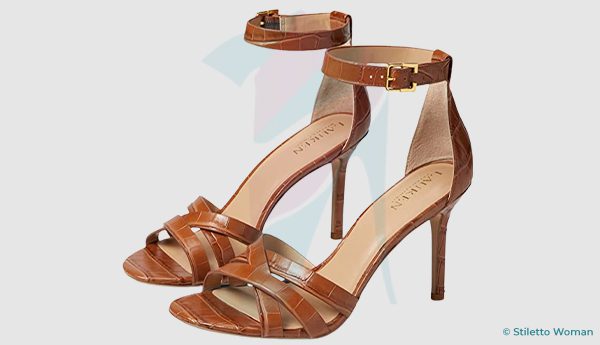 Featuring a classic ankle strap design with an open toe style by Ralph Lauren. The brand promises excellent quality and that too, at economical prices. These heels come with a breathtaking look and can make a statement wherever you go.
10. Vince Camuto – Gruelie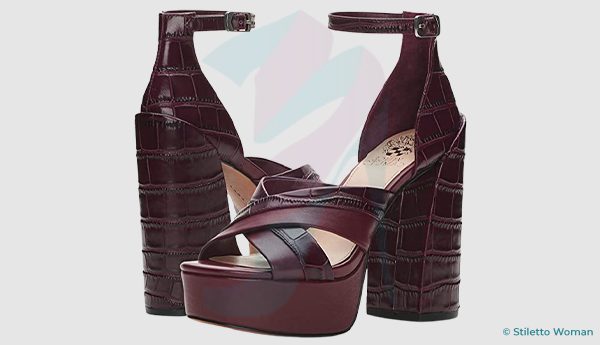 Oozing luxury and finesse at its best, these heels by Vince Camuto are the ultimate stunners. They come with a platform heel style and an x strap design. They can look great on most events including formal as well as informal too.
11. Trotters – Dea Pump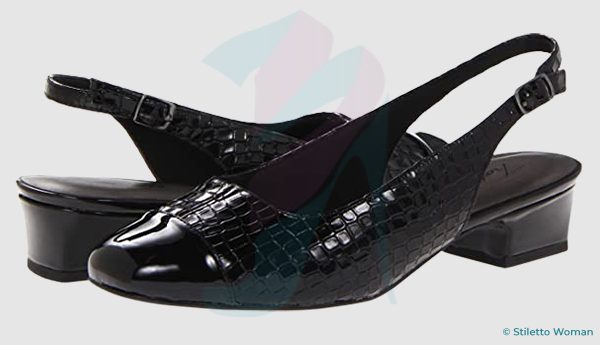 Another high end option for you to try would be that of Trotters. These heels feature a Slingback style with an attractive glow of the leather. They come with a low heel height which makes them easy to wear and carry.
12. Andre Assous – Sofi Clog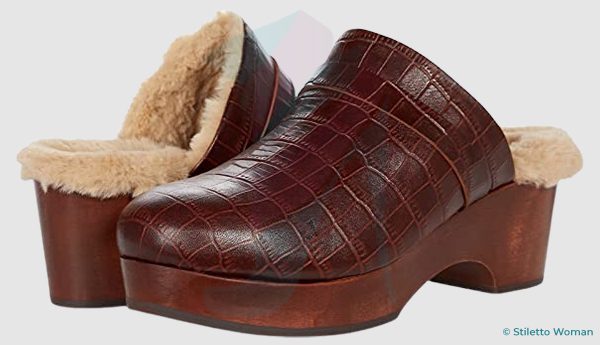 A unique and an opulent designs which is sure to catch your attention would be that of Andre Assous. These clog inspired heels can last you a lifetime, so it'll be an investment worth making. Also, they'd be ideal for most of the casual events.
13. Naturalizer – Everly Pump (Crocodile Print Kitten Heels)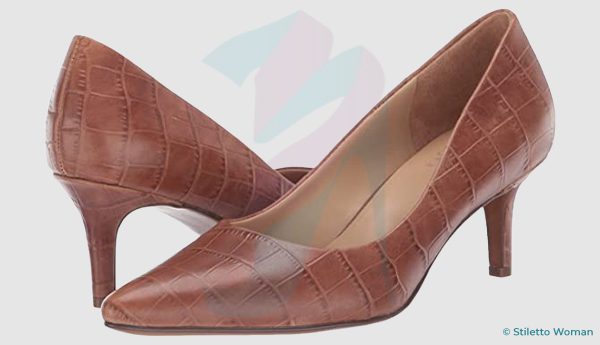 A classy and a convenient option – these pump inspired crocodile print kitten heels come with a pointed toe design which can accentuate your feet, making you look super chic. These pointed toe crocodile skin high heels go well with most outfits owing to the color and detailing. These crocodile print kitten heels by Naturalizer are a must try!
14. Stuart Weitzman – Platform Pump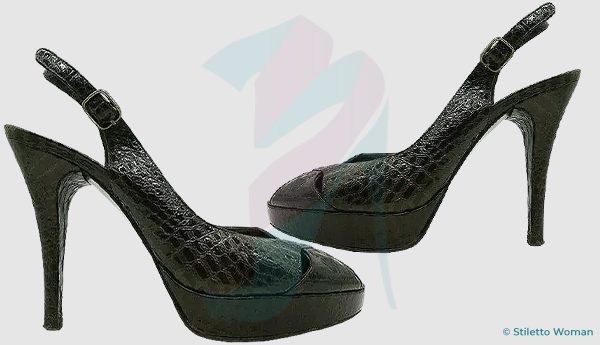 A premium and an exquisite option in terms of crocodile skin heels would be that of Stuart Weitzman. The brand is marked by American detailing and brags a long list of celebrity following. These heels come with a platform sole and a Slingback style with stiletto heel to help you leave a lasting impression on your audience.
15. Jimmy Choo – Minea Metallic Mules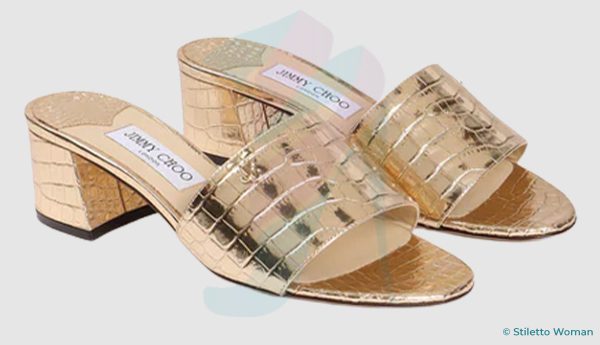 Last, but not the least, these heels come with a slip on style and a block heel design which can facilitate the walking process. Also, these heels can be great for parties as the gold colour can uplift any dull looking outfit too.