There's something irresistible about a woman when she focuses on enhancing her femininity. Feminism has gone to extremes reinforcing the idea of equality between both the genders and in the process, most women do not go for the ladylike fashion trends anymore. The thing about ladylike fashion is that they still look great if you go for them now. One of the most unique and feminine heels you could get would be heels with a bow – cuteness, chicness and modernity, all in one combo that you do not want to miss!
What You Need To Know Before Buying Heels with Bow:
You may assume that heels with a bow would look too extra or make you seem too girly and flashy. However, overtime, there have been newer versions of heels with a bow which makes them ultra modern and chic than ever. Some of the things you should keep in mind before buying them include the following:
Your Individual Requirement


Some women naturally want to exude that feminine energy and look cute rather than bold and mysterious. On the other hand, some women love to try something unique and would love to wear heels with a bow one time at least when going to a party. Make sure you know your requirements before you choose heels with bow.

Who Should Buy Heels with Bow?


The answer is very simple – women who prefer looking ladylike and cute rather than bold and alluring. Women who like heels with bow are generally introverted and graceful. Therefore, the ones who prefer subtle feminine and cute heel styles, should go for these.

Features To Look Out For


Heels with bow can come with a strappy look, embellishments, buckles, various textures, heel shapes, heel height and a lot more. You can pick the one that best suits your needs as you browse through the popular designer brands like SJP by Sarah Jessica Parker and others.

Florence Pugh

Jeanne Cadieu

Paula Patton
Disclosure: This post contains affiliate links. When you purchase a service or a product through the links, I sometime earn a commission, at no additional cost to you. Read my full disclosure here.
Without further ado, let's head on to our top picks.
Best Heels With Bow in 2023
1. Schutz – Elora Sandal
Featuring the uber-modern pink heels with a bow by Schutz are a woman's dream. They come in a bold and adventurous color of electric pink which catches the eye instantly. On top of that, these heels come with an ankle strap design and an open toe style. They also come in high stiletto heels which can add a few inches to your height too! They would look great for a party sort of an event like a birthday party or a beauty pageant.
2. Alexandre Birman – Clarita Slingback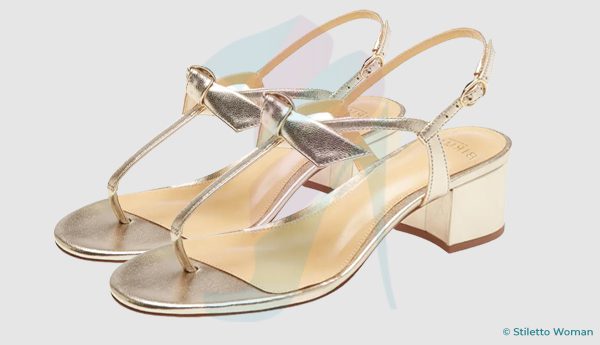 If you love trying new, opulent and fashion forward designs when it comes to heels, then go for these stunning Alexandre heels which feature a small bow at the toe with block heels which are conveniently high. They come with a strappy style which makes them super chic too. Besides that, they come in a multipurpose colour which can uplift your entire outfit.
3. Aquazzura – Woven Tie Pump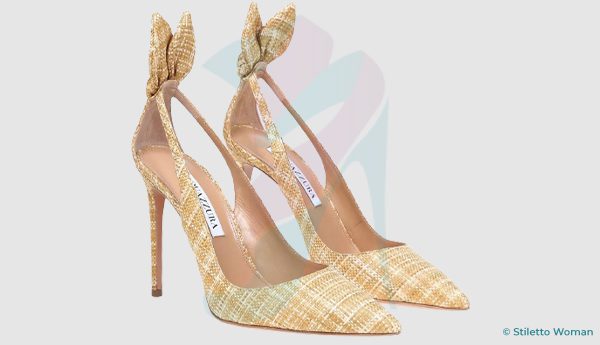 This is for the ones who prefer subtle and soft designs which are not too flashy or adventurous. Aquazzura's pump heels feature a subtle bow and come in a pastel and printed color. They feature a high heel height which makes them useful and convenient to walk around even for hours. Moreover, you could wear them at office too.
4. Salvatore Ferragamo – Winnie Pump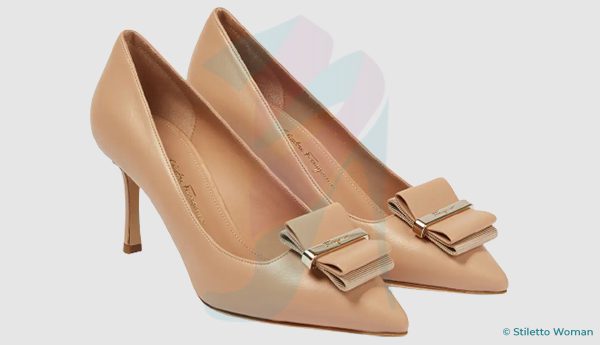 Yet another classy pair of heels with a bow, they come in a medium heel height which can add a few inches to your height and feature a plain and minimalistic design which is classy. These heels by Salvatore Ferragamo, come in a closed toe design and a pump heel style which makes them super easy to wear and carry. Best of all, they are lightweight too!
5. NINE WEST – Marry Heeled
Nine West is known for uber-modern colors and designs. These heels are a depiction of the brand's classy heels. These heels feature a classic white colour with an ankle strap design, along with stiletto high heels. You'll get an additional boost in your height, but may feel comfortable after some time. Owing to the embellishments on the bow, you can wear them at formal occasions like a bridal shower or a graduation party too.
6. TED BAKER – Zafinii Pump
Featuring a timeless classic, Ted Baker's heels with bow come in a black color which makes them multipurpose. You could wear them at any occasion. They're minimalistic in terms of design with no extra embellishments except a simple bow. These are the pair that are going to be your saviour whenever you get confused on what to wear. They come in high heel height so you get an additional height boost too.
7. Badgley Mischka – Terris Heeled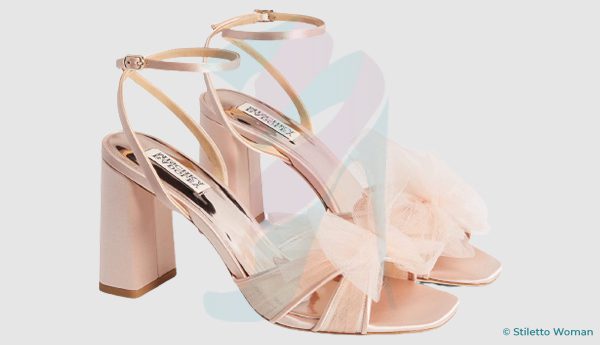 Badgley Mischka never fails to stun its customers. These heels by Badgley Mischka feature a cute net bow and they come in a light beige colour which makes them ideal for occasions like bridal shower, graduation party, prom, etc. They come in a medium heel height which makes them convenient to walk in without feeling too tired. They also come in an ankle strap design which accentuates your feet.
8. Katy Perry – Tooliped Dress Sandal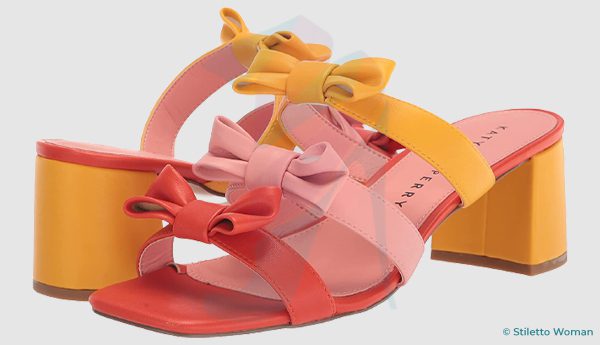 Bored of all the simplistic designs? Here's something that you'll absolutely adore. Katy Perry's heels with bows are the show stoppers. They come with three bows and these heels are available in various colours too. They come in a block heel design which makes them super comfortable and easy to carry. Another great thing about them is that they come in a slip on style, so they're less time consuming.
9. Kate Spade – Vanna Pump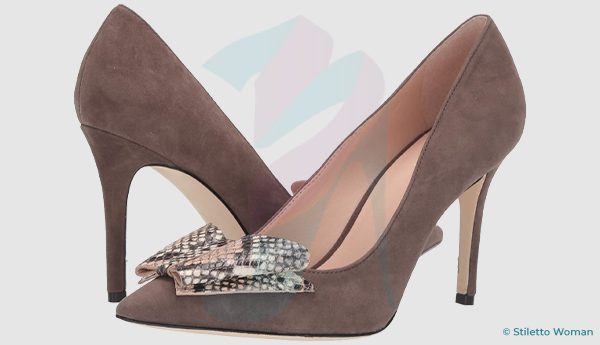 Let's admit it, we've all wanted Kate Spade heels in our closet. The brand has a really nice vibe. They feature a timelessly chic style with a toned down color. They come in a medium heel height which makes them comfortable and easy-going. Besides that, you could wear them to casual, formal as well as informal events.
10. GANNI – Bow Sandal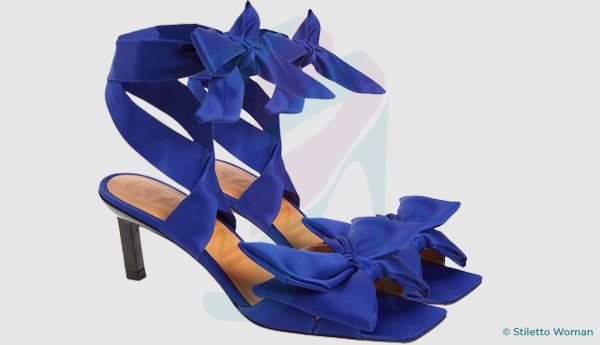 These heels are sure to catch attention of all the women out there. Thanks to the strappy ribbon style and the timeless black color, they'll look great with any outfit. They come in a convenient heel height too. Moreover, these are sure to be the jaw droppers if you wear them to a party or a night out. Also, they're likely going to last a great time so they'll be worth the investment too!
11. Loeffler Randall – Camellia-plfa Heeled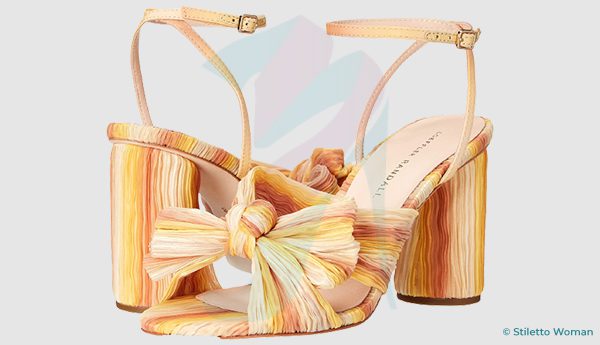 Summer print calls for floral prints and easy going vibes. Loeffler Randall's heels with bow exude femininity and summer season vibes. They are not that flashy either. Featuring a convenient heel height, you can walk or even dance in them without feeling the dread of falling down or causing a strain in your feet.
12. SJP by Sarah Jessica Parker – Lucille Pump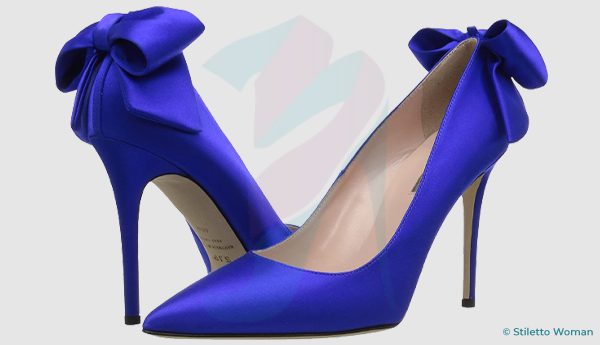 Boldness and Sarah Jessica Parker – two words which go really well together! Inspired by her own fashion sense, Sarah Jessica Parker's brand never fails to impress its customers. This electric blue-purple color is sure to appeal to many women. It features a bow at the back of the ankle, besides that it has a plain and glossy glow. You can uplift any outfit with these sky high heels!
13. Jimmy Choo –  Aveline Ankle Strap Sandal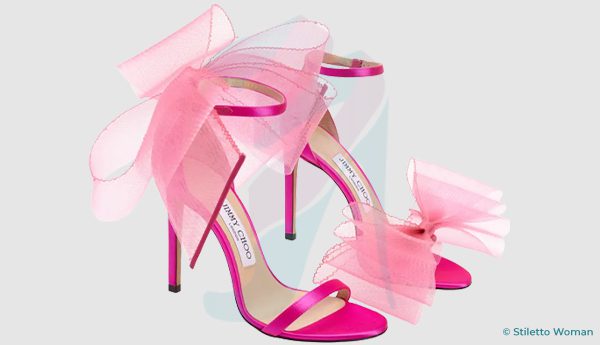 The one brand that we are all aware of in terms of heels would be Jimmy Choo. These heels by Jimmy Choo feature net infused bows with a flashy and ladylike vibe. They come in a classic white colour and would be more appropriate for occasions which require you to dress up in an extra way, for example, your own wedding or a beauty pageant. Nonetheless, the ankle strap, the stiletto heels and the open toe design are the dream of all women, so these make an excellent combo.
14. Dolce & Gabbana – Keira Sandal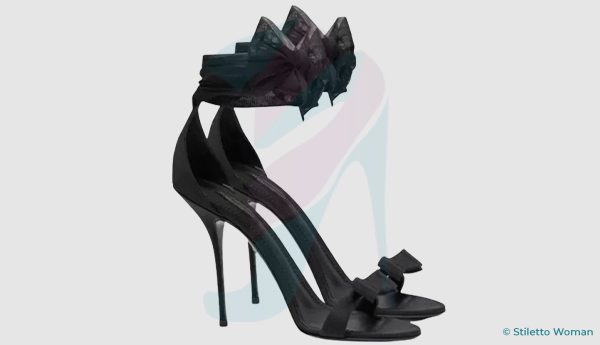 Yet another classy and ultra modern heels by Dolce and Gabbana, featuring a big bow at the toe area and they come in a classic black color with an ankle strap design. These heels are sure to stun your audience. They come in a high heel height which can add a few inches to your height too. They also prevent slip offs, owing to the ankle strap's firm grip over your feet.
15. MIU MIU – Platfom Sandal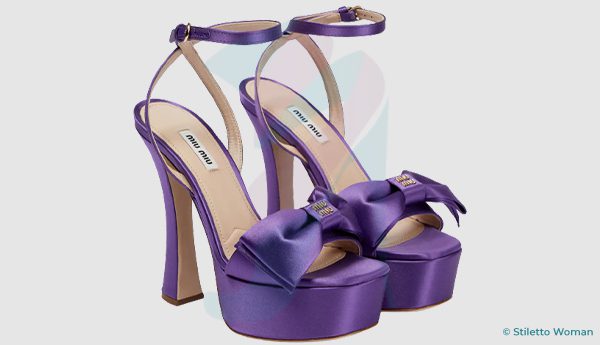 Platform heels seem to be the trendiest fashion fad ever. Get yourself a pair of Miu Miu bow heels featuring a platform style for utmost comfort and convenience. These heels exude finesse and style. They can make a strong fashion statement wherever you go. They come in a high heel height, but owing to the thick sole and ankle strap design, you will get maximum support. So, these heels are definitely a keeper!