There's something so elegant and classy about pastel colours that women tend to incorporate the colour into their wardrobe too. From clothing to heels, pastel colours are seen everywhere. In the world of fashion, no one gets left behind as there's a colour for everyone, be it a bold one or a pastel one. Giving off a very subtle and soft, yet significant message, pastel colours are sure to make strong fashion statement. In terms of heels, pastel colours can make heads turn, owing to the sheer sophistication that they have to offer.
What You Need To Know Before Buying Light Blue Heels:
You may assume that light blue heels would look utterly boring and reserved. However, we have never versions of light blue heels which are suited to many occasions and preferences. Ranging from ankle strap light blue heels to slingbacks and many others – the choices are limitless. A few things that you need to know before investing in Light blue heels include the following:
Your Individual Requirement


Some women want to have a pair of light blue heels for weddings, while some like to have them for parties. Whatever the individual requirement may be, it is important to note that a more formal version of Light blue heels would be appropriate for wedding sort of events, while informal versions with a strappy look would be better for party type events.

Who Should Buy Light Blue Stiletto Heels?


The answer is very simple – women who love to look classy. Light blue color is associated with royalty, simplicity and luxury, hence it should be bought by women who love to experience both the things and who love attending formal and informal events.

Features To Look Out For


Light blue Heels can come with a strappy look, embellishments, buckles, various textures, heel shapes, heel height and a lot more. You can pick the one that best suits your needs as you browse through the popular designer brands like Giuseppe Zanotti and others.
Disclosure: This post contains affiliate links. When you purchase a service or a product through the links, I sometime earn a commission, at no additional cost to you. Read my full disclosure here.
Without further ado, let's head on to our top picks.
Best Light Blue Heels in 2023
1. Karl Lagerfeld – Caslynn Pump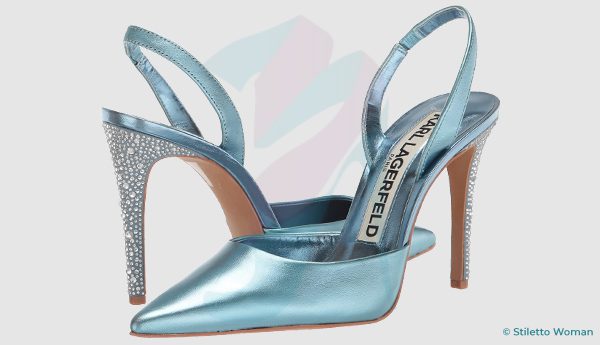 The brand boasts excellent quality of its footwear and that leaves heels as no exception. These light blue heels by Karl Lagerfeld Paris ooze modernity, creativity and finesse. Even with a light colour, they feature an ultra modern and bold look with a slingback style and a pump heels design. These heels speak volumes about the company's motto which is to come up with the most innovative and stylish heels. So they're worth the investment.
2. Kurt Geiger – Kensington Faux Sandal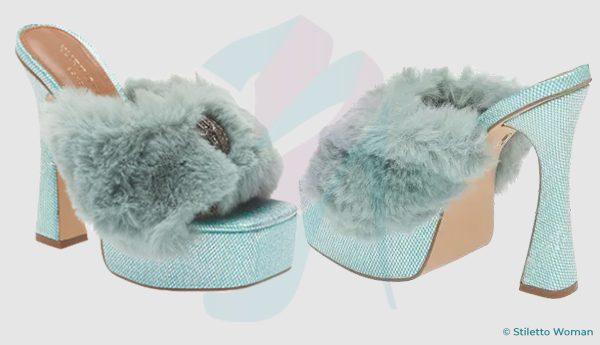 Featuring the utterly stylish and Uber chic pair of light blue heels by Kurt Geiger London, these heels are sure to blow your mind. With a slip on style and furry look along with a dramatic design, they can make a strong fashion statement and work well in most events. They can serve as a multipurpose solution for all your fashion problems. Also, the heel height is super convenient which makes them comfortable too.
3. COACH – Kellie Sandal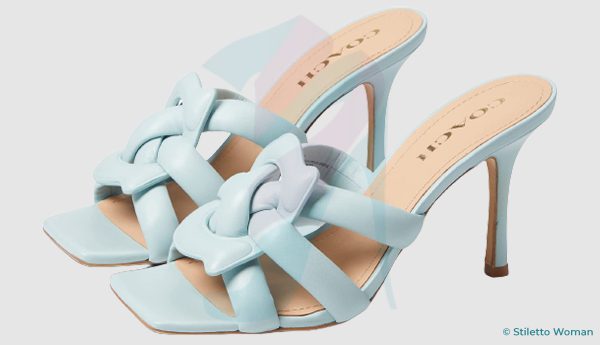 Consisting of an easy slip on style, these heels by Coach exude simplicity, ease of wearing and comfort. They come in a convenient heel height and they're sturdy too. Thanks to the lightweight design, you won't feel uncomfortable even after wearing them for hours long. They can go well with most outfits and will definitely save your time too.
4. Badgley Mischka – Sophie Ankle Strap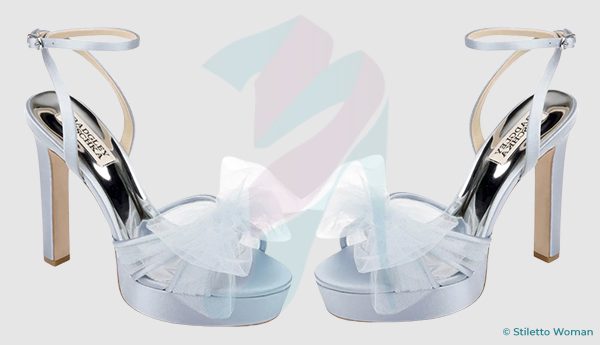 Looking for a pair that'll help you gain some extra inches in your height? Then look no further. Badgley Mischka's light blue heels will serve the purpose well! It's safe to say that the heels do justice to the price that you have to pay for them. Featuring an ankle strap and an open toe style, these heels come with a really high heel which can give you a nice height boost and make your legs elongated too. they're definitely a keeper.
5. Bandolino – Millie Pump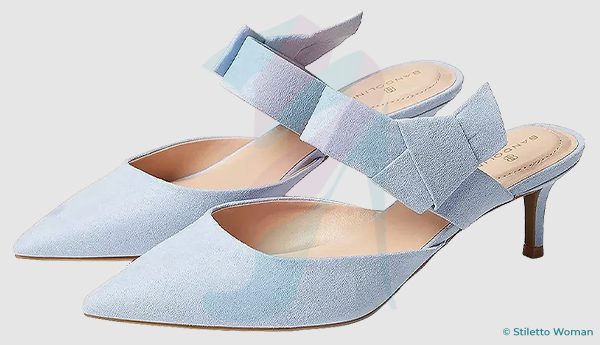 Looking for something that oozes femininity and ladylike vibes? Then go for these gorgeous pair of heels which ooze sheer feminine vibes and they'll charm you in an instant. They can complement your feet and accentuate them too, making you look attractive. Besides that, they will look great on any outfit and occasion. Thanks to the convenient Heel height, they make a comfortable and useful pair.
6. Valentina Rangoni – Fede Pump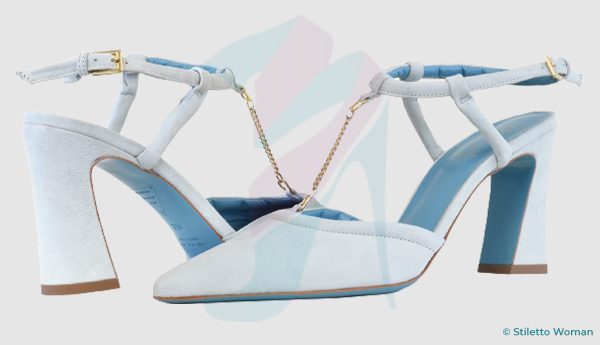 A pump heel style by Valentina Rangoni is also an attention grabber. Featuring a simple yet sophisticated design, these heels will successfully increase your height and make your legs elongated. They will make you look attractive like no other. They'd be perfect for formal occasions and can go well with most outfits too.
7. Something Bleu – Halen Pump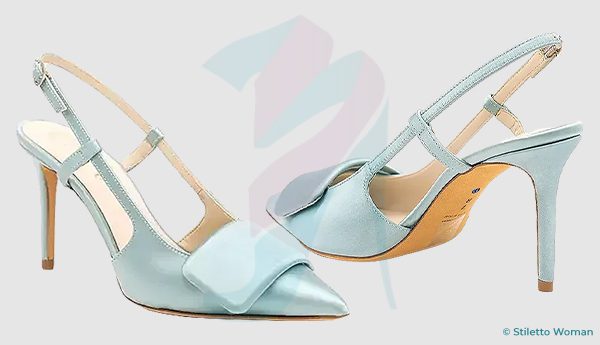 Featuring an ultra feminine look with a slingback style and a convenient heel height, these heels would be great for anyone who is afraid of heels or who prefers comfort above all else. These heels give you the best of both worlds by offering you finesse and luxury in terms of styling and they can make a strong fashion statement which can leave a lasting impression on your audience.
8. Stuart Weitzman – Lucite Wedge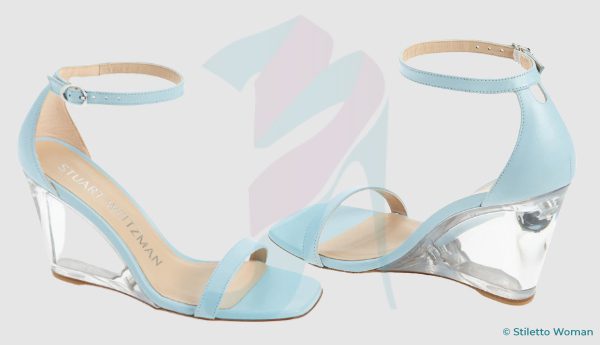 Presenting you a luxury option in terms of light blue heels, these heels by the ultra modern brand, Stuart Weitzman feature ankle straps and an open toe design which are sure to leave you stunned. Also, they're super comfortable, lightweight and sturdy. They'll likely last you a really long time if you take care of them!
9. Gianvito Rossi – Metal Pump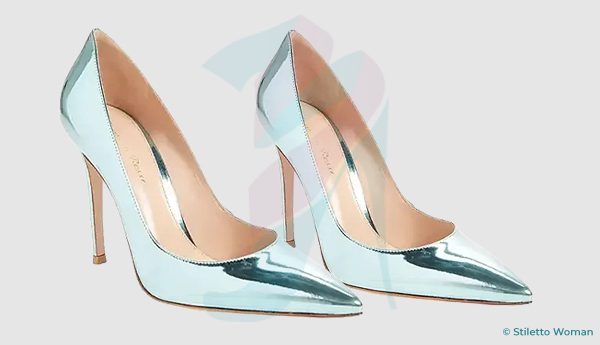 Tired of all the ankle strap and slip on styles? Then these pump heel style heels might amuse you. These heels by the ultra glamorous and high end brand, Gianvito Rossi, come in a unique light blue color with a modern twist. They can give you additional boost in your height and attractiveness too. Simply pair them up with a color coordinated dress and you're sure to leave your audience amazed.
10. Gucci – GG Logo Sandal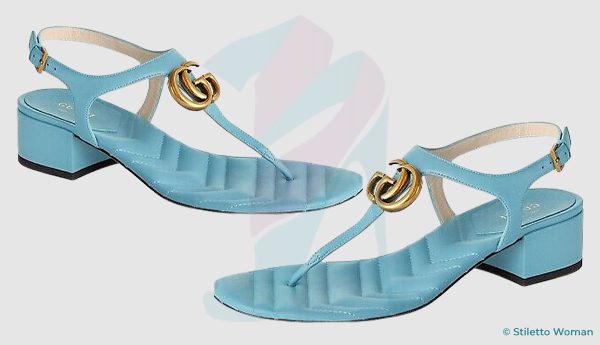 The Uber cool Italian brand, Gucci, stands out for its timeless heel designs. These light blue heels come with a t strap design and they ooze modernity. Coming with a convenient heel height and an open toe style, they make the perfect pair for anyone. They can go extremely well on casual events and with most outfits hence they're worth investing in.
11. Jessica Simpson – Pirrie Metallic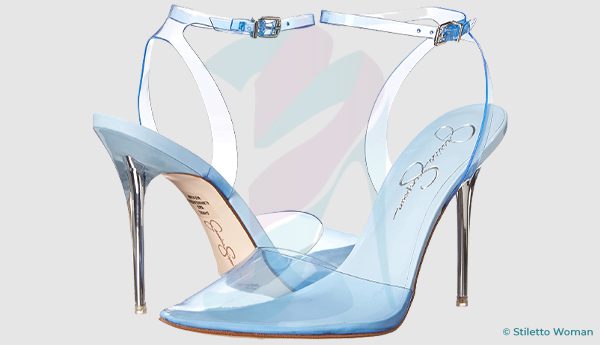 Another option to consider would be that of Jessica Simpson. These pastel blue heels by Jessica Simpson can grab anyone's attention. Coming with a nice transparent strap and an ankle strap design, these heels can look great on any occasion. They ooze chic and modern vibes which are suited to casual as well as formal events too.
12. Aquazzura – Gatsby Sling pump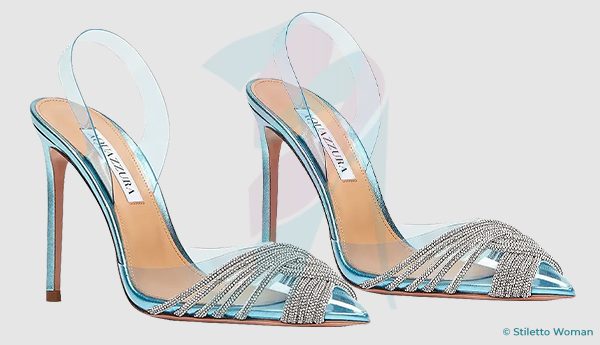 2023 calls for comfort and time saving strategies, but that doesn't mean that the fashion trends become boring. Fashion industry has taken a vigilant notice of the trends and one of the top designers came up with these Uber modern light blue heels which feature a stiletto heels, peep toe and a slingback design which are sure to have you awestruck. They are super chic and trendy. Unlike flashy colors, the light blue pastel color makes these heels more charming.
13. Vince Camuto – Vinkely Kitten Heel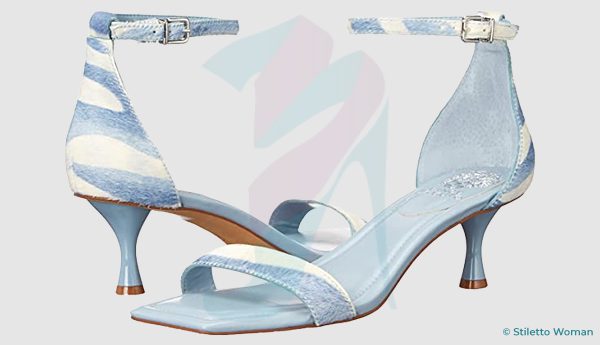 Vince Camuto just keeps getting better. These heels feature a low heel height and an ankle strap design which is sure to leave a strong impact on your audience. These heel are classy and elegant. They're sure to make a strong fashion statement as well. You can never go wrong with a nice pair of Vince Camuto heels.
14. Versace – Medusa Platform Sandal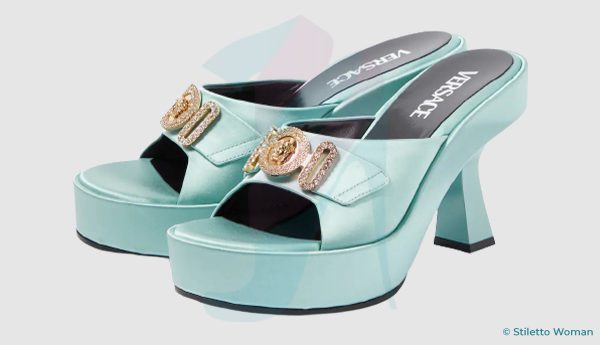 Last, but not the least, these platform-inspired, slip on style, light blue heels exude confidence and grace. There is something extremely alluring about them and at the same time, they're super comfortable too. They come with a convenient heel height too. They are lightweight and breathable as well. You can't go wrong with these!
15. Sam Edelman – Kia Heeled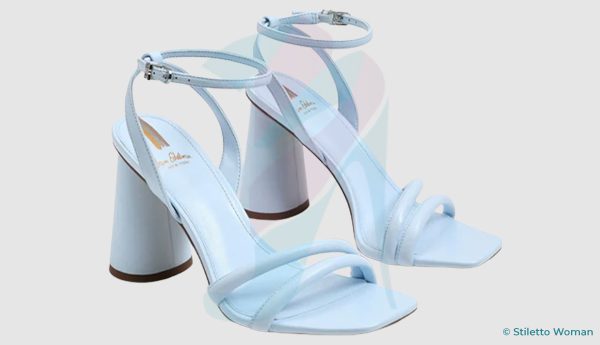 Here's another great pair by the legendary Sam Edelman. The brand promises not only great quality but also innovativeness which is evident in these stunning light blue heels. Featuring a strappy look, they'd be perfect for most casual events, but you could wear them elsewhere too thanks to the multipurpose design.