Gone are the days when thigh high boots or over the knee boots were considered provocative and inappropriate. Nowadays, people wear thigh high boots to the workplace as well. Though footwear is associated with fall and winter seasons only, most people manage to pull them off in spring as well. They do that by wearing knee high and mid-calf boots which are less warm but add to the overall look.
Thigh high boots or the over the knee bootsare considered stylish forever, flattering your legs and your overall appeal if worn correctly. You cannot wear thigh high boots on baggy pants unless you want to look like a pirate. Thigh high boots or over the knee boots essentially cover your legs so you could wear a mini skirt or a mini dress to go with them. They have definitely surged in popularity, and it won't be a surprise if the designers plan to inch up the thigh high boots or over the knee boots further.
Why Wear Thigh High Boots/Over The Knee Boots?
They keep you warm.
They are super stylish.
You won't need to wear tights as though heel boots will have you covered.
Act as a windshield.
Flatter your long legs – the longer the legs, the more alluring they'll appear.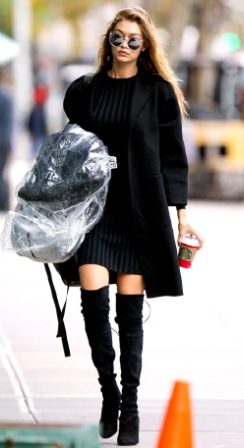 Gigi Hadid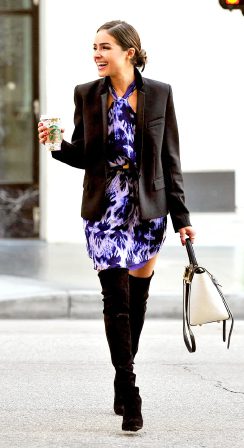 Olivia Culpo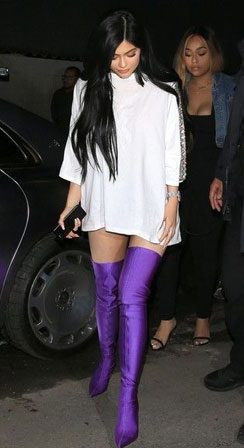 Kylie Jenner
Disclosure: This post contains affiliate links. When you purchase a service or a product through the links, I sometimes earn a commission, at no additional cost to you. Read my full disclosure here.
Without further ado, let's head on to our top picks for the best thigh high boots.
Best Thigh High Boots 2023
1. Steve Madden Thigh High Boots – Magnifico
Featuring the magnificent charm of a vegan leather upper top, Steve Madden thigh high boots are a keeper. These thigh high boots block heel with a 4.5-inch heel size makes it easier to walk in comfortably. Since block heels provide greater balance, these black thigh high boots can make you feel on top of the world as you walk with confidence and pair them up with a cute mini dress or with some floral prints.
2. RIALTO – Clea (Suede Thigh High Boots)
Rialto's suede thigh high boots come in a soft suede material and a convenient, partial zipper for ease of wearing. With 3.5 inches heels, and slightly pointy, these wide-fit thigh-high boots, don't give you as much balance as block heels, but surely look great once you pair them up with a good outfit. These thigh high heeled boots also have buckle wrapped around the ankle to adjust for the size and thereby, allowing more comfort for your feet. These stiletto-inspired thigh high boots are sure to be the show-stoppers!
3. Guess – Frazer (Thigh High Boots Block Heel)
Featuring a unique design of lug sole and grey color, these thigh high boots block heels by GUESS, are sure to leave some jaws dropped. Similar to RIALTO, they also have a fancy zipper and ankle strap for the convenience of wearing them, but owing to no pointy heels, they're much easier to wear for longer hours, offering more balance and support to your legs. The glossy appeal of the boots is one of the defining factors too!
4. Ellie Shoes – Lace Up Thigh High Boots
Ellie's thigh high leather boots feature a unique design of cheetah print, too with a glossy touch. These lace up thigh high boots have stiletto heels which make the overall look of these thigh high heeled boots more alluring. Perfect for night outs, costume day, Halloween parties, or anything similar, these bold and daring thigh high boots are a must-have for you to add to your footwear collection!  
5. Kelsi Dagger – BROOKLYN (Thigh High Boots Chunky Heels)
Coming in genuine suede upper and chunky base, these thigh high boots chunky heels make quite a sophisticated pair. Kelsi Dagger is a brand known for its fashion-forward designs that reflect modernity and these thigh high boots chunky heels reflect the same. Though thigh high heel boots are generally considered the bold type, they tilt towards decency owing to the light brown color, making them look more elegant than ever.
6. Cape Robbin – Hilda Snake Skin Thigh High Boots
Not a fan of boring styles and bland colors? Try these snake skin thigh high boots with a pointed toe. These thigh high boots block heel are sure to grab everyone's attention owing to their daring appeal of them. The style of these thigh high boots is such that they're inclined towards the cowboy style. If you want something rowdy, flashy, and exciting, instead of bland, then go for Cape Robin's thigh high leather boots!
7. Kenneth Cole – Galway Black Thigh High Boots
Featuring a slouch design with a cone heel shape, these black thigh high boots ooze finesse and class. A plain wine color with a partial zipper for ease of wearing – they make a great pair to attend parties, and events, or even for casual strolls. Kenneth Cole's unique colors bring about the major charm in these thigh high boots. Instead of the round toes, they feature pointy toes which are sure to make you look bold and sleek!
8. Calvin Klein – Fandy Suede Thigh High Boots
Block Heels, slip on closure, suede material – what more could you ask for right? CK'sthigh high boots block heel scream convenience at its best, thanks to the block heels which can help you balance yourself, and the slip-on closure where you don't need to worry about zipping up and simply slide your feet in, and you'll be good to go! The suede material makes these thigh high boots low heel more attractive and mysterious.
9. NINE WEST – Tacy2 Suede Thigh High Boots
Nine West's thigh high heeled boots are every girl's dream – well perhaps the ones who prefer bold colors and are adventurous with heel sizes. This one is sky-high, so the ones who are extra boisterous will absolutely love them. The red color is like the cherry on top of a cake. Besides the sky-high stiletto heels side and pointed toe design, it features suede material which also makes the look more alluring. These would be a great option for you if you're looking for boots that add some inches to your height and make you look great at the same time.
10. Jessica Simpson – Cassida (Thigh High Boots Wedge Heel)
If the idea of sky-high stiletto heels scares you off, then Jessica Simpson's thigh high boots wedge heels may fascinate you. They not only offer you greater support, but they're available in faux leather material, making them more long-lasting and easily manageable. These too, are available in a partial zipper for you to easily adjust your feet and legs inside them to achieve that ideal level of comfort.
11. Michael Kors – Sabrina Black Thigh High Boots
Let's admit it – we all have at least one accessory of Michael Kors. Be it a handbag, a bracelet, or even heels. So why miss out on their luxury and exquisite thigh high boots? Coming with an uber-cool glossy look, with a partial zipper for convenience of don and doff, these thigh high leather boots make an awesome pair of boots for the fall and winter seasons. These black thigh high boots can be paired up with almost any outfit and give the most sophisticated look.
12. Brinley Co. – Wide Calf Vintage Suede Thigh High Boots
Featuring excellent faux material, and coming in a round-toe style with a heel size of 3.5 inches, these suede thigh high boots make the ideal pair for any woman. Whether it's a trip to the mall, hiking, heading for work, or running some errands, you won't feel uncomfortable wearing these, owing to the lightweight and comfortable design. Besides that, they come with an inner zipper as well to ensure that your feet remain stable as you walk in these beauties!
13. Vince Camuto – Melleya Thigh High Leather Boots
Another great pair of thigh high boots featuring a rubber sole, along with a zipper. With convenience and style both combined, Vince Camuto offers brilliance in terms of design and quality of the boots. On top of that, the heel size is barely even 1.5 inches, so these would be ideal for women who dread the idea of heels in any form. Walk with confidence while wearing these as you're unlikely to trip or fall, owing to the sturdy grip of the boots and the balance provided by the heel size.
14. Cole Haan – New Stretch OTK
A brand that excels in providing premium quality footwear to its customers, Cole Haan's thigh high boots block heel comes with suede material in grey colour. The boots have a minimalistic and elegant appeal which enables women to put these on while at work as well. They come with a partial zipper to conveniently put them on and offer great support. Even if you walk for hours in these, you won't feel uncomfortable.
15. Stuart Weitzman – Reserve Stretch-Suede Thigh High Boots
Featuring stretch suede thigh high boots, with bare minimum heels, this one is going to be your saviour when it comes to going to events which require you to stand all day long. Thanks to the soft leather lining and lightly cushioned leather footbed, you won't even realize you're wearing these thigh high boots low heels, yet manage to look classy at the same time. The classic black colour can go with any outfit and you're sure to look like a supermodel. On top of that, it has an easy pull-on construction, so it'll be less time consuming to wear them.