A color that represents rebirth and freshness – green, the color of spring, has a lot of significance in the fashion world. Whether you get a pair of neon green stiletto heels, or metallic version, there is a plethora of choices when it comes to the color green. Being a different yet a very striking color, it surely leaves a lasting impression on the audience. Though it's not a color that can go well with all outfits, it is definitely a color that can go well with a few and make sure that you look extremely fashion forward.
What You Need To Know Before Buying Green Heels:
You may assume that Green heels would look tacky or bizarre. However, we have modern versions of Green heels which are suited to many occasions and preferences. Ranging from ankle strap Green heels to Metallic color, printed versions and many others – the choices are limitless. A few things that you need to know before investing in Green heels include the following:
Your Individual Requirement

Some women want to have a pair of Green heels for a particular outfit, while some like to have them as contingency. Whatever the individual requirement may be, it is important to note that from a plethora of choices for green heels, you can easily pick the formal and informal ones depending on which one suits the event. You can make a strong fashion statement by color coordinating them with your outfit.

Who Should Buy Green Heels?

Women who are outgoing, fashion conscious and who love to look trendy should buy them. Green heels ooze freshness and zest, hence they'd be great for spring season and even summer.

Features To Look Out For

Green Heels can come with a strappy look, embellishments, buckles, various textures, heel shapes, heel height and a lot more. You can pick the one that best suits your needs as you browse through the popular designer brands like Giuseppe Zanotti and others.

Kate Middleton

Gigi Hadid

Bella Hadid
Disclosure: This post contains affiliate links. When you purchase a service or a product through the links, I sometime earn a commission, at no additional cost to you. Read my full disclosure here.
Without further ado, let's head on to our top picks.
Best Green Heels in 2023
1. GUESS – Zabyie
In a world where fashion is prioritized the most, it is important to look your best at all times. These pastel green heels feature an ultra modern look with intensely strappy design and an open toe style. These heels are breathable and are sure to make heads turn! They consist of stiletto heels which can add a few inches in your height too and end up elongating your legs, thereby making you appear super attractive.
2. Jessica Simpson – Jenevya Pompom Sandal
If you're a fan of styling and detailing more than comfort, then these Jessica Simpson's green heels are especially made for you. They feature a pom-pom style which can make heads turn. They come as an ankle strap style with an ultra-modern vibe. Thanks to the high heel height, you can get a height boost as well! Besides that, they come with an open toe style which makes them a breathable pair as well.  
3. SCHUTZ – Ully Sandals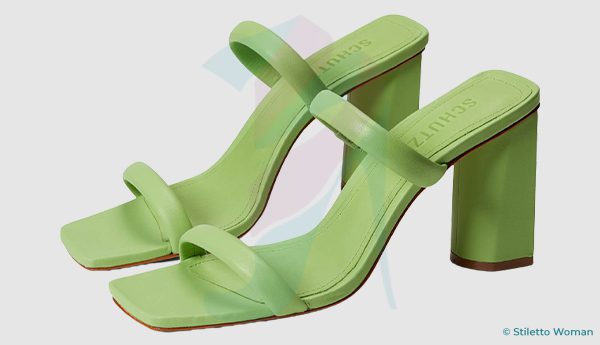 A trend that's commonly witnessed everywhere when it comes to heels, is the trend of square toe heels. Gone are the days when straps had to lock your toe fingers down, thanks to the evolution of fashion, your toes can be free and heels can be breathable. Consisting of a slip on style with a light green color, these can be great for casual events where you can look fashionable and chic at the same time.
4. Gianvito Rossi – Aura Sandal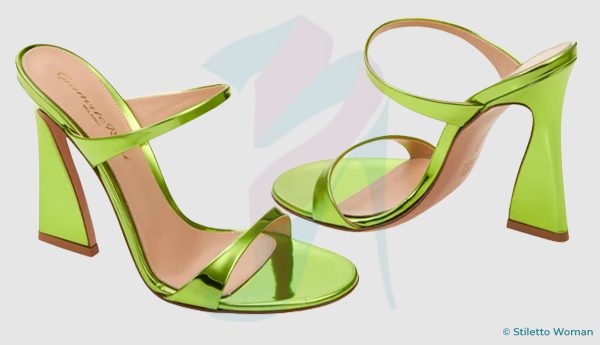 Ever been afraid of embarrassing slip-offs while wearing one-band slip on style heels? Then say goodbye to your worries with these Gianvito Rossi's luxury and high-end two band heels which can secure your feet well! They consist of a rounded off open toe style which makes them unique. The brand is known for coming up with the most extravagant and luxury heels, so you can never go wrong with one of these pairs, even though in the short run, they may cost you a lot.
5. Jessica Rich – Luxe Sandal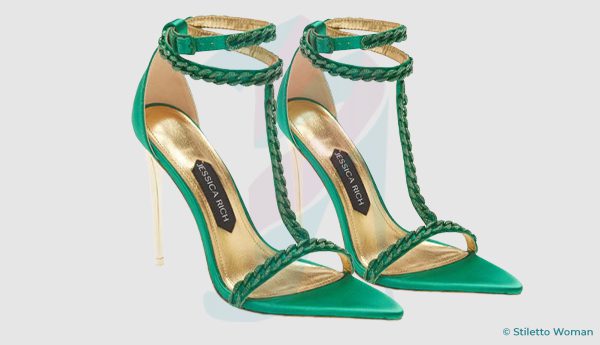 If you're looking for something that oozes opulence and timeless grace, then go for these ultra-modern heels by Jessica Rich. Featuring a braided, t-strap style with a moderately strappy look, these heels make a great pair for parties and casual events to make a strong fashion statement. The high stiletto heel style can add a few inches to your height too. The open-toe style can facilitate the walking process by making it a bit breathable too.
6. Steve Madden – Bryden Heeled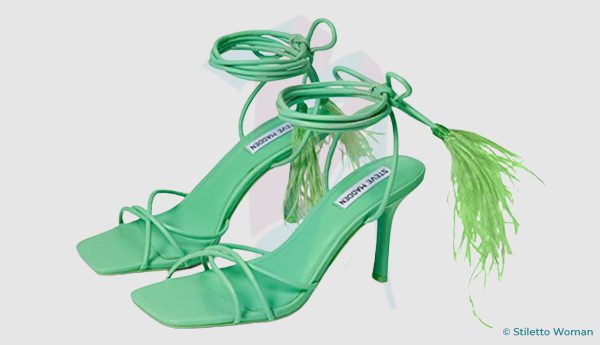 It's an era of straps and you wouldn't want to be left behind. Featuring a lace up look with a square toe style, these heels by Steve Madden make a chic and stylish pair. They consist of a transparent middle strap too which adds to the finesse. They can also add a few inches to your height too. Besides that, they'd look great on casual events as well as informal.
7. Jeffrey Campbell – Mercantile Slingback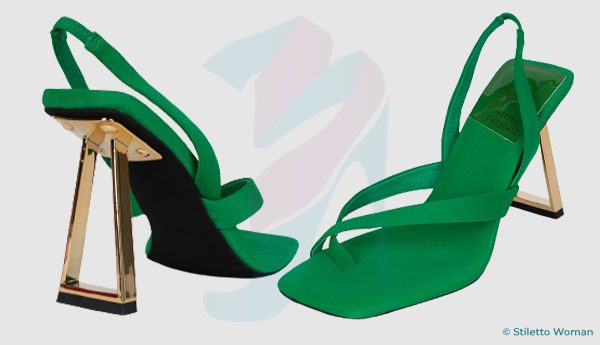 Slingbacks and crisscross style have been in the market for quite some time now and they're here to stay – that's for sure. These green heels by Jeffrey Campbell feature a slingback and the popular crisscross style with a convenient heel height so they make a useful pair. Also, they look super modern and chic. They exude confidence and everlasting boldness which is sure to help you in making a strong fashion statement.
8. Marc Fisher – Lucah Pump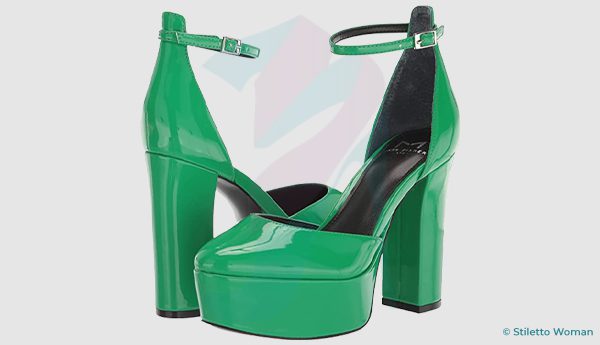 A unique and interesting option to explore would be Marc Fisher's green heels which ooze zest and vibrancy. These platform heels can surely uplift any dull looking outfit and bring energy and excitement into it, owing to the glossy appeal of the footwear. Thanks to the timeless charm, they can look great on most events, and they have a breathable design. They can last you a long time as well.
9. Bella Vita – Kimora Wedge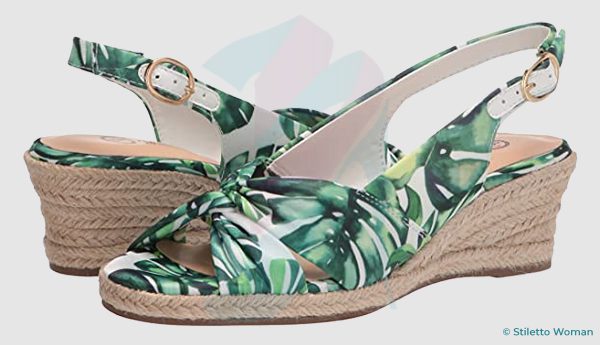 A seamlessly and timelessly classy pair of green heels, these heels by Bella Vita are sure to be the attention grabbers. Featuring an espadrille-infused style with a slingback design and a medium heel height, they make a chic and easy-going pair. They'd be great for spring and summer parties owing to the striking, printed style. They're sure to be one of the most comfortable pair of heels you've laid your feet in.
10. Calvin Klein – Fire Heeled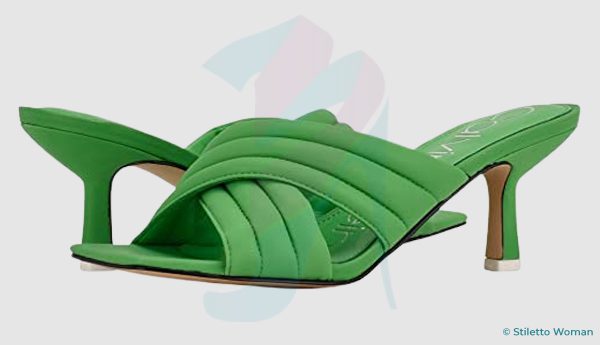 Another option if you want a slip on style for yourself would be Calvin Klein's green heels. These heels ooze finesse and utmost grace. They grip your feet well so your feet are unlikely to slip off easily. They ooze modern vibes and creativity. They're sure to look great with most outfits and on most events.
11. Versace – Ankle Strap Sandal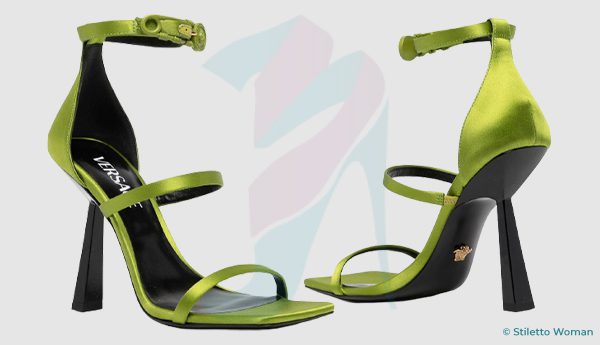 If you thought the two-banded heels were gorgeous, then wait till you lay your sight on these uber-classy green heels by Versace which feature a three-band style with an ankle strap design. The brand itself is considered as luxury at its best. Having one of the pair of heels by Versace can give you a sense of pride and honor. These heels can surely be the best investment you've ever made!
12. Vince Camuto – Saprenda Heeled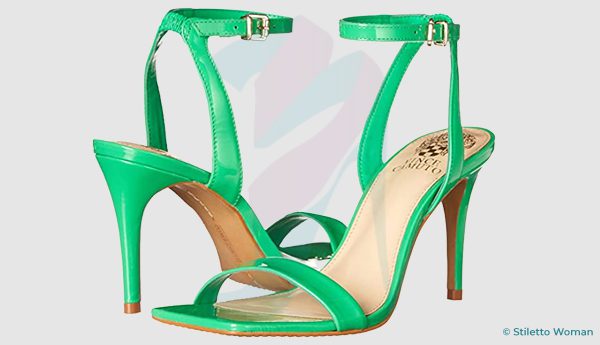 Featuring an ankle strap design, these green heels by Vince Camuto ooze creativity and zest. They come in a bright green color which can uplift any dull outfit and these would look great under a dress. Perfect for summer and spring season, these heels would surely make a strong fashion statement and make heads turn.
13. Ted Baker – Pump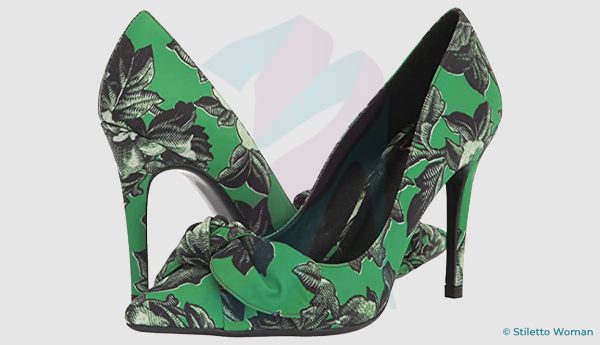 In terms of modernity and innovation, Ted Baker always excels. These pump heel style green heels represent just that. It comes with a printed appeal and a high heel height which can add a few inches to your height too. The printed appeal can catch anyone's attention. Thanks to the mixed color in it, they can look good on most outfits. You can pair them with a dress or even a casual pant and tee, and you'll be sorted.
14. Loeffler Randall – Natalia Pump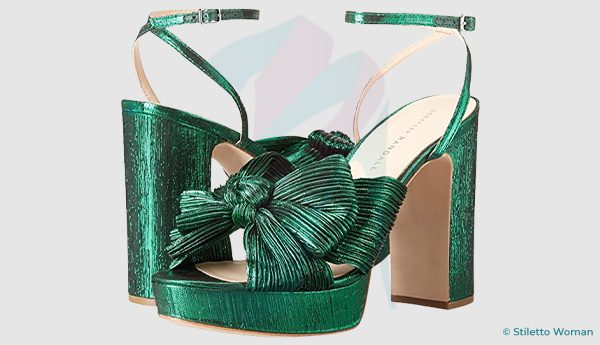 Featuring a bow, platform heels style and a magnetic appeal, these heels by Loeffler Randall are a keeper. They consist of the timeless ankle strap design which makes them appear graceful too. Ideal for parties, these heels consist of a shiny appeal which would be suited to many plain dresses. Besides that, you can get a height boost as well!
15. Alexander Wang – Julie Sandal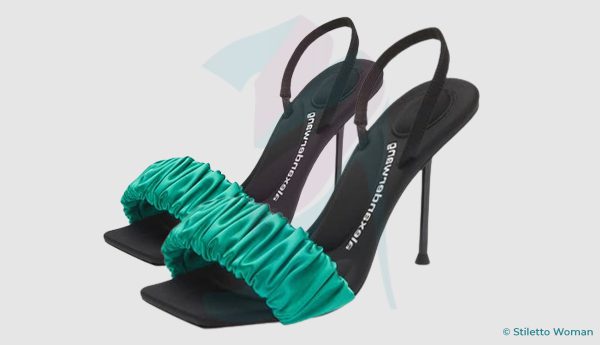 Last, but not the least, featuring an ultra chic and sophisticated design, these heels by Alexander Wang are sure to be the show stoppers. With a minimalistic appeal which is quite significant, these heels ooze lady-like finesse, making you appear super attractive. They consist of a unique frill toe strap and a simplistic slingback strap. Besides that, the thin and high stiletto heels are sure to elongate your legs and accentuate your figure too. You can't go wrong with these!