This the season! It's finally that time of the year when we put our fuzzy socks on with some nice boots to head out in the cold breezy weather. The winter season is here! As we approach the season, we want you to be sorted when it comes to the winter essentials which also includes boots. Instead of going for the same old styles, try something different this year by going for wedge boots for extra comfort this season.
What You Need To Know Before Buying Wedge Boots:
Wedge boots can come in many shapes, sizes, textured and designs. Thanks to the evolution of fashion, many renowned designer brands are coming up with them making the footwear appropriate for many occasions and preferences. Ranging from suede and glossy look to zippers and buttons, and many others – the choices are limitless. A few things that you need to know before investing in such boots include the following:
Your Individual Requirement

Whether you want to match some wedge boots with your outfit or you want them for everyday usage, there's a plethora of options out there. Make your picks wisely.

Who Should Buy Wedge Boots?

Women who love to look creative and feminine. Those who have royal and extravagant fashion tastes would love to go for a wedge boots. Anyone can go for the ordinary boots, but only the ones with finesse and thirst for comfort would love to go for wedge style boots.

Features To Look Out For

Wedge boots can come with a strappy look, embellishments, buckles, various textures, heel shapes, heel height and a lot more. You can pick the one that best suits your needs as you browse through the popular designer brands like Gianvito Rossi, Jeffrey Campbell and others.

Ana De La

Minka Kelly

Vanessa Jackman
Disclosure: This post contains affiliate links. When you purchase a service or a product through the links, I sometime earn a commission, at no additional cost to you. Read my full disclosure here.
Without further ado, let's head on to our top picks.
 Stiletto Wedge Boots in 2023
1. Jessica Simpson – Mesila Bootie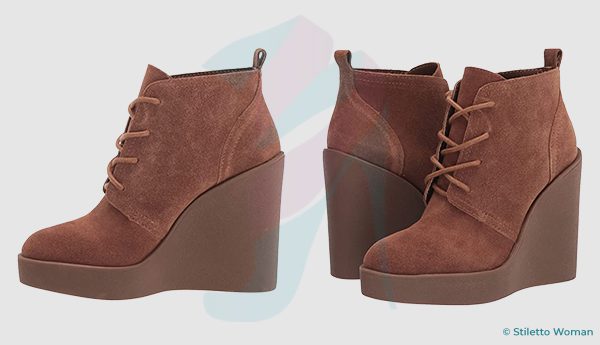 First and foremost, we have for you are the wedge boots by Jessica Simpson. These boots ooze simplicity and finesse. They come with an easy going design and the heel height can add a few inches to your height too.
2. Dr. Scholl's – Create Ankle Boot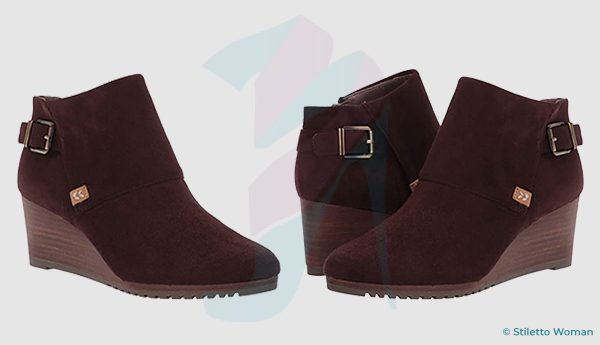 Wedge boots from a well reputed brand, Dr Scholls are sure to leave to impressed. These boots come with a statement making buckle strap design and they'll give you a nice, sturdy fit, making them appropriate for most events too.
3. SOUL Naturalizer – Haley Ankle Boot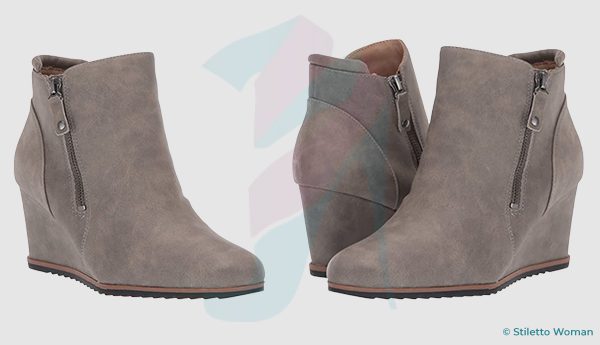 A chic, yet an economical pair of wedge boots would be that of Naturalizer. These boots come with a zipper which can give you the ideal fit and keep your feet warm. They'll be super comfortable to walk into as well.
4. Steve Madden – Witness Bootie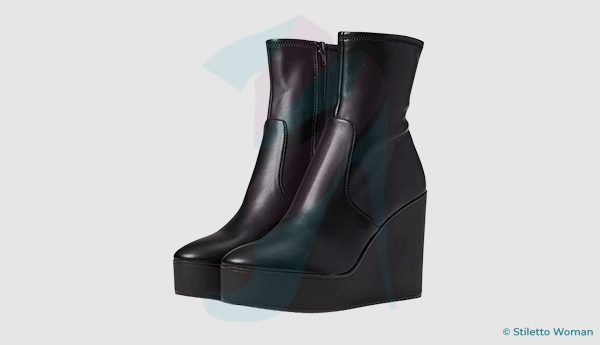 If you're looking for some boots which can make heads turn, then look no further. These wedge boots with a stunning gloss is sure to leave you awestruck. They can give you a height boost as well! You can simply put them on without the hassle of laces or anything. They're easily manageable and make a sturdy pair of wedge boots.
5. Vince Camuto – Bevvisa Ankle Bootie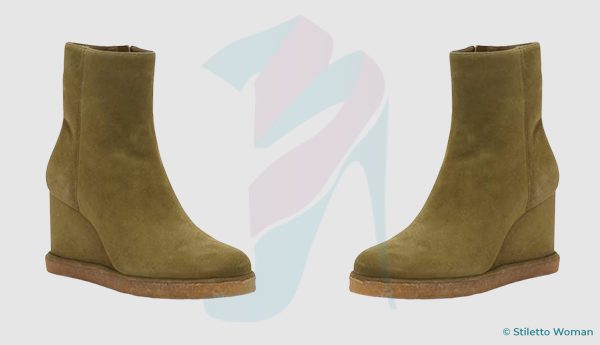 Another pair of wedge boots which won't disappoint you would be that of Vince Camuto. These wedge boots come with a minimalistic, yet a classy design that's sure to win your heart. You can't go wrong with these as Vince Camuto promises excellent quality and craftsmanship, so they'll last you a long time too.
6. TOMS – Kelsey Ankle Boot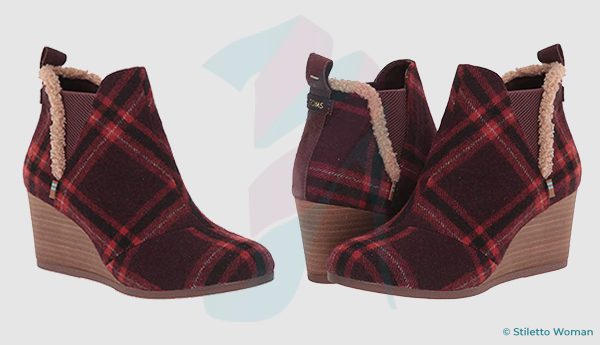 Wedge boots which are unique, yet super comfortable, this pair by TOMS oozes easy going vibes and can give you superior warmth. They are optimised for the winter and snow, so you won't have to worry about freezing your feet while remaining chic at the same time.
7. LAUREN Ralph Lauren – Shaley Bootie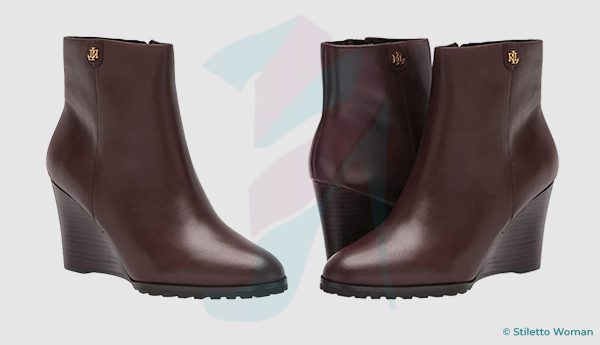 Another statement-making pair of wedge boots which are sure to leave you amazed would be that of Ralph Lauren. These boots consist of an exquisite look like no other. They exude luxury and classiness at its best. The brand is quite reputable as well, so you can trust that it won't disappoint you.
8. Michael Michael Kors – Clara Bootie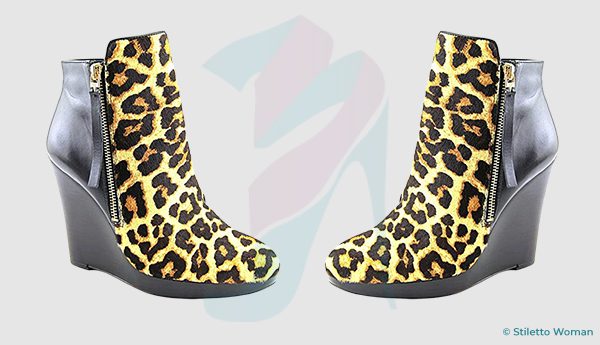 Looking for something flashy and upbeat? Then look no further and go for these cheetah print wedge boots which come with a zipper too. They can grip your feet well and give you the perfect fit to be able to feel the warmth.
9. Sam Edelman – Reagan Boots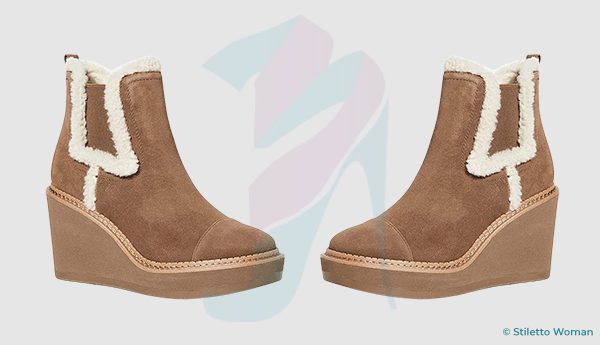 A cosy, chic and trendy pair of wedge boots would be that of Sam Edelman. These boots come with shearling fur which can give you added comfort and warmth. Besides that, they also go well with most outfits.
10. SCHUTZ – Asya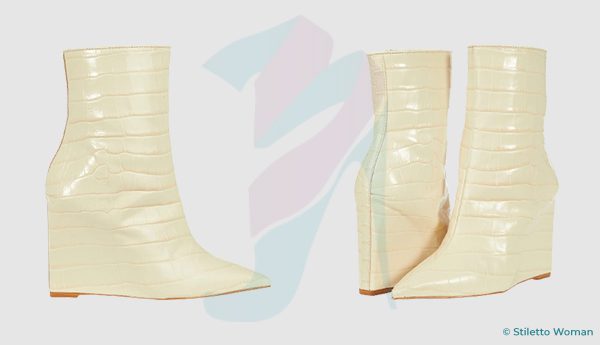 A bold, loud and a statement making pair of wedge boots by Schutz is all you need to get your look recognized by other people. These textured wedge boots with a pointed toe style can make heads turn as you walk into a room. You cannot go wrong with this pair!
11. Jeffrey Campbell – Katerina Boot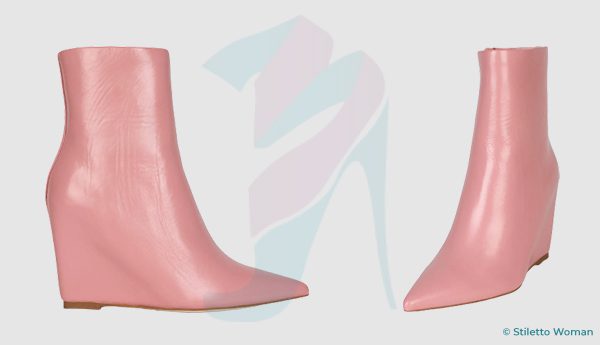 Another exquisite, yet a classy pair of wedge boots which are sure to stun you. These boots come with a pointed toe design and a glossy touch to uplift any one of your dull looking outfits. These boots are durable and long lasting too.
12. Tory Burch – Grove Ankle Booties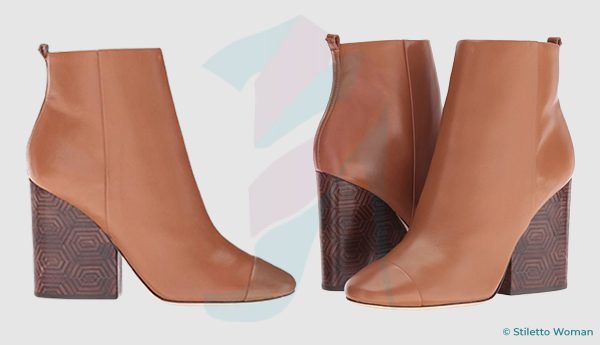 A pair of wedge boots by Tory Burch that oozes travel vibes and American roots are all you need for a nice office/work look. These would be ideal for casual events too. They can give you the optimal comfort and warmth.
13. Donald Pliner – Sweater Cuff Booties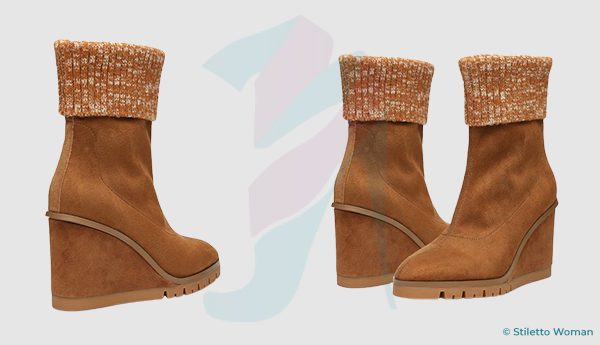 Featuring another uber-chic pair of wedge boots which can not only keep your feet warm, but also add a few inches to your height, these boots come with a lug sole for an added grip to your steps.
14. Veronica Beard – Iluska Boots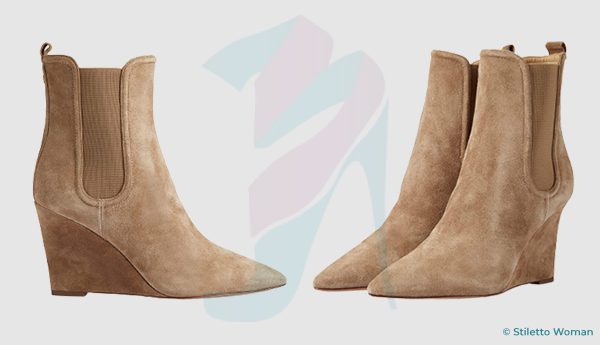 A classy, yet a simplistic pair of wedge boots which can look great on most occasions, these boots by Veronica Beard can surely impress you. They come with a pointed toe design and a slip on style which makes them easy going too.
15. Stuart Weitzman – Lucite Booties
Last, but not the least, these wedge boots by Stuart Weitzman define luxury at its best. These boots come with a nice gloss, a pointed toe and a wedge heel which can make jaws drop. These boots can be a great addition to your footwear collection as well.
Why Should You Buy Wedge Boots?
The reason being very simple – to help you make a strong fashion statement and to keep your feet warm at the same time, these can go a long way. They not only tell a lot about your fashion choices, but convey a strong message about your elite tastes in fashion.
What To Wear With Wedge Boots?
You can wear dresses, trench coats, accessories like scarves and many other related apparel items with wedge boots. Essentially, the goal should be to keep yourself warm and away from the harsh winds.
On Which Occasions To Wear Wedge Boots?
They're mostly worn during winter or fall season. During those seasons, you can wear them on casual, formal and even informal events like a party too.  
Rare Styling Tips For Wedge Boots
Here are some of the coolest ideas to make sure your boots stand out from the rest.
Look for high height heels to exude a feminine charm
You can wear some net stockings or tights for added warmth and to create an upbeat look with wedge boots
Get boots with a Lacey look, a buckle style or pump inspired look to exude confidence
Pair up a gorgeous clutch or a bag to go with your outfit and boots
A wooden scarf, a cap and some gloves, anything to keep you away from the cold and make you look chic at the same time should be worn with wedge boots