The iconic glass heels, we're all aware of the story. Cinderella is one of those movies that taught women that any fairy-tale can come true with the right pair of heels. If the shoe fits, you're good to go! The charm of the crystal heels of Cinderella is everlasting. Even though the movie and concept date back decades ago, they're still considered as a luxury and royalty. Designers have tried to recreate the concept by coming up with contemporary pair of crystal heels termed as Cinderella Heels.
What You Need To Know Before Buying Cinderella Type Crystal Heels:
You may assume that Cinderella Type Crystal heels would look very flashy and extra as compared to that of the look of simpler heels. However, we have never versions of Cinderella Type Crystal heels which are suited to many occasions and preferences. Ranging from open toe, closed toe, square toe, block heels, and many others – the choices are limitless. A few things that you need to know before investing in Cinderella Type Crystal heels include the following:
Your Individual Requirement

Whether it's your prom, graduation ceremony or the desire to have Cinderella Type Crystal heels, know that there are many variations out there. So make your picks wisely according to the occasion and your preference.

Who Should Buy Cinderella Type Crystal Heels?

Women who love to look creative and feminine. Those who have royal and extravagant fashion tastes would love to go for a nice pair of Cinderella type heels. Not just that, but those who attend lots of bridal events would also love to invest in such a pair of heels.

Features To Look Out For

Cinderella Type heels can come with a strappy look, embellishments, buckles, various textures, heel shapes, heel height and a lot more. You can pick the one that best suits your needs as you browse through the popular designer brands like Gianvito Rossi, Jeffrey Campbell and others.

Lily James

Selena Gomez

Taylor Swift
Disclosure: This post contains affiliate links. When you purchase a service or a product through the links, I sometime earn a commission, at no additional cost to you. Read my full disclosure here.
Without further ado, let's head on to our top picks.
 Stiletto Cinderella Type Crystal Heels in 2023
1. ALDO – Glass Slipper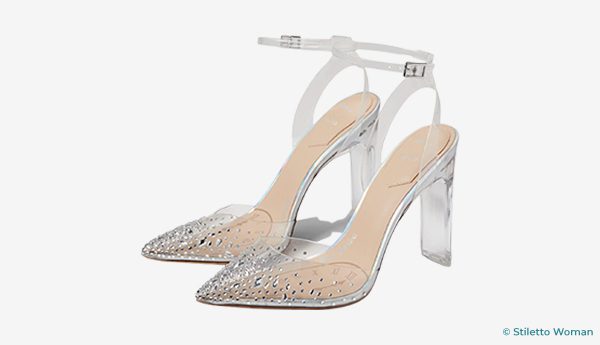 Featuring the super classy and exquisite, Aldo's crystal heels are sure to leave you stunned. Thanks to the pump heel and ankle strap design, these heels ooze luxury and finesse. They come with a block heel design to add to the overall comfort too!
2. Kurt Geiger – Duke Strap Mule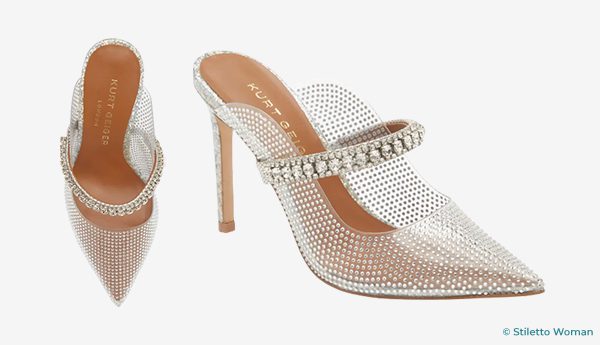 Here's an option for Cinderella Type Crystal Heels that has its own personality. Exuding royalty and luxury, these heels come with glinting crystals on the strap. Also, they add event ready glamour to a mule style with a pointy toe and a narrow stiletto heel. You can't go wrong with these!
3. Jeffrey Campbell – Fairytale Pump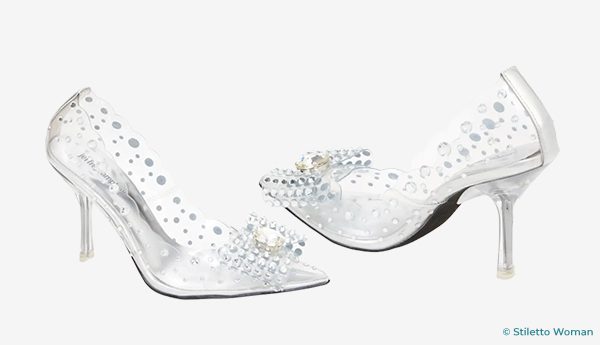 Speaking of luxury and royalty, some of us do prefer that, but with a bit of glitz and glam. For those who prefer the latter, these heels feature a scalloped topline with a sophisticated style of the pump design which is covered in sparkly crystals and embellished with a bow detail to add to the feminine charm.
4. Good American – Cindy Jeweled Pumps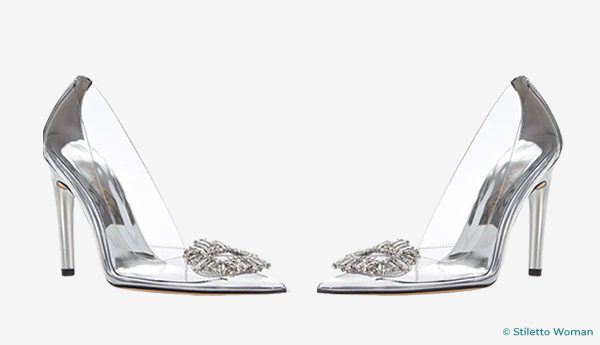 Characterized by utmost glitz and glam with finesse at its best, these heels come with a striking contemporary glamour with a pointy toe pump lifted by a sleek stiletto heel which can elongate your legs as well. They make a convenient pair and an ultra modern version of the Cinderella heels which you can wear at most events too!
5. Badgley Mischka – Quintana Pump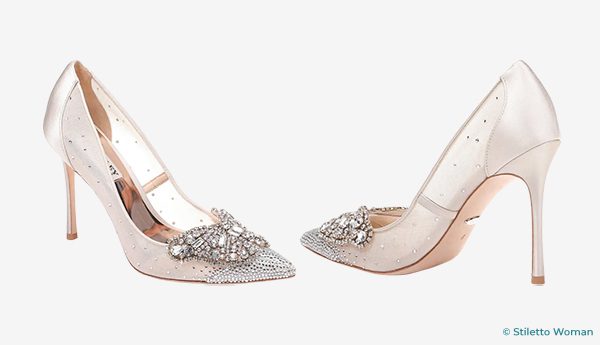 These classy pair of Cinderella type crystal heels are sure to amaze you. Defined by the dazzling crystals placed on the pointy toe and breezy mesh along with party ready vibes oozing out of them, they'd be the ideal pick for the lustrous satin lovers. They'd be ideal for formal party occasions.
6. Bella Belle – Emma Illusion Pump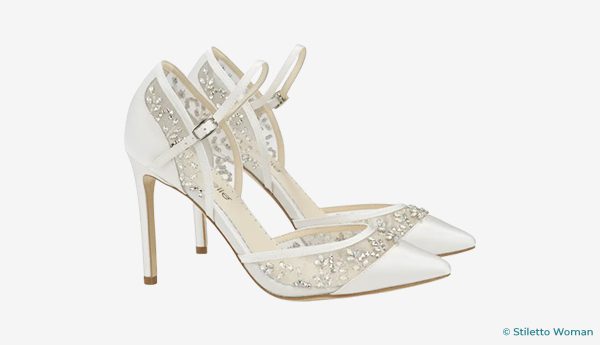 Another chic option that you should try would be that of Bella Belle. These heels come with sprays of crystals and tiny beads sparkle at the illusion accents of the leather and silk pump. They consist of a classy pointy toe silhouette and a slender quarter strap which can grip your feet well too.
7. Stuart Weitzman – Glam XCurve Pump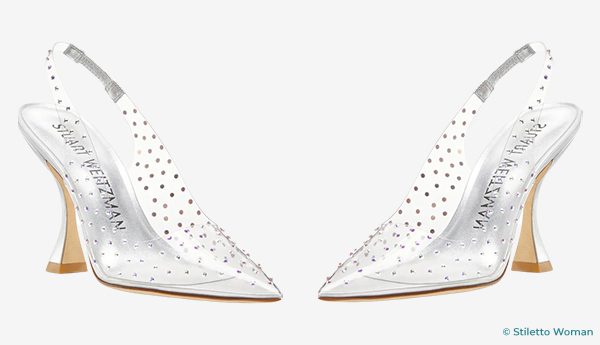 Looking for a high end option? Then Stuart Weitzman should be in your list these heels by Stuart Weitzman exude confidence, modernity and finesse. They come with a slingback style and a curvy heel design to accentuate your feet and make you look super attractive.
8. Amina Muaddi – Rosie Slingback Pump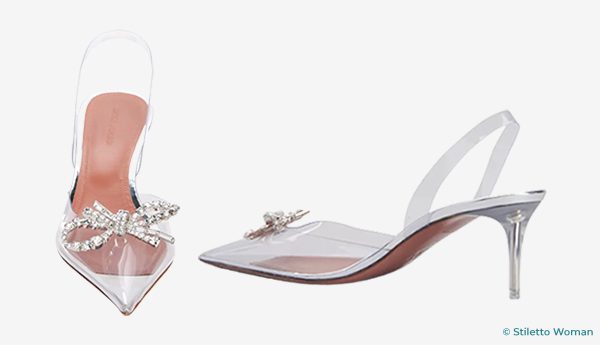 Defined by the simplistic yet significant looks, these Cinderella Type Crystal heels by Amina Muaddi are sure to have you stunned. They consist of a glitter infused bow on the pointy toe and a slingback design which can help you make a strong fashion statement about your choices.
9. Mach & Mach – Double Bow Pump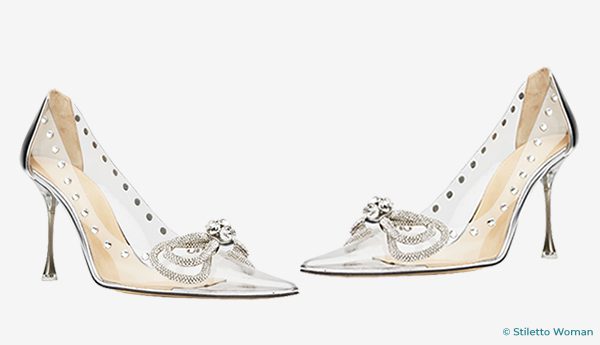 Another cool pair that you should try would be that of Mach & Mach. These pump heels by the brand have an extravagant, yet a classy vibe. You can get a height boost and they'd be ideal for formal parties. They'd look great with most outfits too, so you'll be sorted for most events.
10. Valentino Garavani – Rockstud Alcove Pump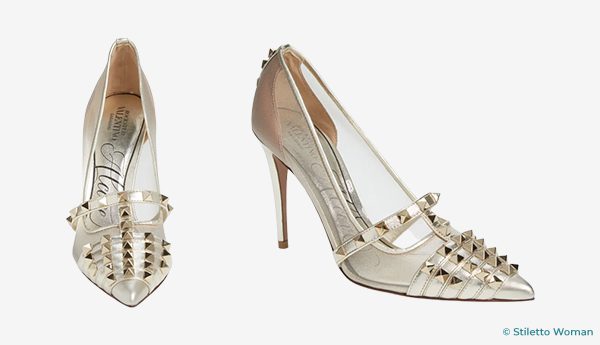 A fan of embellishments? Here's one option that you won't be able to resist. These ultra modern and high end heels by Valentino Garavani can make heads turn. They take the Cinderella Type Crystal heels to the next level by coming up with a pump heel rockstud design which can be the ultimate show stoppers.
11. Jimmy Choo – Saeda Pump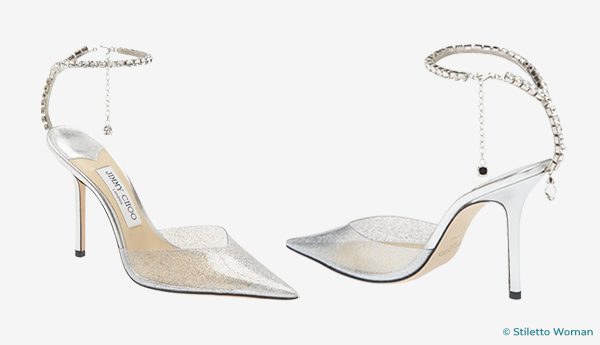 Another high end and opulent option that you will find yourself gushing over would be Jimmy Choo. These heels come with an embellished ankle strap and a pointy toe design to accentuate your feet. These heels can give you some additional inches and they'll last you a long time too!
12. Christian Louboutin – Degratina Sandal
If you combine style with comfort and you get Christian Louboutin heels. These heels come with sky high heel height with an ankle strap and an embellished toe strap. They feature an open toe style with a platform sole to give you a little bit of balance. You can't go wrong with these!
13. Manolo Blahnik – Hangisi Lace Pump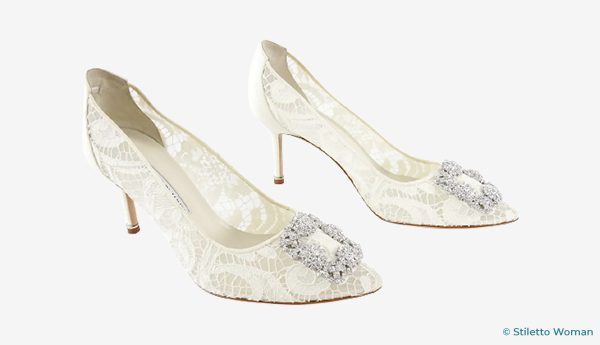 From TV shows to retail outfits and fashion runways, we've seen them everywhere. A pair of Manolo Blahnik is every girl's dream. These Cinderella Type Crystal heels by Manolo Blahnik ooze luxury and finesse at its best. They come with a pump heel style with an embellished buckle over the toe area to help you look fashion forward.
14. Aquazzura – Starburst Pump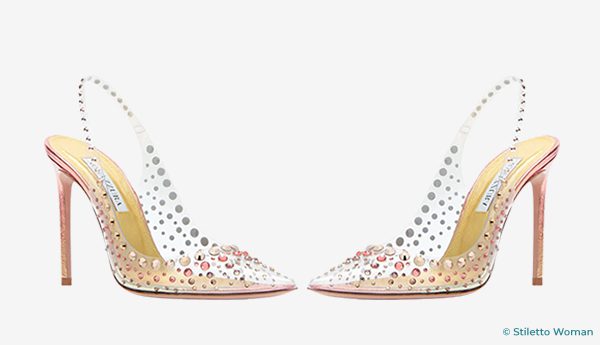 Speaking of luxury and opulence, Aquazzura doesn't get left behind. These heels by the brand exude creativity and a Slingback style which can help you make a statement. They can grip your feet well and give you an additional height boost too!
15. Gianvito Rossi -Embellished Pump
Last, but not the least, presenting you one of the most chic and high end option in terms of Cinderella type heels, these are the heels by none other than Gianvito Rossi. They exude everlasting class and grace coupled with trendiness which never goes out of fashion. These will be worth the investment!