Don't you just love the feeling of looking confident and different? Everyone likes a bit of attention and the best way to get it is to look your best at all times. In the modern era, fashion has completely transformed all of us. Gone are the days when we could simply stick to skinny jeans and shirts along with stiletto heels. Now We've entered an era of diversity and versatility.
In modern times, we have a plethora of options available. Whether it is pants that we are talking about or heels. From mommy jeans, flare, and ripped jeans to stiletto heels, kitten heels, slingbacks, platforms to many others, the choices are limitless. When we talk about heels, it's important to know the varieties existing. One of the uber-chic heel options that you should go for would be Corset High Heels.
What Are Corset Heels?
Inspired by the gladiator heels look, corset high heels are the type of high heels that are similar to boots and mules in which the two sides of the upper are tied together with laces, making them get an alluring look. They consist of geometric lace-ups and consist of peep-toe designs mostly. They may be available in many variations though including corset stiletto heels, corset cone heels, corset kitten heels, corset wedge heels, and corset chunky heels.
Types Of Corset Heels:
Without further ado, let's head onto our list of different types of corset heels:
Outfit Ideas For Corset Heels
It can be quite confusing to decide how to pair up different types of Corset Heels with outfits. We've listed some OOTD heels ideas to make the task easier for you.
Corset Heels with Crop Top & Skinny Ripped Jeans
If you want to go for a casual look, then this would be your best bet. Go for a white crop top and pair it up with some ripped skinny jeans and corset high heels. You'll make heads turn wherever you go. Bonus tip – you can include a statement-making hat along with this look to protect yourself from the sun and look effortlessly chic.
Midi Dress & Corset Heel
Another way to spice things up would be to pair up the ultra-modern and classy corset with your midi dress (preferably in black or brown). You can wear corset heels along with this to make jaws drop. Many celebrities have adopted this look and it's a popular choice, especially for women who are a fan of corset heels and the strappy look.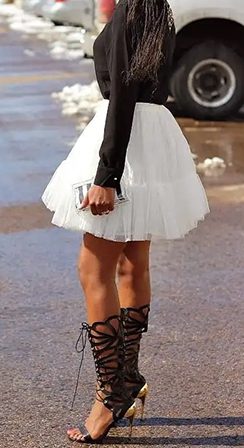 That having said, you can pair up your corset high heels however you like, as long as you're keeping it casual and chic. Notably, they can go well with casual and party outfits. So, you should be wearing them at parties and casual events, not on formal occasions. It is also advised that you follow some styling tips mentioned below:
To look different, go for a striking and electric color for corset heels like orange, red, or white.
It's best to wear them during the spring, fall, or summer seasons.
To add more finesse to your look, pair up some net stockings if you're going to a party or for a night out.
Do the bold makeup! Pastel-colored lipsticks won't cut it, especially if you want to make a statement with corset heels. Go for red, purple, or darker shades.