A good manicure, according to popular belief, is just fancy artwork with some rhinestones and foils which take your paint job to another level. But in reality, nail shapes matter the most. You could have many diamonds on your sharp and pointed nails, but they would still look tacky, but if your nail shape is different, then it may completely change the narrative.
To up your nail game, this time, instead of opting for edgy, long, and sharp stiletto nails, choose the less edgy and less threatening coffin shaped nails. Now, the name may sound pretty threatening and creepy, as nails coffin shaped add subtle elegance to your hands, making the appeal softer and put-together. In fact, coffin shaped nails have become a major trend these days and are seen on Kim Kardashian and Rihanna quite often.
What Are Coffin Nails? (Fake Coffin Nails)?
Coffin shaped nails are mysterious and sophisticated. Unlike stiletto nails with pointy ends, coffin shaped nails flatten out, forming a cut at the tip of the nail. Though both are generally long, coffin shaped nails are more angular. They look highly chic and seem high maintenance. They're also known as Ballerina nails. Notably, coffin nails are Kylie Jenner's signature nail shape.
Who Can Wear Coffin Nails:
Women who have slim fingers
Teenagers
Parties
Celebrities
Here's a picture of Kylie Jenner flaunting her coffin nails in white matte color.
Disclosure: This post contains affiliate links. When you purchase a service or a product through the links, I sometimes earn a commission, at no additional cost to you. Read my full disclosure here.
List Of The Best Coffin Fake Nails In 2023
1. Makartt – Nails Clear Ballerina Nails
Taking the very first position in our list, Makartt's coffin nail extensions surely deserve this kind of prestige. Featuring a clear color design that easily applies to the nails, these fake coffin nails can be trimmed or filed as per your convenience. Since they come in a clear color, you can add experiment with any kind of nail art to give it a nice look.
Besides that, these coffin nail extensions are of high quality and hence won't break easily. They'll last for about three weeks and are safe for your nails too, especially when you're taking them off. The best of all – these coffin nail extensions come in a package with various sizes, a portable and cordless nail drill machine, an electric filer, and much more, making it totally worth the high price.
2. MelodySusie – Solid Color Press On Nails
Going to a late-night party? Then MelodySusie's Coffin press on nails is a must-have for you, owing to the luminous effect they offer you with. That's right! They glow in darkness and are glossy in terms of appeal. You don't need glue to put them on as they feature a press-on way of application, which makes them more comfortable. They also appear more natural. The best thing about these press on nails is that they are reusable – an investment that is worthwhile.
3. BTArtbox – Clear Coffin Nail Extensions
Featuring a sturdy design that is unlikely to bend or break, these ballerina nails extensions promise you superior quality, along with utmost comfort while you put them on. They're lightweight and available in clear color, which opens doors for experimenting with DIY art on these coffin nail extensions to improve your expertise in the niche. They come in various sizes and are easily applicable too.
4. Gelike EC – Soft Gel Press On Nails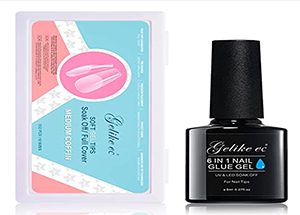 Quick view on Amazon
Available in
: Australia, Canada, UK and US
Coming in very cute packaging, Gelike EC's ballerina nails extensions are a keeper. Featuring a full-cover soft gel tip kit that blends well with the nail from the cuticle to the edge, making them seem natural. They also come in clear colors, so you can decorate them as you like. They'll last for about 4 weeks, which is enough if you want them on during your vacation/an important wedding event. Easy to apply and easy to remove, these gelike ec press on nails should be on your bucket list!
5. MD MAD DOLL – Acrylic Solid Fake Nails
Another set of press on nails, but this time in Matt finish assorted colors, MD MAD DOLL brings to you unique coffin acrylic nails in neon colors which ooze creativity and can grab attention instantly. They're easily applicable with no need for glue or UV light which can rather, damage your natural nails. The whole kit contains different nail colors and sizes, you can try out each one, or even gift someone a set.
6. AAllkem – Natural Extra Long Fake Coffin Nails
Featuring extra long and XXL Coffin Nails here's to experimenting with new things in 2023 for all the manicure enthusiasts out there with Allkem. Allkem's fake coffin nails allow room for customization as you can trim the nail size if you feel that you could poke your eyes with the XXL size. Besides that, these fake coffin nails are easily applicable and come in a clear color.
7. KADS – Ballerina French Nails
Another really great set of Coffin Shaped Nails that you should be trying include that of KADS. These ballerina french nails are clear in color, hence you can play around with your nail art and put on rhinestones or matt color on it to make them alluring. These ballerina french nails are made up of ABS material which makes them sturdy and resilient, so they won't break easily either.
8. Modelones – Fake Coffin Nails
Featuring excellent quality and a plethora of sizes, Modelones's fake coffin nails are eco-friendly and won't damage your natural nails. They are easily applicable and removable, without being harsh on your nails. Full-cover coffin curved tips allow for a natural look without looking extra. They come in 6 natural, trending colors and a gel nail polish too!
9. ECBASKET – Clear Nail Tips for Acrylic Nails
Made with ABS material and lasting for around 4 weeks, ECBASKET's coffin shaped nails provide you with utmost ease and comfort. They are prenumbered on the tips for your convenience and with a quick bonding perk, you won't have to wait for really long to be done with the manicure. Time and cost-efficient solution for your nail concerns!
10. Cosics – Press On Nails Fake
Ever wanted the best of both worlds? Coffin and stiletto nails in a package? Then this is the one for you! These coffin shaped nails come in a package of ballerina and stiletto nails, along with an exciting range of red and white colors, and many sizes. You can customize these fake coffin nails as you like by adding white nail paint lines over the red nail lips or even adding a few rhinestones on them if you want to go to a party and make your nails stand out.
11. KISS imPRESS – Color Press on Manicure Halloween Nails
Featuring solid black matt color, if you're looking for the ideal nails for a spooky event like Halloween or costumes day, then look no further as these coffin shaped nails will fulfill all your requirements. They're easy to apply with a comfortable fit shape that won't irritate or damage your nails. The best thing about these press on nails is that they're smudge-proof and waterproof, which makes them long-lasting.
12. Beetles Gel – Fake Gel Tips Acrylic Press on Nails
Beetles Gel's coffin acrylic gel nails feature brilliant quality and are breathable, and lightweight. You won't feel uncomfortable putting these on for about 2 weeks. They're made up of strong material which ensures that the nail tips do not have creases and don't break easily. Since these coffin fake nails belong to a renowned brand, they're sure to not disappoint you and would make a great investment for your nails!
13. Bling Art – Ballerina Nails Extensions
Featuring a mysterious red-brown color, with some decorations, Bling Art's coffin fake nails are quite unique. The shimmering jewels add more to the aesthetic appeal of these coffin nail extensions and they look classy rather than flashy. A bonus point is that they come in a package with glue, a wooden cuticle stick, and a mini nail filer.
14. MISUD – Coffin Press On Nails
An aesthetically pleasing set of coffin nail extensions, MISUD's coffin press on nails can be a treat for your nail collection. Available in a range of colors and promising brilliant quality, they're sure to last long and protect your nails from any kind of damage, owing to the non-toxic materials. Besides that, these coffin fake nails are easily applicable too, taking hardly 3 minutes for application.
15. EchiQ – Ballet Metallic False Press On Nails
Looking for something bold and instantly attention-grabbing? Try EchiQ's metallic fake coffin nails which are sure to be the show stoppers and jaw-droppers. On top of that, the brand promises good quality and these can last for up to a week or more. These coffin acrylic gel nails come in a long coffin shape, so they can be perfect for events like costume day or Halloween.