In a world where we have a plethora of choices for everything – heels are no exception. Decades ago, there weren't even many variations of them, but now we have heels of all sorts, from mid to sky-high, from mules to pumps, from gladiator sandals to stiletto heels, and a lot more. Heels are definitely one of the most important aspects of a woman's look, so we must do our research before investing in them.
A variation of heels that emerged some time ago known as slingback heels, resemble peep toe slingback pumps and sandals, yet are different and chicer than them. The straps around your ankle support your feet and add a dramatic appeal to your overall look. It's no doubt that slingback shoes are back in style post-pandemic onwards as people attempt to make the transition from flats to heels. For beginners, slingbacks can be a reasonable option. Why?
The buckle strap secures and grips your ankle firmly.
They are super stylish and chic.
They add a dramatic look.
They won't slip off.
They make a good pair of cute heels to go with any outfit.

Coco Chanel

Kendall Jenner

Sarah Jessica Parker
Disclosure: This post contains affiliate links. When you purchase a service or a product through the links, I sometimes earn a commission, at no additional cost to you. Read my full disclosure here.
Here is the list of the top 15 slingback heels available out there.
Best Slingback Heels To Buy In 2023
1. Franco Sarto – Racer Slingback Pumps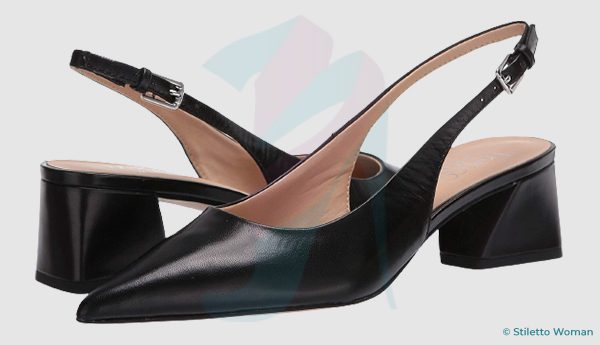 Featuring a classic black color with a glossy appeal, Franco Sarto's slingback pumps consist of a convenient block heel design and cushioned footbed which allows for a smooth walking experience without any kind of discomfort even if you stand for hours in these black slingback heels. With buckle closure and lightweight design, along with breathable lining, these pointed toe slingback heels make the ideal pair for any occasion!
2. Trotters – Dea Slingback Pumps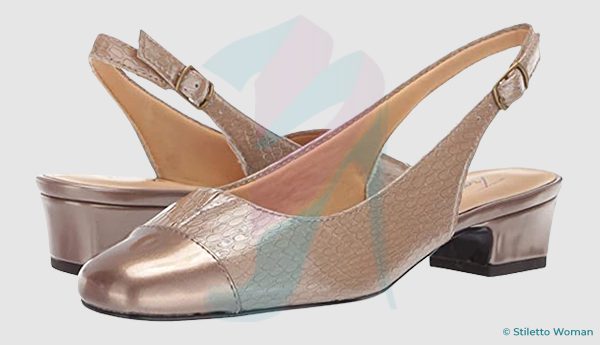 Similar to Franco Sarto, Trotter's slingback block heels consist of a buckle strap closure which allows for a smooth walking experience. With a stellar black-colored leather design and a mysteriously gorgeous appeal, these slingback heels closed toe secures the foot entirely, preventing slip-offs. They would be perfect for office occasions, particularly formal events.
3. J. Renee – Leonelle Peep Toe Slingback Heels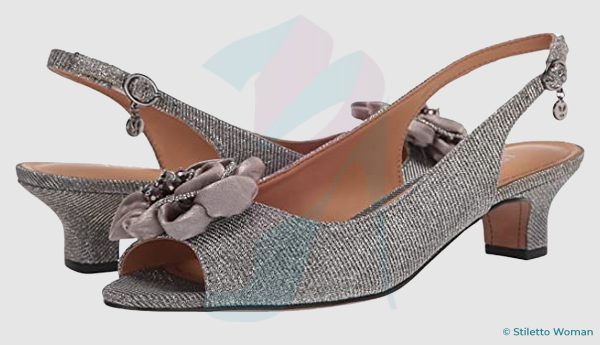 Featuring an Uber feminine and ladylike look with a cute bow and an open-toe design, these black slingback heels make the ideal pair for parties and even bridal occasions. Owing to the shiny glow and the glitzy color, they'd go with any outfit too. On top of that, they have cushioned footbeds which allows for added comfort as you walk in these peep toe slingback heels. Economical and super stylish, these slingback pumps heels should be on your Bucket list for sure!
4. Naturalizer – Banks Slingback Pumps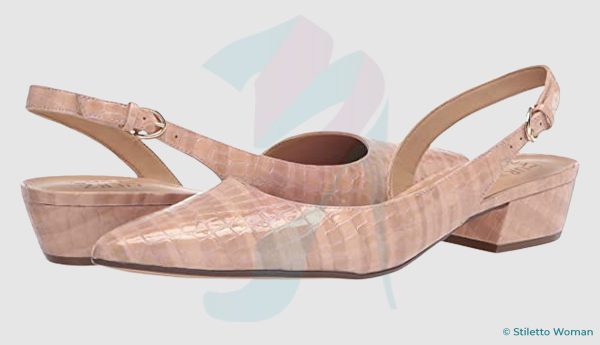 With these convenient slingback block heels buckle closures and cushioned insole, these slingback pumps by Naturalizer are a keeper. The subtle color of these nude slingback heels makes them ideal for formal occasions and even job interviews. They're made up of suede and leather material which makes them quite different and long-lasting too. These slingback heels closed toe features a pointed toe style which, yet again, adds to your personality.
5. Calvin Klein – Coreta Slingback High Heels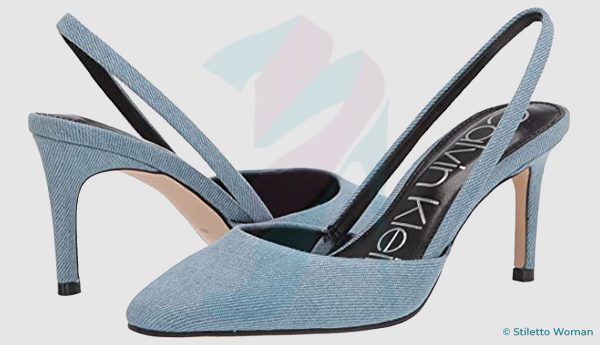 Not a fan of slingback block heels and would rather prefer sharp and sleek stiletto heels instead? Then you should go for Calvin Klein's slingback high heels which feature a 3.5 inches stiletto heel height with a slip-on style in terms of slingback heels closed toe. Besides that, the company promises excellent quality and CK's heels are renowned regardless, hence a pair of these slingback high heels will do you more good than harm!
6. Vionic – Plaza Nareen Slingback Block Heels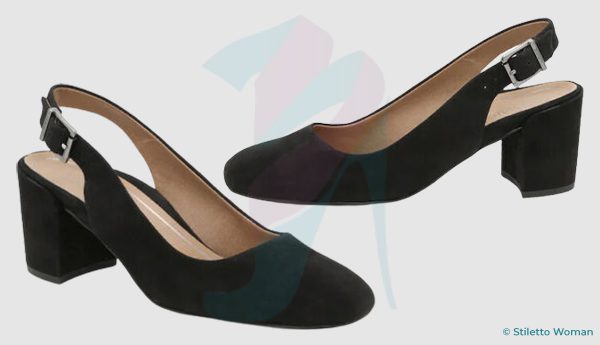 Coming in an interesting appeal of a suede material on the upper, with a cushioned insole and arch support, Vionic's elegant slingback block heels are a must-have. They have a mysterious look with a minimalistic design that seamlessly looks good with any outfit at all. These slingback block heels allow you to walk easily in them even for hours long. They feature a 2.5-inch heel size which makes them a very convenient pair.
7. Jessica Simpson – Krissta Slingback High Heels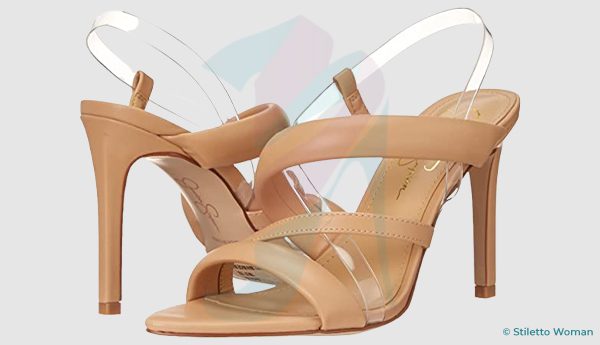 Jessica Simpson's nude slingback heels ooze sophistication and innovativeness with puffy straps and transparent Slingback design. They feature a high heel instead of a block, therefore they are appropriate for occasions where you don't have to walk a lot unless you have practice with long heels. The interesting range of colors makes these heels a sensible option to invest in as you could pair them up with your outfits easily.
8. ECCO – Shape 45 Pointy Slingback Pumps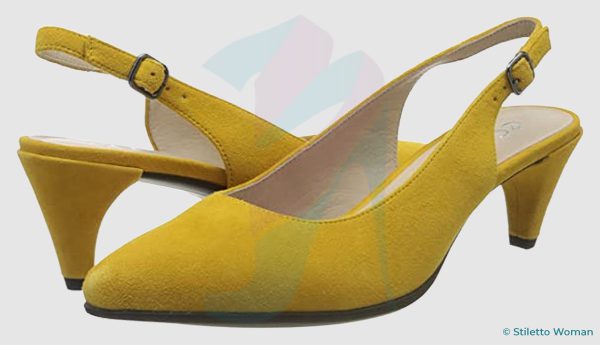 Crafted from premium goat suede material and a high-quality footbed for superior comfort, ECCO's pointed toe slingback heels are a must-have for all the women out there, especially the slingback enthusiasts. The design and style cater to contemporary fashion trends. They come in unique merigold slingback heels and black slingback heels colors which you can pick from to pair them up with your outfit. The brand promises excellence in terms of the quality of the footwear and guarantees their last.
9. Sam Edelman – Marlena White Slingback Heels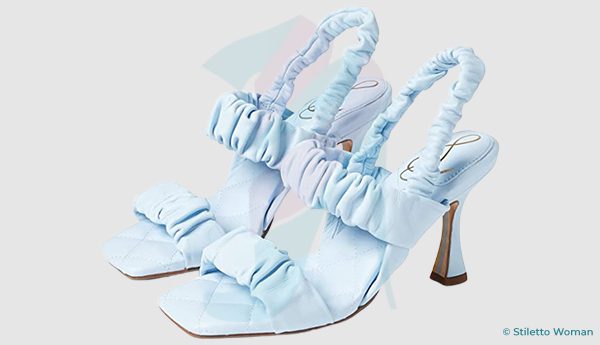 Nothing says uniqueness like Sam Edelman's white slingback heels which feature a leather upper material and unique strap design with curls in them. They are not only extremely comfortable but can also go with any outfit and are the most appropriate for casual outings and even formal occasions. These slingback high heels have a feminine appeal that oozes elegance at its best.
10. Easy Street – Maureen Espadrille Wedge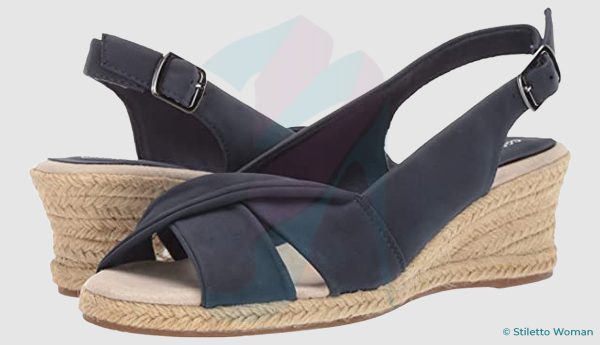 Featuring a unique espadrille wedge slingback design sandals, Easy Street's slingbacks are, hands down, the most convenient pair that you can lay your feet in. Whether you love block heels or stilettos, espadrilles are the kind of heels that seamlessly look amazing and give you those extra inches by not compromising on your comfort too! These wedge slingbacks make the ideal pair for beach parties where you probably have to walk, play games, or dance. They feature a black-colored design with buckle closure, thereby safely securing your feet.
11. Rockport – Total Motion Noelle Slingback Block Heels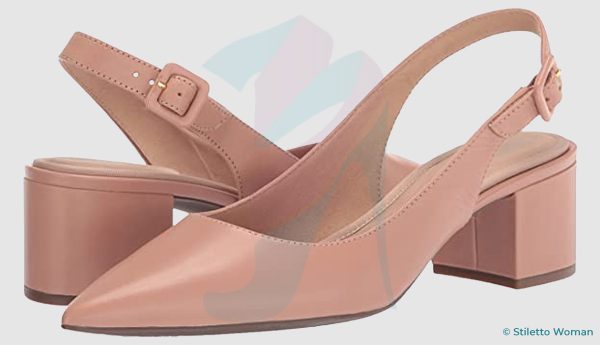 Yet another glossy, yet sassy pair of slingback block heels which are appropriate for formal as well as informal occasions! They also feature a buckle closure and offer you the utmost comfort as you put them on. With a subtle range of colors, women who tilt towards sophistication more than excessive styling should definitely opt for these slingback block heels beauties. With a block heel, these pointed toe slingback heels surely ooze royalty as you walk by.
12. Bella Vita – Scarlettii Slingback Kitten Heels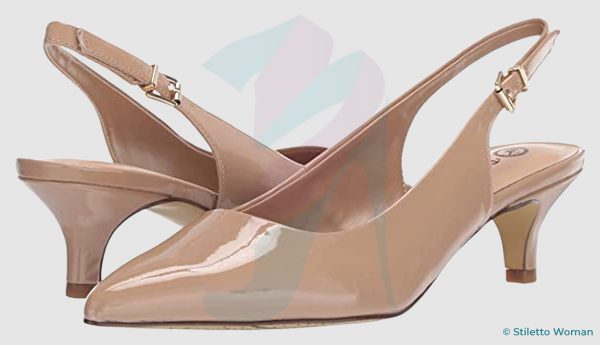 Uniquely crafted, slingback kitten heels containing an Uber glossy appeal – Bella Vita has excelled in the domain of heels in general and these heels are no exception. With a chic, stylish, minimalistic, and classy design, these slingback kitten heels can be the ideal pair for any occasion. For casual strolls or job interviews, these heels should be in your closet to pair them up with neat dress pants to impress your audience successfully!
13. Marc Fisher – Scully Slingback High Heels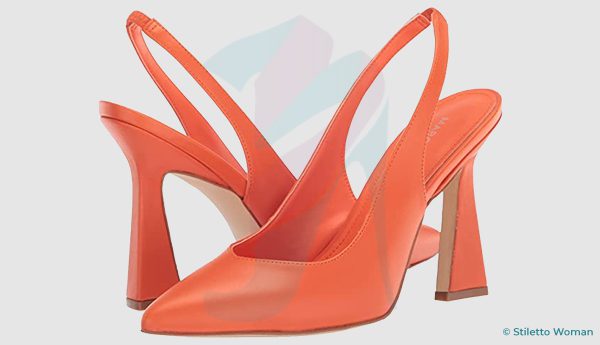 Bold, full of zest, and for the daring types – Marc fisher's slingback high heels are definitely showstoppers. The bold design with high heels defines class and stiletto heels at their best. Notably, they should be worn with caution as the heel shape does not give you enough balance unless you have practice. Nonetheless, women who love to try new heel styles would love these slingback high heels the most.
14. NINE WEST – Hurry Slingback Pumps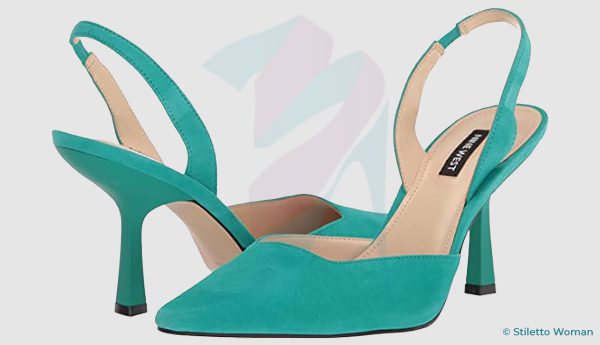 Known for its aesthetically pleasing designs and colors, Nine West's slingback high heels are to die for. The glamorous heels exude finesse and brilliant craftsmanship owing to the superior comfort that it allows. Besides that, it features the classic stiletto heels shape which again, is suitable for occasions that don't require you to walk a lot. Moreover, these heels come in a variety of colors, so you can choose the one that suits you best.
15. Vince Camuto – Hamden Pump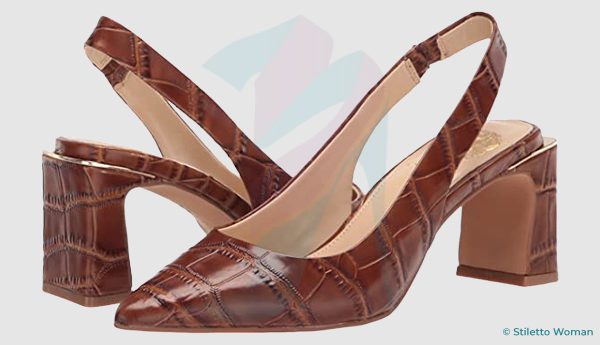 Featuring a convenient slip-on design and a unique heel shape, these slingback pumps offer you maximum comfort and support owing to the perfect fit which does not allow your feet to slip away. Vince Camuto is known for its premium quality when it comes to stiletto heels, hence these slingback heels closed toe is no exception. Besides that, the fine black slingback heels color makes them ideal to go with any outfit at all.