Spectator Heels– What are they and How to Style them? You probably might have heard about spectator shoes but I am pretty sure if you are here reading this, you must be new to this trend of top rated spectator heels. Isn't it?
People who are into unique shoe designs are completely aware of those classic and chic spectator shoes. However, the shoe game got strong, when the spectator heels were introduced inspired by the spectator shoes of the 1920s.  While the spectator heel trend is still relatively new, it is quickly gaining traction among trendsetters who want to stay on top of the game.
With a two-tone distinctive yet stylish design, spectator heels are an amazing upgrade to a footwear collection. Indeed, a prime selection for people who want to add a dash of confidence to their statement style without going overboard. So give spectator heels a try if you're looking for a fashionable and classic shoe that will definitely catch people's attention!
Here is the ultimate guide to help you style your latest spectator heels and elevate this timeless look. From the origin, types, and different ways to style best value spectator heels, we have got you all covered!
Disclosure: This post contains affiliate links. When you purchase a service or a product through the links, I sometimes earn a commission, at no additional cost to you. Read my full disclosure here.
Origin and History- What are Spectator Heels?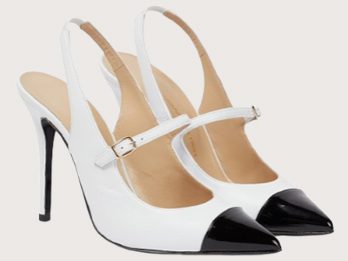 Retro fashion was rebirthed with the invention of spectator heels in the market! These shoes are certainly the symbol of timeless style and class, as they have preserved their status for years. They were initially created for informal athletic footwear in the 1860s, but in the 1920s and 1930s, women quickly adopted them as an inexpensive stylish option for formal as well as informal events. Spectator heels are made from deluxe leather or fabric, introducing a glint of luxury to any ensemble.
Types of Spectator Heels
Black and White Spectator Heels: Classic Choice for any Occasion
The traditional black-and-white color scheme is one of the few top 10 heels when we talk about spectator heels. This classic color combination enhances your appearance and goes with nearly every outfit. Undoubtedly, they are a versatile option that will never go out of style, whether you're putting on clothes for a formal event or keeping it for daily affairs.
Bold-Colored Spectator Heels: Make a Statement with Vibrant Hues
Bold-colored spectator heels are an excellent option if you want to add a pop of color to your ensemble. Be it shiny red, bold yellow, or rich green, you have multiple bold colors to pick from. These shoes are ideal for bringing some personality and style to your ensemble. To let your not-so-cheap footwear shine; make sure to wear them with a basic outfit.
Metallic Finish Spectator Heels: A Modern Twist on a Classic Style
Metallic finish spectator heels are a great option for a more modern look. These shoes are ideal to add some shine and glitter to your outfit. The sparkling gold, silver, rose gold, and gold options are the best heels you can wear on a Saturday night party or even a wedding too.
Pointed Toe Spectator Heels: Sophisticated and Elegant
Enhance the sophistication and refine your attire with best rated pointed-toe spectator heels. Certainly, the best way to display sheer elegance is when you have to attend formal events or office parties! You can never go wrong with these spectator shoes!
Platform Spectator Heels: Bold and Dramatic
Want to make a bold statement and draw everybody's attention to the gathering? Platform Spectator heels are the way to go! They elevate your height and add a dramatic effect which is definitely enough to make you stand out among people. To let the heels shine, make sure to wear them with a plain outfit.
Wedge Heel Spectator Shoes: Comfortable and Stylish
Wedge heel spectators are the best alternative for people who want to be comfortable without compromising on their style. Even though they have more comfort and stability, these shoes still have the same timeless appearance as conventional spectator heels. They look fashionable and put together while keeping your feet relaxed and healthy throughout the day.
T-Strap Spectator Heels: Vintage-Inspired Elegance
T-strap spectator heels are essential in your heels collection if you enjoy 90's style clothing. Any outfit becomes ten times more sophisticated and pays homage to vintage style thanks to the thin strap that crosses the top of the foot. So, regardless of whether you are getting ready for a hang-out with your pals, or dressing up for a formal wedding ceremony, T-strap heels will not disappoint you!
How to Style Spectator Heels?
Bought the right pair of spectator heels? Now, the question that pops up in our mind is; what could be the multiple ways to style them?
Thus, this is the time to time to put your outfit-matching styling skills to the test. Whether you're aiming for a more formal appearance or a more casual one, spectator heels can dress up your outfit and add some personality to it. Here are some hints and techniques to help you dress them stylishly and with confidence:
With Casual Outfits:
Skinny Jeans and a Blouse: Pairing your slacks and blouse with timeless black and white spectator heels will dress up your casual ensemble. Undoubtedly, these heels have the highest rating compared to all other heels in the fashion industry.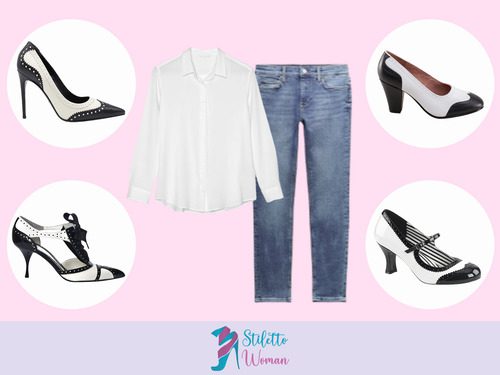 Culottes and a T-Shirt: Combine your culottes and a plain white short top with metallic-finish spectator heels for a stylish yet relaxed summer look. The metallic finish of heels will give your ensemble a dash of glitz, and the culottes will keep you cool and comfortable.
Denim Shorts and a Button-Down Shirt:  Put together your white button-down shirt, denim shorts, and platform spectator heels to create a flirtatious and playful weekend look. These heels will surely help you stand-out in the crowd by infusing a color contrast to your outfit!                  
With Dressier Outfits:
Black Midi Dress: With a pair of chic, sophisticated, pointed-toe spectator heels can elevate your little black dress. While the monochromatic effect keeps your outfit classic and elegant, the shiny shoes will add a dash of glitz.
Pencil Skirt and Blouse: Combine a pencil skirt and blouse with a pair of eye-catching platform spectator heels in a striking color to add a splash of color to your professional wardrobe. Your legs will appear longer thanks to the extra height, and the striking color will draw attention to you and highlight your individual style.
Suit Jacket and Trousers: T-strap spectator heels add a dash of vintage-inspired glam to your work attire. The chic shoes will give your outfit a touch of sophistication, and the T-strap style gives it a contemporary edge.
Care and Maintenance for Spectator Heels
Cleaning and Maintenance:
Soft Brush: Use a soft-bristled brush or cloth to regularly clean your shoes to keep them looking their best. Avoid using harsh cleaners or chemicals because they can harm the heel material.
Protection Spray: Use a leather or fabric protector spray to shield your shoes from spills and water damage. Keep in mind to carefully follow the directions and apply it repetitively.
Air Dry your Shoes: Allow your shoes to naturally air dry after getting them wet and don't use any heat source.
Storage and Protection:
Avoid sunlight: Keep your shoes out of the sun and away from heat sources in a dry, cool place.
Use Proper Storage Box: Make sure to put them in a breathable container after every time you wear them.
Wrap Up
Now that you have gone through a well-structured buying guide, consisting of types of spectator heels and ways to style them, you don't need to keep your spectator heels in a rack anymore!
Buy any suitable heels from various brands, match them with your attire, and be ready to become the center of attraction in your upcoming event.
The spectator heels have endured and developed into a wardrobe essential due to their distinctive style and adaptability. They can easily add a hint of sophistication to any outfit, whether it is formal or casual. There is something to suit everyone's tastes thanks to the wide selection of materials and colors. You can ensure their longevity in your collection by taking proper care of them. Therefore, purchasing spectator heels is unquestionably a smart move if you want to level up your fashion game.