Everything about the Spain is magical – beginning from the food to the rich heritage and even the markets! When it comes to fashion, the Spanish people love to wear exclusive, designer brands which ooze finesse and utmost sophistication. Besides that, they also value expertise and durability when it comes to judging a brand. Balenciaga is a Spanish brand, founded decades ago, and is popularly known for its knowledge and expertise within the niche of footwear. Footwear by Balenciaga is guaranteed to last you a lifetime.
About Balenciaga
Balenciaga was founded in 1919 by Cristóbal Balenciaga in Donostia-San Sebastian, Spain. It is known to be one of the luxury fashion houses in Spain. It is headquartered in Paris, France. It has around 250 stores worldwide in various locations, making it an accessible brand for most people.
For years and even decades, Balenciaga has prided itself on being made in Italy, with some pieces also made in France. It offers unparalleled quality in terms of heels and superior detailing. Millennials are the target market of the brand, and it generally targets the upper class owing to the luxury that it offers.
The Types of Heels Available at Balenciaga
Balenciaga offers a range of stiletto heels for women under the category of heels.
Types of Heels
Mules
Pumps
Sandals
Wedge Heels
Block Heels
Stiletto Heels
Boots and Booties
Disclosure: This post contains affiliate links. When you purchase a service or a product through the links, I sometime earn a commission, at no additional cost to you. Read my full disclosure here.
Who Wears It?
Balenciaga is a Spanish-inspired brand that is worn by a diverse range of women who want to experience luxury at its best whenever they invest in a particular brand. Balenciaga is a high-end option for the ones who are interested in the finer things in life. It is a relatively expensive brand, and most celebrities wear it. Some of them include:
Celebrities Who Wear Balenciaga :
Kim Kardashian
Kanye West
Julia Fox
Dua Lipa
Alexa Demie
Hailey Bieber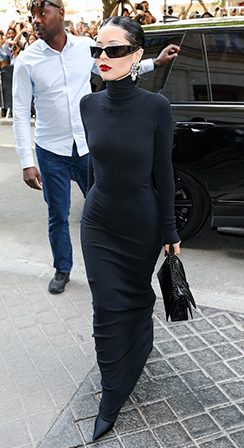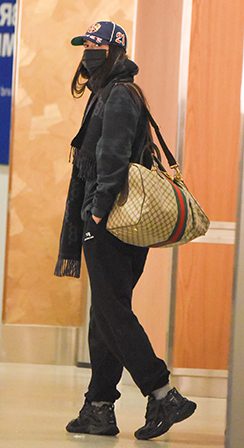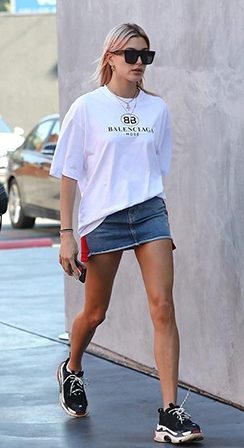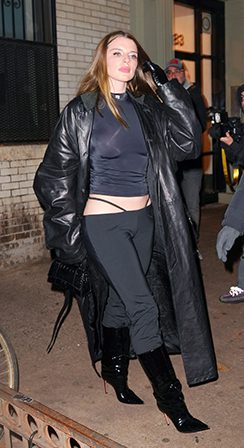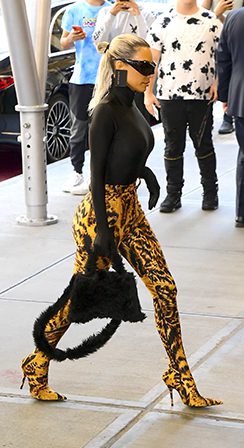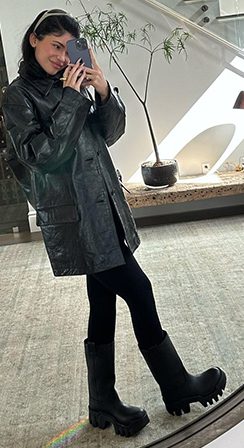 The brand is worn by the masses and is not just restricted to celebrities. Even though I do not own a pair of Balenciaga, I know some people who do and they love it!
Is it for me?
If you're the type to invest in luxury and extravagant heels, then this brand is for you. Marked by its Spanish designing, you'll fall in love with the finesse and creativity that oozes from the brand. If you want an all-in-one solution for heels, then go for this brand as it has a versatile range of heels which can cater to your needs easily.
Criteria Based Rating: Balenciaga
Design & Style
 8.5/10
The brand has a good range of heel styles as compared to other luxury brands. Ankle straps, mules to wedges and boots, it has them all!.
Colour Range
5/10
It has a limited range of colours being offered to the customers.
Affordability
6.5/10
Heels at Balenciaga can be quite expensive. They can go up to $600 and even higher.
Celebrity Preference
8.5/10
Balenciaga has been around in the market for decades now, so that explains why it has a loyal list of celebrity following.
Similar Stiletto Brands like Balenciaga
Similar to Stuart Weitzman heels, Balenciaga offers a high-end and luxurious heel which are suited to everyday wear, parties and even formal events.
Like Jimmy Choo and Prada, Balenciaga has a very good reputation in the market. It is the go-to brand for all the women who prefer glamorous heels and don't mind the price.
Some of the Best Balenciaga Stiletto Heels!
Where To Buy Balenciaga
Some of the platforms where you can find Balenciaga Heels at:
When Do You Wear Balenciaga Stiletto Heels?
| | |
| --- | --- |
| Types of Heels | Suitability Rating |
| Casual | 8/10 |
| Party | 8/10 |
| Formal | 8/10 |
| Bridal | 4/10 |
Balenciaga – Shipping and Return Policy
Countries
Shipping & Return Policy
United States
Shipping: 3-6 business days

Return: within 14 days of purchase.

United Kingdom
Shipping: N/A

Return: within 14 days for a refund or exchange.

Canada
Shipping: N/A

Return: within 14 days of purchase for a refund.

Australia
Shipping: N/A

Return: within 14 days of the order date.
At A Glimpse: Customer Feedback Regarding Balenciaga
According to the customer reviews online, most are satisfied with their purchases and are happy with the quality of the heels. They claim that the heels give you a luxurious feel, but the only off-putting factor is that the brand's customer service is not up to the mark. Customers claim that the customer service representatives are not responsive and that can be a factor to look out for before investing in the highly-priced heels.