Fashion has been one of the most dominating aspects in anyone's life, whether it's a male or female, we see sleek looks everywhere. The fashion hubs like Paris, Italy, New York, UK, and many other regions have made people step outside their comfort zones and follow unique and inspiring fashion trends. Most of them just imitate what the celebrities are wearing too, so designers make sure that their products are endorsed by renowned celebrities like Sarah Jessica Parker in the famous American TV show was seen wearing Manolo Blahnik heels all the time throughout the show.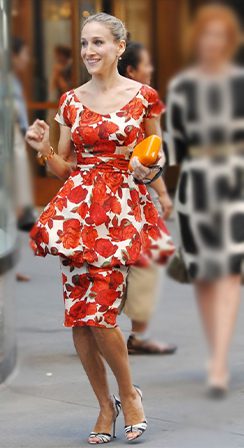 Similarly, the industry has diversified quite a lot and there are many types of heels emerging. A relatively newer version of pumps known as D'Orsay too, became the talk of the town earlier in the 2000s. It's basically a shoe in which the inside, or both sides, of the shoe is cut away, revealing the arch of the foot and the vamp is cut very close to the toe box. Most of the times D'Orsay takes the form of a heel instead of a flat. They're suitable for formal occasions as they ooze classiness and modernity.
Disclosure: This post contains affiliate links. When you purchase a service or a product through the links, I sometime earn a commission, at no additional cost to you. Read my full disclosure here.
D'Orsay Then VS Now
Originally worn by men during the 1800s, D'Orsay have come a long way in terms of evolution. These beauties were created by Alfred Gabriel who first created D'Orsay as a military shoe in 1838. Starting off as flat shoes and slowly evolving into heels with low cut sides accommodating wider feet and v shaped vamp. Soon female aristocrats also adopted the style.
Today, they're available as a modern version of pumps and are made by almost every high end shoe designer like Jimmy Choo, Christian Louboutin, and Manolo Blahnik, but their lasting appeal and widespread popularity make them accessible at any price point. You can easily find an affordable pair of d'Orsay pumps in your favorite department store or boutique.
Styles In Which D'Orsay Is Available
Kitten Heels
If you want to take your styling game up a notch, then go for kitten heels in a D'Orsay style. With a low heel height, you can walk comfortably and the cut out sides can add finesse to your feet, making them appear accentuated. They will also make you appear more feminine and ladylike. They are available at renowned designer brands in many colours and styling, maybe with a little embellishments here and there as well.
Ankle Strap D'Orsay
For a firmer grip and ease, get yourself a pair of ankle strap D'Orsay heels. They will not only make a strong fashion statement, but also make you look super chic. You can show off your ankles as well to emphasize on your femininity. There's a charm in ankle strap heels which other styles miss out on. So they'd be a cool addition to your heels collection and can be your savior especially in events like bridal or prom.
D'Orsay with Bows
To achieve the ultra modern and feminine look, go for D'Orsay with bows. They're available at some high end designer brands too. Though it's nice to have easy going heels which are bold, sometimes tapping into your inner girly girl is also a great thing as it'll make you look more attractive. Then again, you could make your picks in terms of colours and other detailings that you'd want, along with the heel height too.
Final Thoughts
On a concluding note, it can be said that you can browse through the popular designer brands like Jimmy Choo and Manolo Blahnik to make your picks wisely. You can never go wrong with a pair of D'Orsay heels and you can be sure to look highly fashion forward. Happy browsing!