One thing fashion has taught us all very well – no fashion fad ever truly dies. It comes in waves and once a design hits its saturation point, it may go dormant for a while or even decades, it will eventually come back around with a contemporary and stylish twist. Over the last few years, the fashion industry has been quite nostalgic bringing back mom jeans, square toe heels, baguette bags and related trends into the current collections. Nonetheless, even all of these do not compare to the trend of stiletto thong sandals. They're loved by fashion's coolest trendsetters including popular celebrities too.
What You Need To Know Before Buying Thong Heels:
Thong sandals have been the trend since decades, but the trend became dormant in between. It has emerged in newer and more modern versions now which are convenient to wear, especially during the summer season. But before investing in thong sandals, you need to know the following:
Your Individual Requirement

All of us have our own reasons to wear thong sandals. If the reasons include wearing them for a casual night-out, then stiletto thong sandals would be more appropriate. On the other hand, if you are the one who prioritizes fashion above societal norms and would love wearing thong sandals to weddings too, then you can go for the silver and embellished stiletto thong sandals or block thong sandals too. Make your picks wisely.

Who Should Buy Thong Heels?

Women who are upbeat and bold, those who prefer easy going way of life yet staying fashionable at the same time, should buy thong sandals as they exude confidence, simplicity, and an alluring charm.

Features To Look Out For

Thong sandals can come with a strappy look, embellishments, buckles, various textures, heel shapes, heel height and a lot more. You can pick the one that best suits your needs as you browse through the popular designer brands like Giuseppe Zanotti and others.

Emily Ratajkowski

Katie Holmes

Kendall Jenner
Disclosure: This post contains affiliate links. When you purchase a service or a product through the links, I sometime earn a commission, at no additional cost to you. Read my full disclosure here.
Without further Ado, let's head onto our list.
 Stiletto Thong Heels in 2023
1. Kenneth Cole – Macen Sandal
Featuring the ultra modern and simplistic thong sandals by Kenneth Cole, these heels consist of a cheetah print thong strap. It has a minimalistic design which can be suited to everyday use and for most occasions. They'd be perfect for casual hangouts and would generally go well with any outfit. They have an edgy heel shape, with a cut out block design, making it easier to walk in them.
2. Tommy Hilfiger – Olaya Heeled
Another really cool pair that you need to have in your closet when we talk about thong sandals is that of Tommy Hilfiger. These heels feature a block heel design and a low heel height. They come in a classic brown colour with a buckle strap to grip your feet well, preventing slip offs. They'd be perfect for casual events and even everyday wear.
3. Jessica Simpson – Kelsa 2 Sandal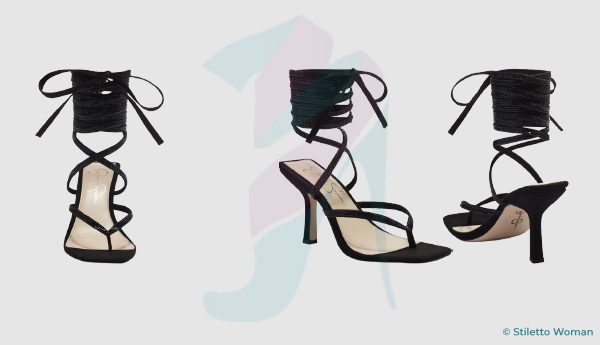 Known for offering innovative designs in terms of heels, these heels by Jessica Simpson exude luxury and finesse. They're best suited for bridal or formal events like a prom, best friend's wedding, pageant, etc. These heels comprise of embellishments and a stiletto heel which can boost your height too. These are definitely a keeper.
4. LOUISE ET CIE – Lalo
Similar to Kenneth Cole's thong sandals, Louise Et Cie has the same heel shape. These thong sandals are quite chic and stylish, suited for everyday wear. You can choose from the colors being offered and coordinate the color with your outfit. These heels come with an ankle strap to secure your feet well in order to prevent slip offs.
5. Vince Camuto – Perseena Wedge
By the looks of it, you just want to get your hands on this one. We've all become used to comfort after Covid pandemic. These thong sandals by Vince Camuto feature a wedge heel shape which facilitates ease of walking without any pressure on your toes. They're super comfortable and stylish. They'd make an ideal pair for everyday use.
6. NINE WEST – Nest3 Heeled
Nine West never fails to surprise its customers with stunning designs and these thong sandals are no less. Featuring a simple and easy slip on style with a pastel color and cut out heel shape, these heels can also boost your height. They're easy to walk in and are low maintenance. You could wear them to any occasion owing to the timeless charm that exudes from them.
7. Stuart Weitzman – Lalita Sandal
The brand that's known for jewels and gems on its footwear, Stuart Weitzman's thong sandals are the perfect pair for the ones who love to go beyond the fashion boundaries. The excessively strappy look reinforces a modern appeal with a timeless chic aura. You can't go wrong with these if you're looking for something in the long run as the brand promises excellent quality of its heels.
8. Veronica Beard – Gabby Platform
Another really stylish pair of wedge-platform heels that you should try would be that of Veronica Beard. These thong sandals serve as a multipurpose solution for all your fashion crises. These can go well with any outfit owing to the white color. They come in an easy slip on style so they're easy to carry and quite low maintenance too.
9. Simon Miller – Beep Sandal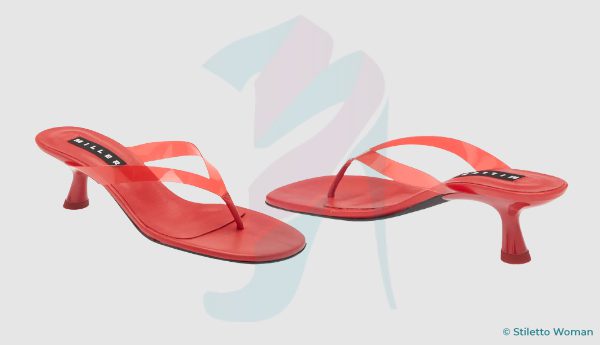 Yet another pair that's low maintenance and easy to carry, Simon Miller's thong sandals exude confidence and boldness. These heels come with a transparent thong strap and a slip on style. They have a low heel height which makes it easy to wear them. They'd be best for casual events like hanging out with your friend or something similar. They're breathable and lightweight too.
10. Courreges – Strap Sandal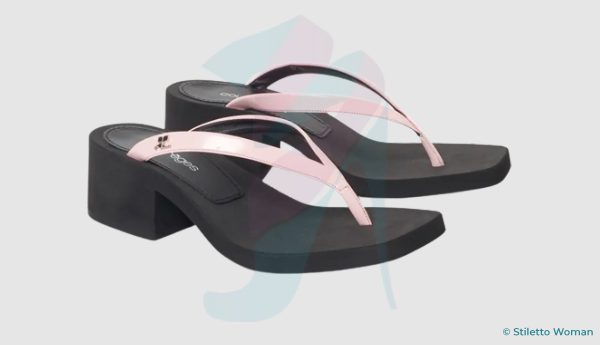 It's like thong sandals are synonymous to the easy breezy way to go about life, or at least go about heels. These thong strap sandals by Courreges come in an easy slip on style and a minimalistic design which is suited to everyday wear. They come in a wedge heel design so it's super easy to walk in them owing to the superior comfort provided by the footwear.
11. Jil Sander – Platform Sandal
If you're still obsessed with the simple slides and can't accept the trend of thin and high stiletto heels, then you should go for Jil Sander's platform thong sandals. These heels are very similar to slides, and come in the classic black color which makes them super convenient and useful too. You can't go wrong with these heels as they'll be your savior.
12. Jacquemus – Les Sandales Mari
You can be at comfort, yet remain classy and chic, depending on the type of heels you're wearing. These super classy and stylish thong sandals by Jacquemus Les ooze modernity and sophistication at its best. They feature a puffy and loosely braided thong strap with a stiletto heels to make them appear elegant.
13. Gucci – GG Logo Sandal
Everything about Gucci is classy – there are no doubts about that. These classy thong sandals by Gucci are the depiction of the company's creativity in terms of heels. They feature a block heel design with a Gucci label on the thong strap. Also, they come with an ankle strap design which grip your feet well and firmly. These heels are sure to last you a lifetime, considering Gucci's amazing quality.
14. Khaite – Monroe Sandal
Not a fan of traditional thong sandal designs? Then this one is sure to catch your attention. Khaite Monroe's thong sandals ooze modernity, luxury and a contemporary finesse which makes them irresistible. Even with a simplistic color of white, they have a unique and eye catching design with kitten heels. The footwear is sturdy, breathable and lightweight. They'll grip your feet well too. A bonus point is that they can go well with most outfits so they serve as multipurpose.
15. Louis Vuitton – Signature
If there's one brand that we're all aware of, it is Louis Vuitton. From bags to heels, the famous and iconic logo of LV is renowned and considered as luxury by people around the globe. Featuring the classic black color and a slip on style, these heels have a stiletto shape which can boost your height as well. They can go well with any outfit and make you appear classy at any occasion!