The color red exudes charm like no other. There's a reason why most people go for this colour for special occasions like birthdays, anniversary and even night outs. The colour is made for women who have finer taste in life. Elite women like Emma Roberts, Lily Rose and many fashion models have often tried to convince us that Red heels are a "must buy" as they exaggerate the colors in their outfits, help them look bold and, most importantly, shed light upon feminism.
The article aims to highlight the importance of Red tints in our daily lives, by suggesting several Red Blocks to all the ladies out there.
What You Need To Know Before Buying Red Block Heels:
Anyone who cares about fashion and knows how to style will definitely have Red block heels in their wardrobe. Red block heels can be your savior when you dread wearing the thin and pointy, uncomfortable stiletto heels. The blocks give you more support and balance so you can walk around easily. The combination of red and block heels can be deadly, making heads turn! But before investing in such heels, here's what you should consider:
Your Individual Requirement

All of us have our own reasons to wear Red Block heels. If the reasons include wearing them for a casual night-out, then any type of Red Block heels would be more appropriate. On the other hand, if you are the one who prioritizes fashion above societal norms and would love wearing Red Block heels to formal occasions too, then you can go for ankle strap heels or slingback Red Block heels to add more attractiveness to your overall appeal. Whatever the case may be, make your picks wisely.

Who Should Buy Red Block Heels?

Women who are easygoing and modern, those who have classic yet contemporary fashion tastes, should buy Red Block heels as they exude confidence, femininity, and an alluring charm.

Features To Look Out For

Red Block heels comes in the form of red strappy block heels or with embellishments, buckles, various textures, heel shapes, heel height and a lot more. You can pick the one that best suits your needs as you browse through the popular designer brands like Franco Sarto, Ted Baker, and others.

Emma Roberts

Lily Rose

Selena Gomez
Disclosure: This post contains affiliate links. When you purchase a service or a product through the links, I sometime earn a commission, at no additional cost to you. Read my full disclosure here.
Without further Ado, let's head onto our list.
 Stiletto Red Block Heels in 2023
1. J. Adams – Mimi Sandal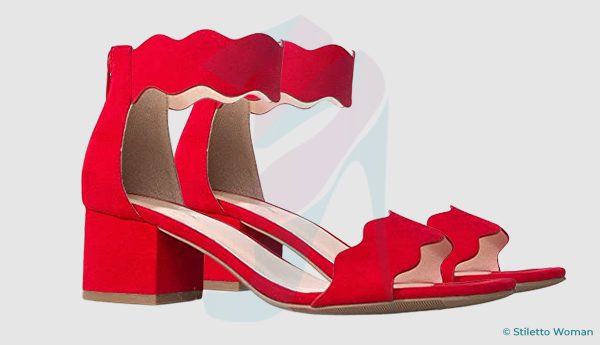 Fan of the iconic Block Heels? Well, they don't get any better than these J. Adams Mimi red block heel sandals. With a splendid Red color and a design that's awe-inspiring, your next outfit deserves to be worn with these red block heel sandals as they are meant to impress.
2. Kenneth Cole – Lex Shine Heeled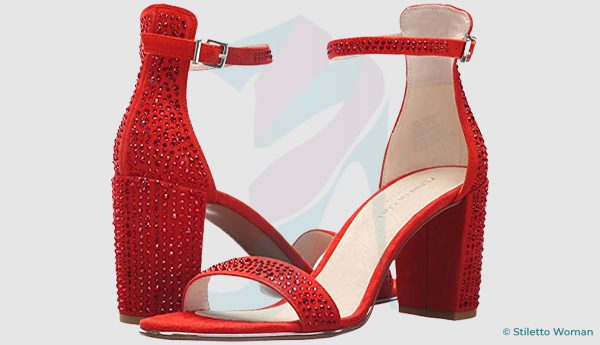 Very aesthetic and very minimalistic, these glamorous red colored Block Heels by Kenneth cole are majestic and class apart. The New York Women's Lex are made to make a mark. Not only will they look good on your feet, but will also blend in on any occasion or party.
3. Bandolino – Armory Heeled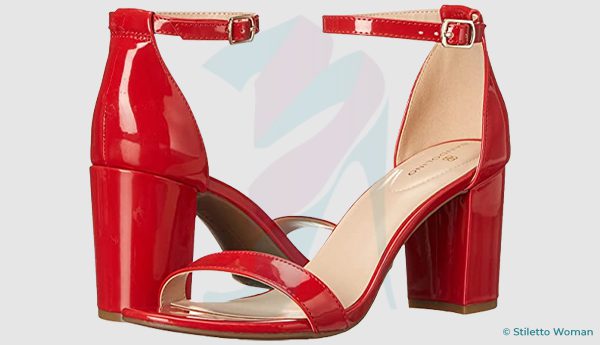 This right here is sheer elegance, to say the least. Featuring Crimson red color and a very understated design, you can expect to impress the one standing next to you with these red open toe heels with ankle strap. The Women's Amory by Bandolino are exemplary when it comes to looks and overall aesthetics.
4. Bella Vita – Red Strappy Block Heels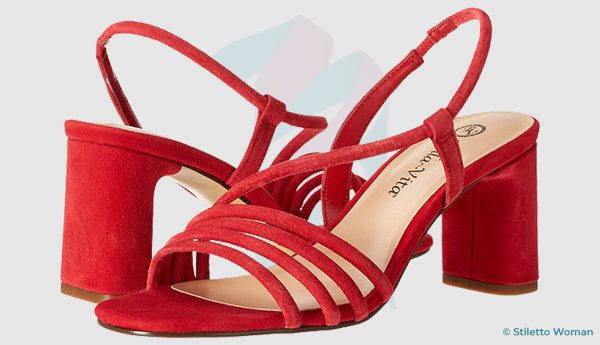 Bold and beautiful. That's what these Bella Vita Zariahs red strappy block heels are. With a strikingly vivid design, cladded in a mighty red color, these pair of red block heel sandals will help you get noticed at your parties and events. It will light up your overall look.
5. Calvin Klein – Quelyn Heeled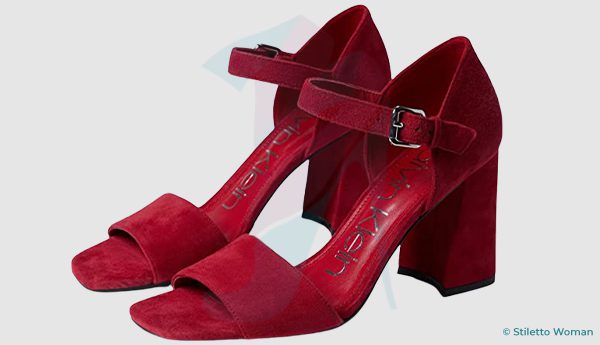 Wow. Simply Wow. This is what you and anyone who wears these or even take a glance at. The Quelyn by Calvin Klein are class apart Block Heels with the right combination of materials and color. The Red on this is simply exotic. You can't miss these ones. The best part about these Block Heels is that the color is not your average red color, it's slightly dark and more brilliant.
6. Dolce Vita – Pama Sandal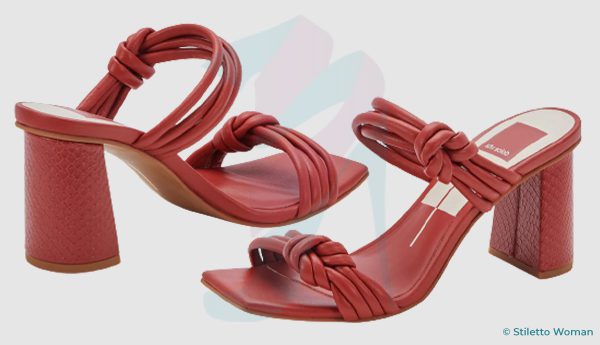 Are you a fan of the knot design? These red block heel sandals feature an unorthodox design with top Tier materials and stitching. The Dolce Vita Pamas are an excellent pair of red block heel sandals for the creative. The red color here is more on the lighter side blending perfectly with the overall look and feel of the Heels.
7. Michael Michael Kors – Petra Ankle Strap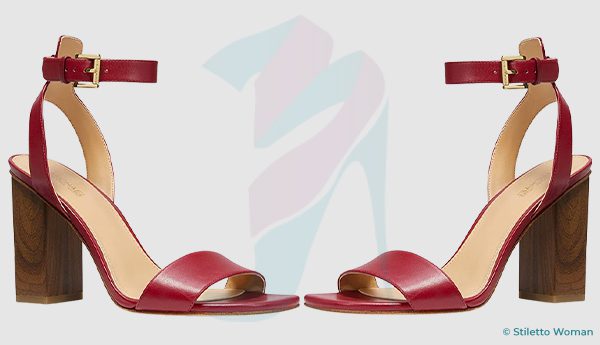 If class and elegance are the only two things that you look for in Block Heels, then these red strappy block heels won't disappoint. The Petras red open toe heels with ankle strap by Michael Kors is outstanding pair of Block Heels with a pronounced wood accented heel. The red here is also stunning matching perfectly with the design of the heels.
8. Camper – Katie Pump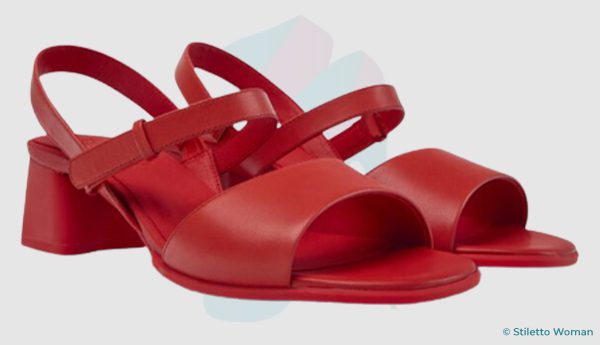 If you were looking to rock an all-red look at your next party or event, then pick the CamperHeels without any hesitation. These Block Heels are completely red. And by completely, we mean completely. The divine red color coupled with the minimalistic and elegant design, your all red look will go perfectly with these pair of Block Heels.
9. Sam Edelman – Susie Heeled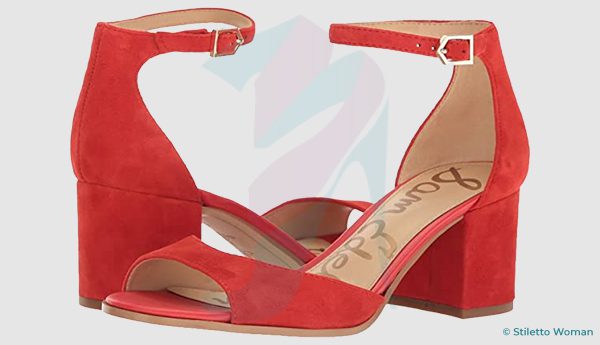 Are you a fan of classical red Block Heels? If yes, then go ahead and grab a pair of the Susie red open toe heels with ankle strap by Sam Edelman. It consists of a beautiful design, a striking and electric orange-red color, which is sure to make heads turn as you walk into a room.
10. Calvin Klein – Qeelin Heeled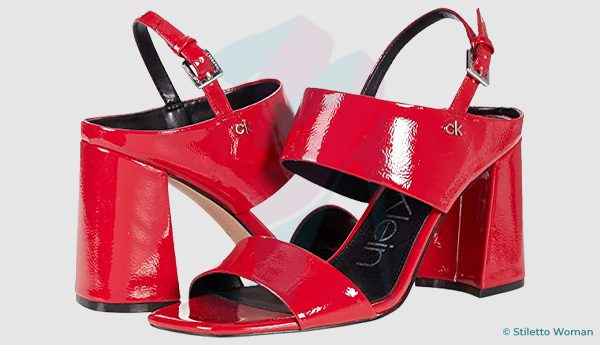 Bold and shimmery. Here's something that's out of the ordinary. No need to worry if you want to grab a classy, yet bold and shimmery pair of Block Heels for your party or prom. The Women's Qeelin by Calvin Klein are in a league of its own. Shimmery red, with aesthetics that are unmatched, these Block Heels are made to perfection, and designed to leave a mark.
11. Jeffrey Campbell – Block Heel Platform Sandals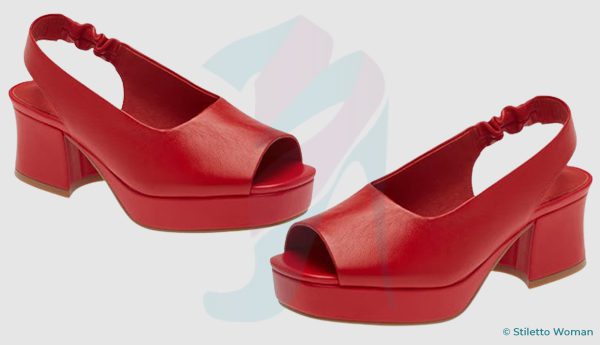 The list of red Block Heels isn't complete without the inclusion of the formal, work-type pairs that are designed to provide comfort to your feet. The Extendos by Jeffrey Campbell is chunky and classy, with the aim to strike comfort and elegance at the same time. No bells and whistles. The elegant design and the color red that evokes class are the features of these block heel platform sandals.
12. COACH – Margaret Sandal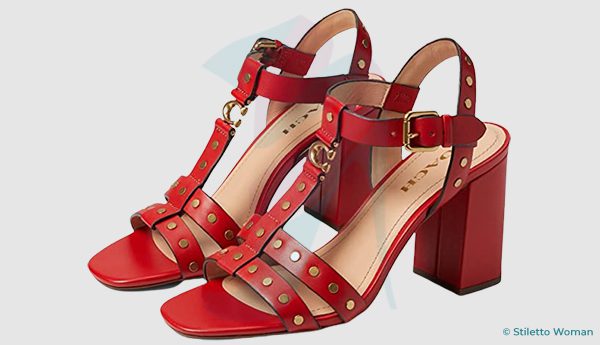 The best part about Block Heels by Coah is their creativity in design. The Margaret Block Heels by Coah are truly exceptional, when it comes to impressive design and use of elements. Sporting divine red color with golden accents on top, these are excellent an excellent choice for party wear.
13. Naturalizer – Tiff Sandal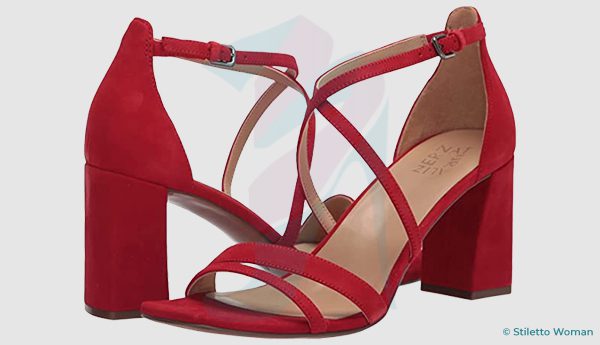 They say that there is no perfect set of red Block Heels for presentations and meetings. We say that one couldn't be more wrong. Get the Women's Tiff by Naturalizer and you'll know what we mean. Playing classy with red hasn't been more effortless with these red open toe heels with ankle strap.
14. Frame – Le Doheny Sandal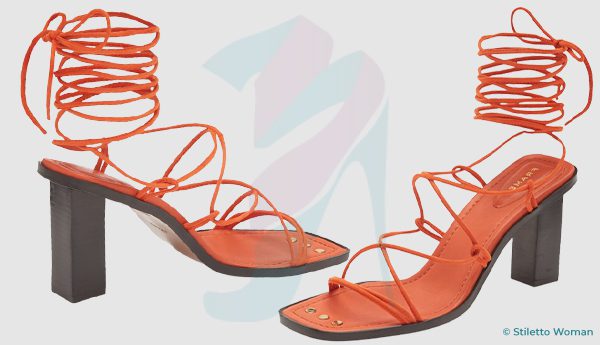 Talk about creativity. The Framw Le Doheny Block Heels are not for everyone. The creative design is for someone who wants to play the part and stand out from the rest. With an unorthodox design, doodled with red, these Block Heels will surely giv the others a run for their money and are typically the type that are showcased during fashion shows and ramp walks.
15. Christian Louboutin – Brio Heel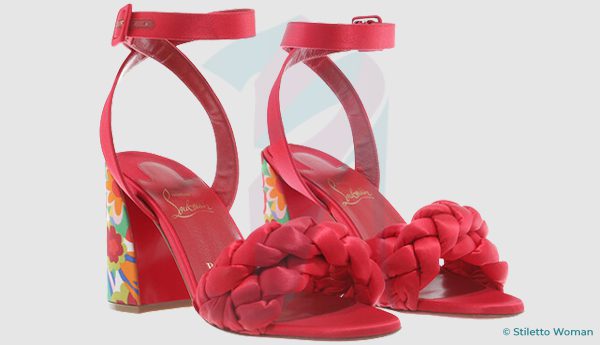 Looking for the perfect casual pair of red-colored Block Heels? Get the Louboutin Brio by Christian, without thinking twice. Very elegant and effortless design, combined with the perfect combination of red and exotically colored heel, this pair is perfect for casual strolls. These red open toe heels with ankle strap makes the perfect pair for any evening event.