Oh Rainy Days! As much as we love them, can be a hassle for most women. Not just women, but other people in general too. However, for women particularly, they need a fashion forward solution for everything, so that leaves rain boots as no exception. Women not only look for rain boots which serve the purpose, but are also chic and stylish to make sure it compliments their casual strolls. Fashion has become the number one priority of most people these days which has made designers come up with amazing rain boots too. In this article we will be listing the cheapest rain boots that you can try before investing in expensive ones.
What You Need To Know Before Buying Rain Boots:
You may assume that rain boots would lack finesse and modernity as compared to that of the look of knee high or other boots. However, we have newer versions of rain boots which are suited to many occasions and preferences. Ranging from printed, leather, square toe, block heels, and many others – the choices are limitless. A few things that you need to know before investing in rain boots  include the following:
Your Individual Requirement

Whether it's your casual stroll or you live in a region that typically has prolonged periods of rainy seasons, you may want to have a pair or two of rain boots in your closet. So make your picks wisely according to the occasion and your preference.

Who Should Buy Rain Boots?

A simple answer to that would be, everyone. For men, women, and kids, rain boots are a necessity for everyone. However, women tend to like fashionable and designer versions over the rest.

Features To Look Out For

Rain boots can come with a lugged sole, embellishments, buckles, various textures, heel shapes, heel height and a lot more. You can pick the one that best suits your needs as you browse through the popular designer rain boot brands like Dansko, Michael Kors, and others.

Jennifer Garner

Sarah Jessica Parker

Naomi Watts
Disclosure: This post contains affiliate links. When you purchase a service or a product through the links, I sometime earn a commission, at no additional cost to you. Read my full disclosure here.
Without further ado, let's head on to our top picks for the best rain boot brands:
 Stiletto Cheapest Rain Boots in 2023
1. BOGS – Flora Bootie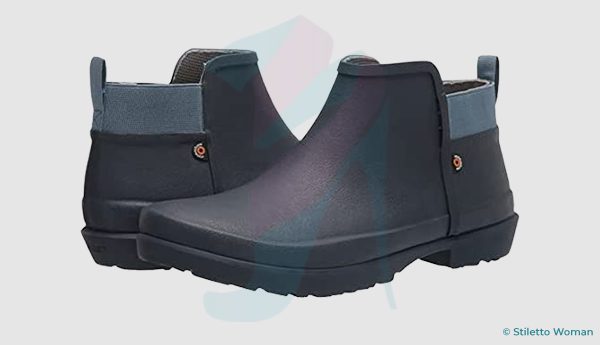 Featuring ultra classic and rain-ready boots with waterproof capabilities and soft rubber in a supportive design, they're sure to catch anyone's attention. These rubber rain boots make a sturdy and classical pair that can go well with any outfit and will last you a long time too. Bonus point – these waterproof rain boots are the cheapest out of the lot other rain boot brands.
2. Joules – Pop-ons Boot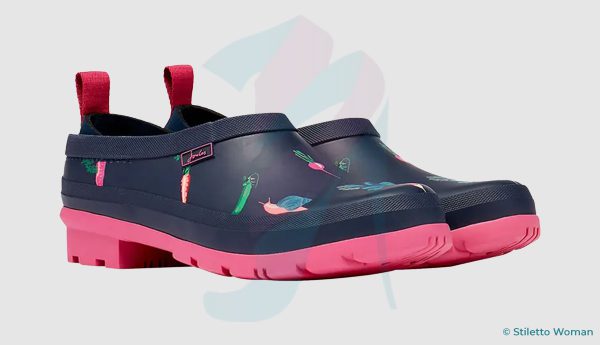 Featuring another cool pair, but this time with a contemporary look instead of a classical one, these waterproof rain boots have a slip-on style and they offer superior comfort too. They have a waterproof clog shape and a funky appeal, yet they protect against puddles and splashes on après-rain strolls. They make the best rain boots pair among the other rain boot brands.
3. Keds – Rowan Boot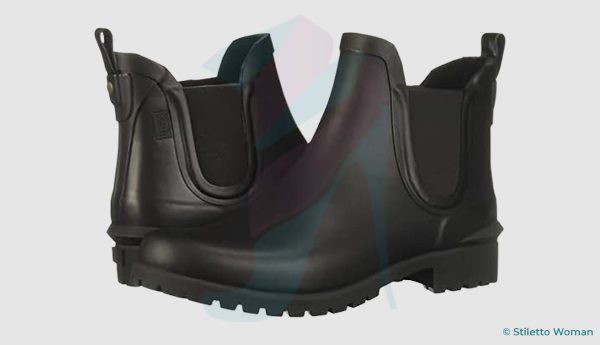 If you're looking for something classy and upbeat, traditional yet modern, then look no further as you've reached the right place. These rain boots consist of a durable lugged sole with soft knit lining which makes it easy for you to dance in the rain as much as you want. Your toes will remain warm too!
4. Cougar – Kensington Too Boot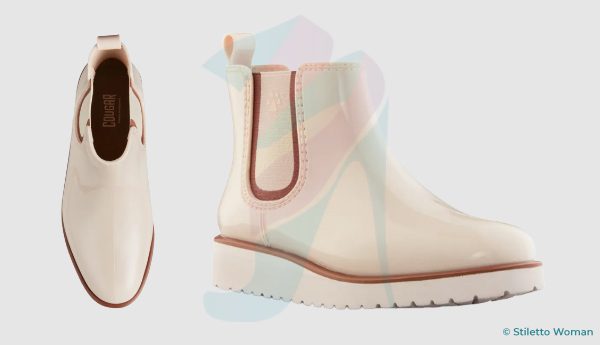 Another relatively cheaper option for you to consider in terms of rain boots would be this one. They come with a splash proof design that is easy to put on and the boots are designed with a glossy finish and antislip treads. They're sure to make a fashion statement as well. They make the best rain boots pair among the other rain boot brands.
5. Jeffrey Campbell – Thundrstrm Boot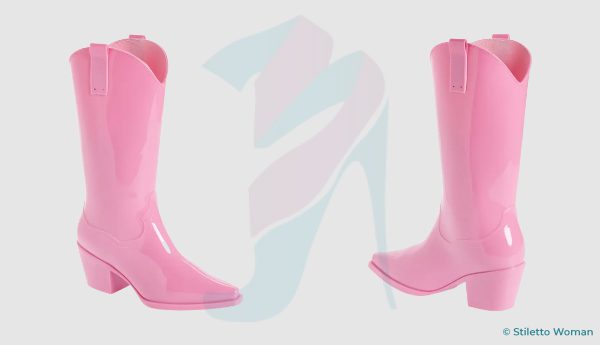 Featuring a modern, unique and an incredibly creative look in terms of rain boots, these boots come with a glossy look that can up your personal style like no other. You can relax and put them on, and go about your day even if it's raining. They come with a block heel design, so you can walk easily in them too. They make the best rain boots pair among the other rain boot brands.
6. UGG – Droplet Boot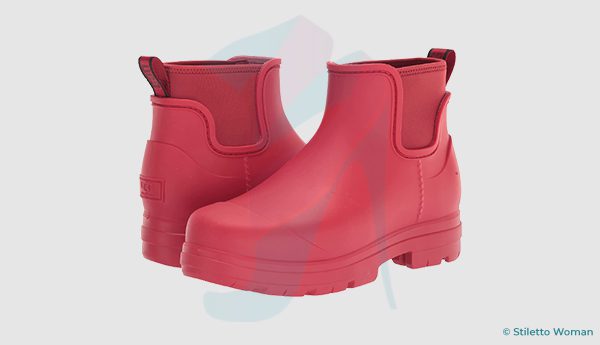 Yet another great pair of rain boots would be that of UGG. These rubber rain boots embrace the rain owing to the puddle-readiness of the boots, featuring a hardy rubber shell and flexible neoprene collar. They come with a slip-on style and they're sturdy enough to grip your feet well too.
7. Dolce Vita – Thundr H2o Boot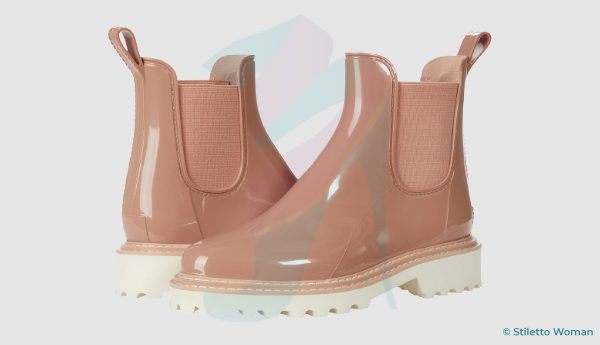 Lugged sole, chic, sleek and the classic rain boots by Dolce Vita are sure to catch your attention. They tick off all the good stuff and that very aspect makes them hard to resist. You can walk comfortably in these shoes without having to worry about embarrassing slip offs. They make the best rain boots pair among the other rain boot brands.
8. Madewell – The Zip-Up Lugsole Boot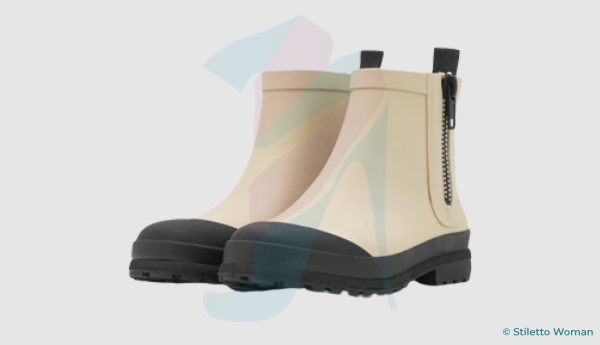 Another great pair of rain boots that you should consider would be these. They come with a cool and comfy aura, characterized by lug soles and MWL Cloudlift insoles for a supercushy fit which makes them super comfortable and chic. You can't go wrong with these! They make the best rain boots pair among the other rain boot brands.
9. Chooka – Moto Mid Boots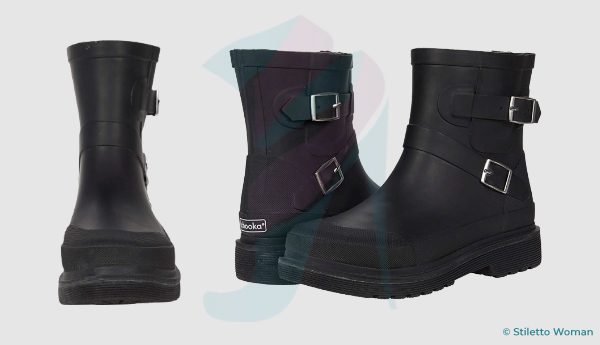 Featuring decorative buckle details, this waterproof rain boots keeps you grounded on a grippy sole and foam-cushioned footbed. This ensures that these rain boots remain super comfortable for you even during the rainy season. So you can enjoy your time, and not worry about the footwear either! They make the best rain boots pair among the other rain boot brands.
10. Jack Rogers – Ruby Boots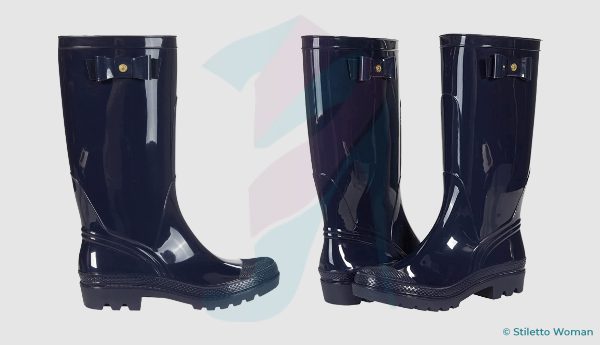 A super chic yet classy rain boot would be that of Jack Rogers. These rubber rain boots help you to take on puddles and drizzly days in a waterproof rubber boot finished with a heavily lugged sole for traction on slippery surfaces. These waterproof rain boots have a glossy appeal and can cover your legs well to offer maximum comfort and coverage too.
11. Splendid – Dawn Boot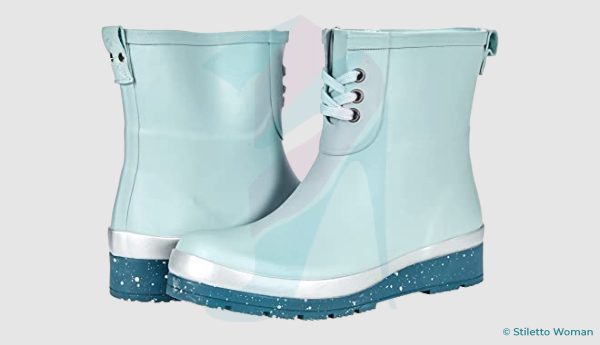 Another great pair of comfortable rain boots that you won't regret investing in would be that of Splendid. These boots consist of chunky heels with low wedge and traction enhancing textured sole. They have a lace design which adds finesse to these boots too. This makes them sturdy, reliable and durable too!
12. Michael Kors – Mac Bootie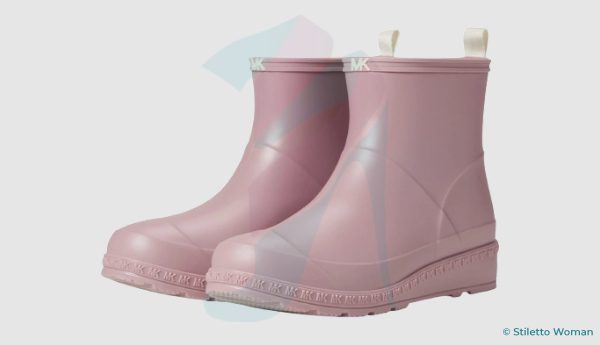 Another really cool pair of comfortable rain boots that you should try would be that of the prestigious label of MK. These rain boots can surely be an amazing investment as they're not only reasonable, but also reputable. They take your rainy-day style to the next level with this sturdy bootie look featuring logo details at the topline and sole.
13. COACH – Rivington Bootie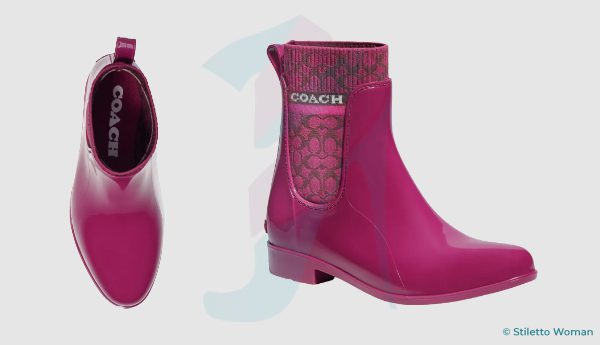 A high end and a reputable option for you to try in terms of comfortable rain boots would be that of Coach. These stretchy gore insets jacquard-knit with the iconic logo offer a snug, flexible fit in the uber stylish waterproof rain boots that's a wet-weather essential. So, get your grabs at prompt!
14. Dansko – Karmel Boot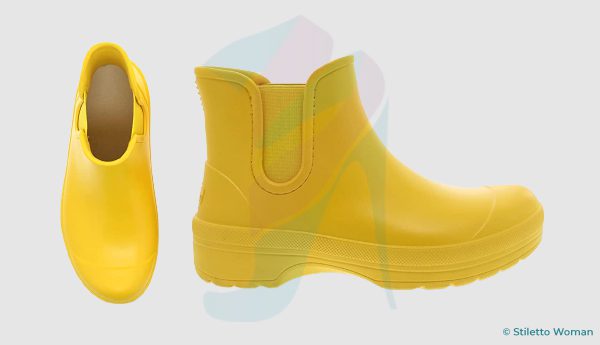 A convenient, reliable, and comfortable rain boots by Dansko is sure to catch the attention of many people. These waterproof rain boots are designed from partially biobased EVA and they feature elastic gores and a cushioned, removable footbed with arch support for all-day comfort. They're make an ideal combo!
15. kate Spade – Puddle Boot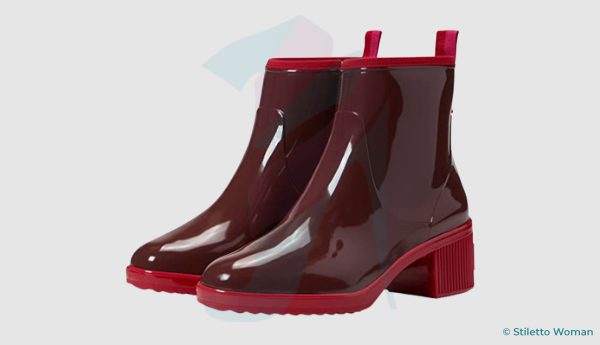 Last, but not the least, these Uber chic and eye catching comfortable rain boots which are super trendy and splash ready can be the stunners. Not only can they make heads turn, but they come with a water resistant bootie set on a sporty contrast sole which makes them all the more better. They can secure your feet well and you'll be all set for a rainy day with these boots.
Why Should You Buy Rain Boots?
The reason is very simple – to help you protect your feet from the rainwater and generally, heels would get ruined in the rainwater. Every fashion-forward woman would have a pair or two of stylish rain boots in their closet.
What To Wear With Rain Boots?
Depending on the occasion and the types of rain boots that you've bought, you can pair up rain boots accordingly with your dress. You can wear shirt and a mini skirt with knee high stylish rain boots to cover your legs or any other alternate chic apparel options.
On Which Occasions To Wear Rain Boots?
You can only wear rain boots in the rainy season. You can also keep a spare if you live in a rainy region.
Rare Styling Tips For Rain Boots
Here are some of the coolest ideas to make sure your Rain Boots stand out from the rest.
Look for a block/chunky heel design to exude a feminine charm
Make sure you properly clean your stylish rain boots in case you've worn them several times.
Get printed or glossy stylish rain boots to stand out from the crowd.
Pair up a gorgeous clutch or a bag to go with your outfit
You can wear a raincoat over the stylish rain boots too.