After being trapped in our houses for more than a year and getting used to wearing sweatpants and sweatshirts, it can be a bit unsettling to transition towards high heels and staying upbeat in general. In 2023, you must've noticed how new trends have emerged and the traditional ones have evolved into new and contemporary versions to cater to the demands of the masses. One of the most strategic ways in fashion, to uplift any look, would be to add a bit of Neon touch to it. Be it a neon shirt, pant, accessory, or even a nice pair of neon heels. Thanks to the exciting and modern aura of neon heels, most women love buying them.
What You Need To Know Before Buying Neon Heels:
You may assume that Neon heels would look tacky and flashy. However, we have newer versions of neon heels which are suited to many occasions and preferences. Ranging from ankle strap neon heels to slingbacks and many others – the choices are limitless. A few things that you need to know before investing in Neon heels include the following:
Your Individual Requirement

Some women want to have a pair of neon heels for casual strolls, while some like to have them for parties. Whatever the individual requirement may be, it is important to note that a more strappy version of Neon heels would be appropriate for informal sort of events, while for casual events, slip ons would do.

Who Should Buy Neon Heels?

Women who love to look upbeat and fashionable. Neon colours are associated with creativity and zest, hence they should be bought by women who love to make their look unique and eye catching.

Features To Look Out For

Neon Heels can come with a strappy look, embellishments, buckles, various textures, heel shapes, heel height and a lot more. You can pick the one that best suits your needs as you browse through the popular designer brands like Giuseppe Zanotti, Stuart Weitzman and others.

Bella Hadid

Kaley Cuoco

Victoria Beckham
Disclosure: This post contains affiliate links. When you purchase a service or a product through the links, I sometime earn a commission, at no additional cost to you. Read my full disclosure here.
Without further ado, let's head on to our top picks.
Best Neon Heels in 2023
1. GUESS – Shear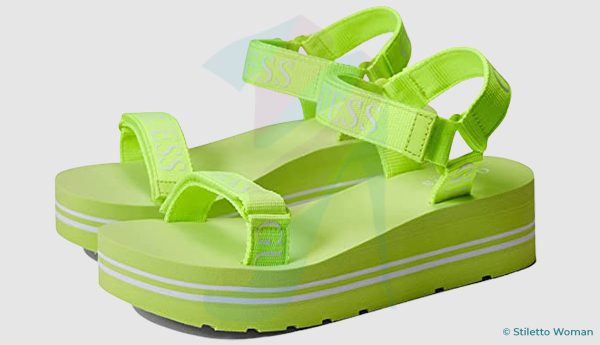 As much as stiletto heels are alluring and irresistible, nothing can beat the comfort provided by wedge heels. These neon green heels by Guess are sure to make you stunned at the comfort that they ooze. They have a seamless design that will make you feel comfortable and walking will be a breezy task too. They're available at an economical price too!
2. Women's Guess Oakly – Platform Sandals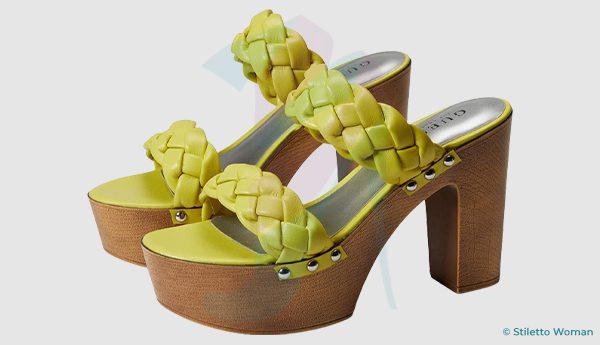 Another really cool pair of neon green by Guess is sure to make your jaw drop! These heels come in a platform style which offers utmost support and balance to your body, therefore you can walk with ease. They would be great for parties and even casual events which makes them multipurpose. Besides that, they'd be a great addition to your heels collection too.
3. Elisabet Tang – Sexy Strappy Lace Up Heel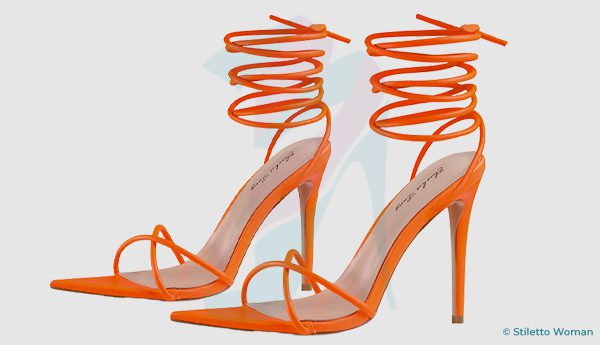 A more upbeat and stylish version of neon heels would be Elisabet Tang which are in the striking neon orange colour. They're sure to make heads turn owing to the tie up design which can make your legs appear more attractive. They'd look great under a short dress. Ideal for parties and casual events, these heels are a convenient and economical pair that won't make you regret buying them.
4. Jessica Simpson – Lissah Heeled Sandal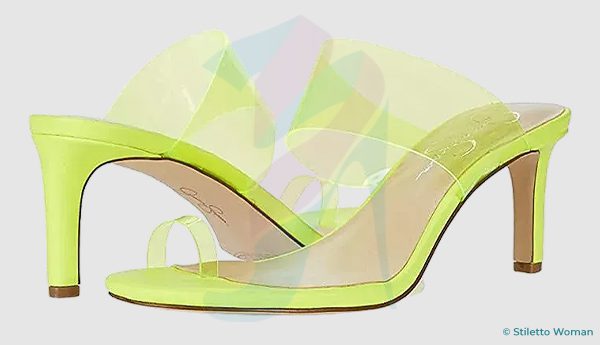 Featuring a slip on style with transparent straps, these neon yellow heels by Jessica Simpson are a keeper. They consist of a two bands style which can grip your feet well, preventing slip offs. Consisting of a simple slip on style, they will save you great deal of time too. A useful, sleek and convenient pair that won't be heavy on your pocket either!
5. Jewel Badgley Mischka – Dimitra Sandal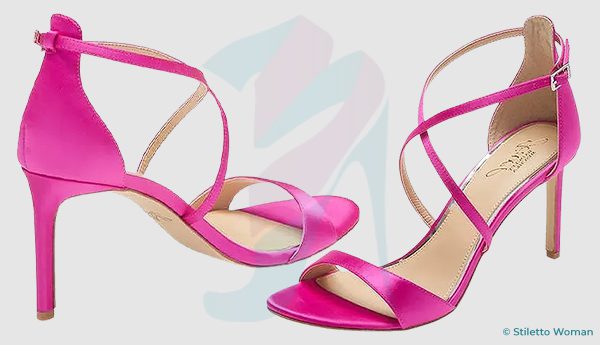 Featuring an exciting pink colour with a strappy look and an ankle strap design, these neon heels by Badgley Mischka are sure to catch your attention. They consist of a convenient heel height which makes it easy to walk in them as well. They're sturdy and breathable too. The best thing about these heels is that they're not that expensive either, so you get luxury in an economical price!
6. Circus by Sam Edelman – Bobbie Sandal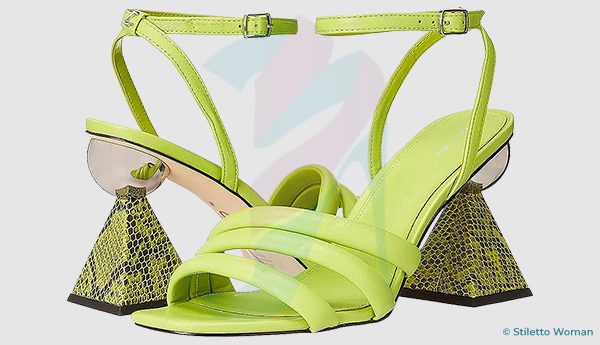 With a uniquely shaped heel and an ankle strap design, these heels by Sam Edelman promise excellent quality and utmost comfort. With puffed straps and a neon green color, these heels are sure to be the show stoppers. They'd look great on casual events as well as parties. Besides that, they exude confidence and creativity.
7. Nine West – Tabita Pump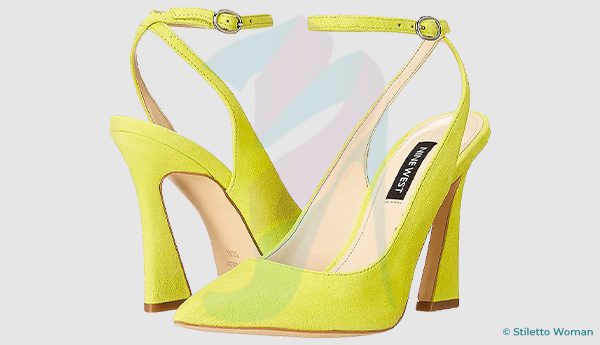 With a tapered block heel design, these neon heels by Nine West can surely grab anyone's attention. With a unique ankle strap and a slingback infused design, they can make a strong fashion statement and make you look fashion forward too. Besides that, these heels are sure to last you a really long time as they are durable and sturdy.
8. Katy Perry – The Landen Mule Heels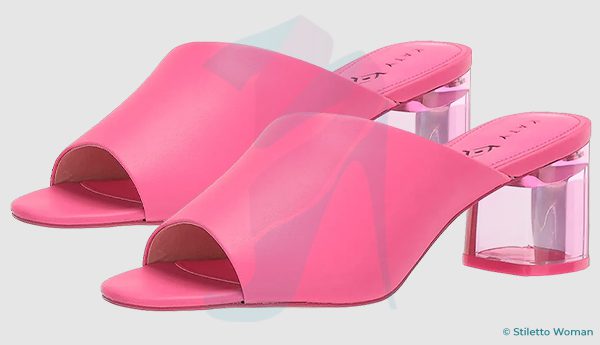 Another really cool pair by Katy Perry can also win your heart when you're looking for neon pink heels. These striking heels can grab anyone's attention in an instant. Featuring a transparent block heel with a cover on top they can grip your feet well and they'd be a convenient pair too. Besides that, they can be a great pair for causal events as well.
9. NINE WEST – Ido3 Heeled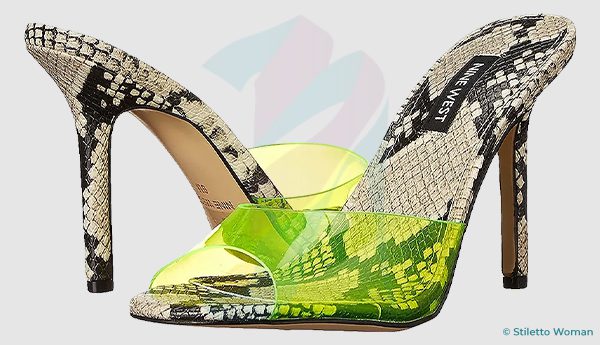 If you prefer innovation over everything else, then go for Nine West's neon heels which consist of a neon transparent strap and a printed sole. They can make a strong fashion statement and make you look chic. Besides the stylish vibe of the heels, they're sure to go well with most outfits and they're easy to wear too.
10. GUESS – Gabby2 Pump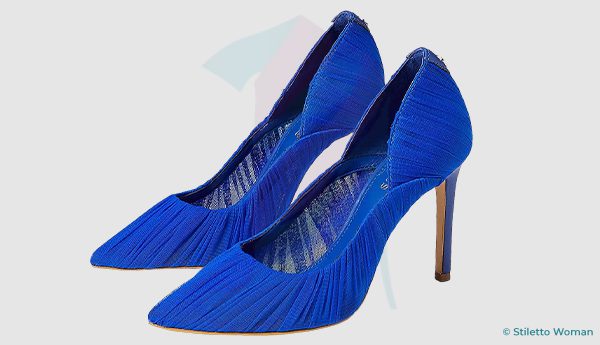 If you want to make sure to get a few additional inches in your height and make a strong fashion statement at the same time, then go for this Uber modern and chic pair of neon heels by Guess. Coming in an electric blue colour with a frilly texture, they're sure to make heads turn. The pump heel style adds to the finesse of the heels too.
11. NINE WEST – Darlb3 Heeled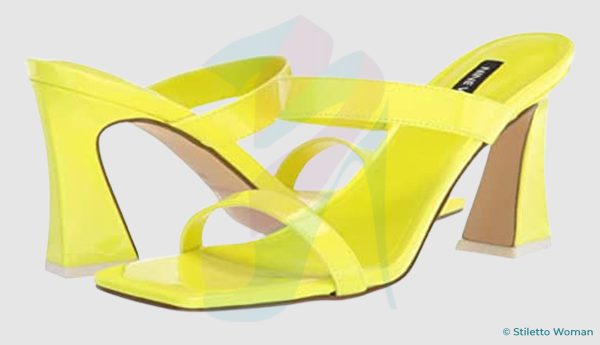 With a tapered block heel design and a slip on style, these two banded neon heels by Nine West are sure to make anyone stunned. They are easily manageable and easy to carry. Thanks to the simplistic design, they are low maintenance and would be a great addition to your heels collection.
12. NINE WEST – Faiz3 Pump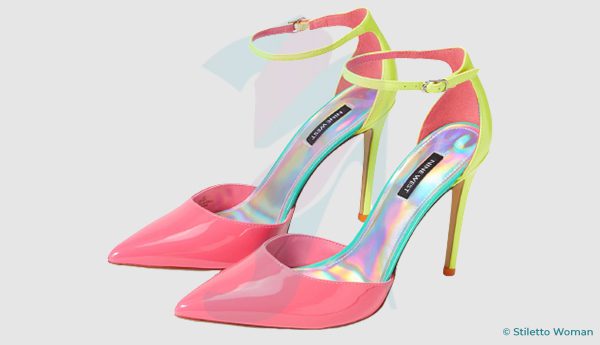 Coming in a timelessly chic and unique design with a two color combination of neon, these pump inspired ankle heels are sure to make you awe inspired. They ooze modernity and sophistication at its best. Rest assured, these heels will last you a really long time and you won't regret buying them either.
13. Giuseppe Zanotti – Harmony Heeled Sandal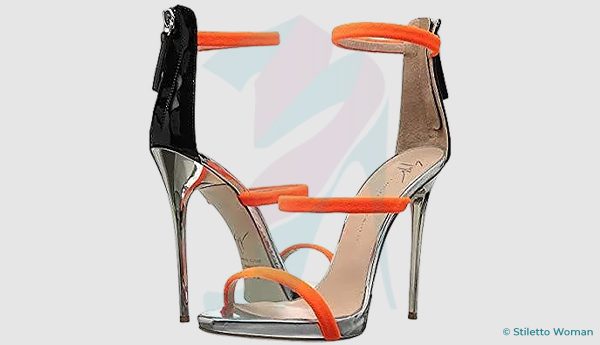 Looking for sky high heels in neon color? Then Giuseppe Zanotti can suit you well. These heels come with neon orange straps with a sky high heel height that can elongate your legs and make you look super attractive and chic. They ooze luxury and modernity. With glamour exuding from these heels, you won't go wrong these!
14. Stuart Weitzman – Nudistcurve Sandal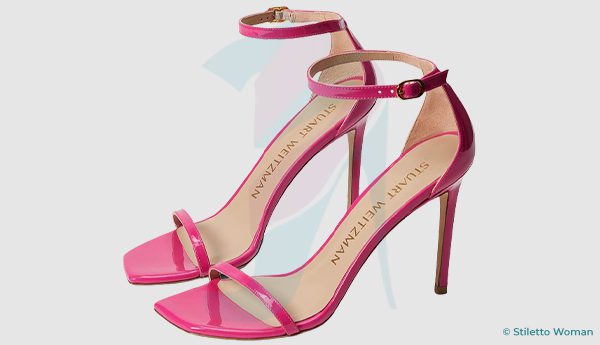 Though they can be a pricey option, Stuart Weitzman's heels can last you a great time. Being an amazing long term investment, these heels consist of a square toe style with an ankle strap design, which can help you make a strong fashion statement. This pair can be quite useful for you and will be your saviour in the long run.
15. Stuart Weitzman – Glam Pumps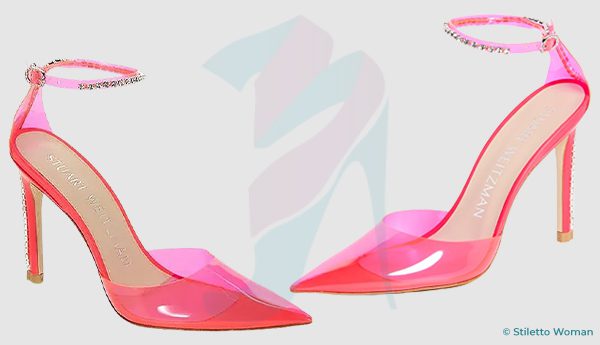 Last, but not the least, these neon pink heels by Stuart Weitzman consisting of embellishments can surely make you reconsider all your previous options for neon heels. They consist of a closed toe design with an ankle strap and a high heel height which can add a few inches to your height too. Besides that, the closed toe design can accentuate your feet, making them appear more ladylike and feminine.