Whether you're an introverted woman or an extrovert, you'd be highly interested in everything that's classy. That includes color choices as well. Navy blue has been long associated with deepness, exquisiteness, and most of all – classiness. It's not uncommon to see girls going for a navy blue dress on their prom or graduation ceremonies. The color exudes confidence and charm like no other. Hence, navy blue color heels represent the same!
What You Need To Know Before Buying Navy Blue Heels:
Navy blue heels have a powerful aura. Whether you buy the latest slingback heels or the ones with embellishments, the color has a personality of its own which uplifts the look of your heels. There are many versions of navy blue stilettos which are suited to many occasions and preferences. Ranging from open-toe, closed-toe, square-toe, navy blue block heels, navy blue wedge heels, navy blue high heels, navy blue pumps low heels, and many others – the choices are limitless. A few things that you need to know before investing in navy blue heels include the following:
Your Individual Requirement

Whether it's your prom, graduation ceremony, or the desire to have navy blue heels, know that there are many variations out there. So make your picks wisely according to the occasion and your preference.

Who Should Buy Navy Blue Heels?

Women who love to look exquisite, confident, and royal. Those who have high-end and extravagant fashion tastes would love to go for a nice pair of navy blue stilettos. Not just that, but those who attend lots of bridal events would also love to invest in such a pair of heels.

Features To Look Out For

Navy Blue Heels come in the form of navy blue strappy heels, embellished heels, buckles, various textures, heel shapes, heel heights, and a lot more. You can pick the one that best suits your needs as you browse through popular designer brands like Michael Kors, J Renee, and others.

Gigi Hadid

Kate Middleton

Meghan Markle
Disclosure: This post contains affiliate links. When you purchase a service or a product through the links, I sometimes earn a commission, at no additional cost to you. Read my full disclosure here.
Without further ado, let's head on to our top picks for the best navy blue stilettos:
 Stiletto Best Navy Blue Heels in 2023
1. Journee Collection – Navy Blue Pumps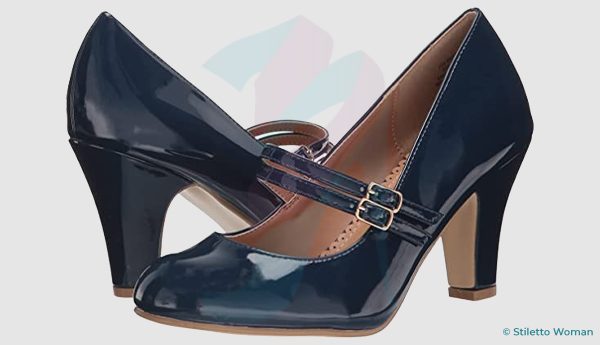 Ranking at the very top, these navy blue pumps low heel, glossy heels are sure to make a statement wherever you go. These navy blue pumps exude the traditional and contemporary vibes, so they make an ideal blend of both.
2. Anne Klein – Cailyx Pump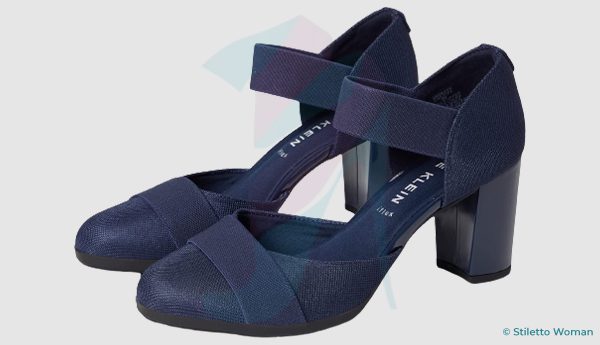 Another economical, yet a trendy and comfortable option for you to try would be that of Anne Klein. These navy blue block heels have a closed toe style which accentuate your feet, making them appear more lady-like and attractive.
3. J Renee – Soncino Sandal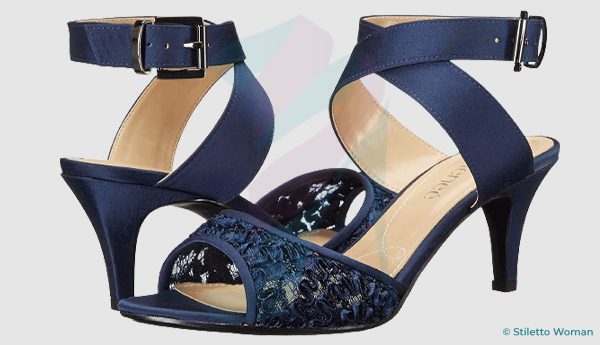 Featuring an x strap heel design with a net toe strap, these navy blue high heels exude luxury and glamour. They ooze sophistication and utmost grace. They'd look great on bridal and formal events too. You can't go wrong with these navy blue high heels.
4. Jewel Badgley Mischka – Cathleen Heel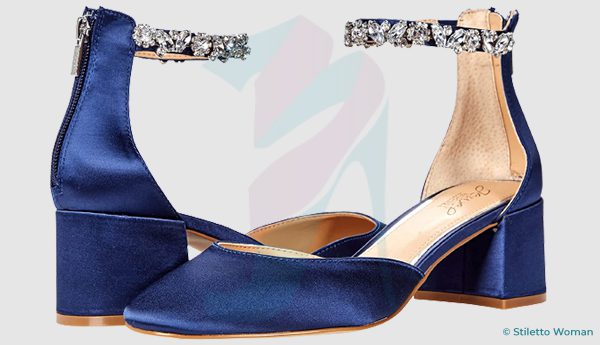 A luxury, yet upbeat choice for bridal or formal events would be that of Badgley Mischka. These navy blue pumps low heel come with an embellished ankle strap and a block heel design. They come with a satin fabric which oozes a unique glow, helping you look effortlessly classy.
5. Calvin Klein – Nita Pump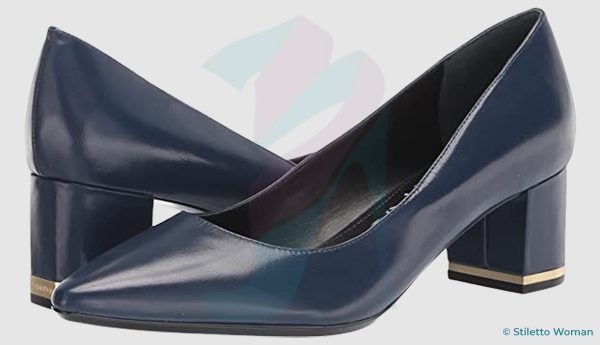 A minimalistic and a sophisticated option in terms of navy blue heels would be that of Calvin Klein. These navy blue pumps heels are sturdy, manageable and simple. You don't have to deal with the hassle of straps and instead, you can just slip them on. They'd be great for work wear too.
6. NINA – Genaya Dress Sandal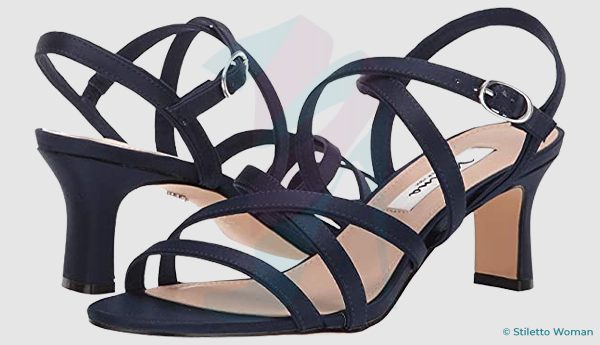 Featuring an intensely strappy look, these navy blue strappy heels come with multiple x straps and would be ideal for those who prefer an extra look. Though the heels come with a low height, they can be hard to manage. Nonetheless, they'll help you look trendy and fashionable.
7. Adrianna Papell – Lacy Pump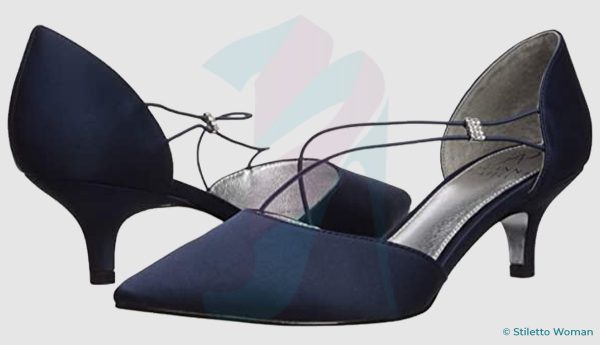 Another great timelessly classy pair is this navy blue kitten heels by Adrianna Papell are sure to leave you stunned. These navy blue pumps heels consist of delicate detailing and a closed toe design to accentuate your feet as well. The cut out style also adds to the overall appeal of the footwear.
8. David Tate – Navy Blue Low Heels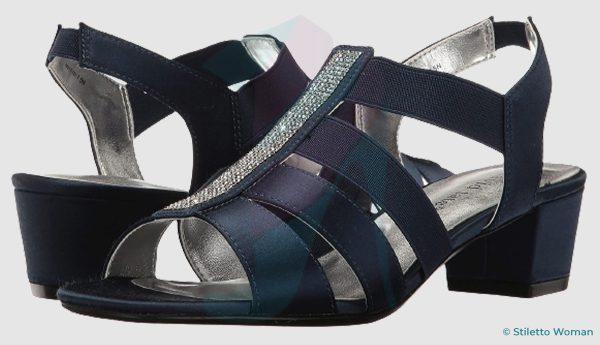 These navy blue low heels by David Tate are surely a keeper. They come with multiple cut outs, along with a block heel design to add to your comfort. These navy blue block heels consist of a slingback strap to give you a better grip over your feet as well.
9. LifeStride – Cabaret Slingback Dress Sandal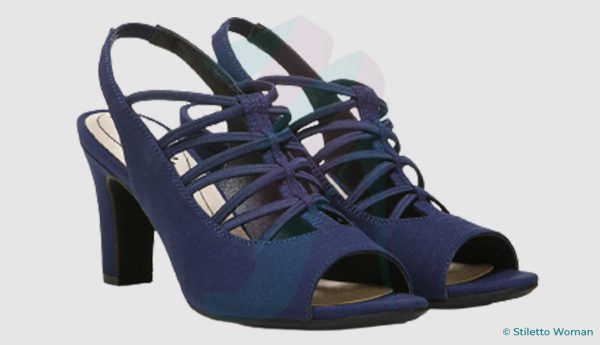 These heels by Lifestride can leave you stunned. They come with a slingback and an ultra-modern design. They also feature a high heel height and a peep toe design to make you look more appealing. You won't regret investing in these navy blue high heels.
10. Naturalizer – Tiff Sandal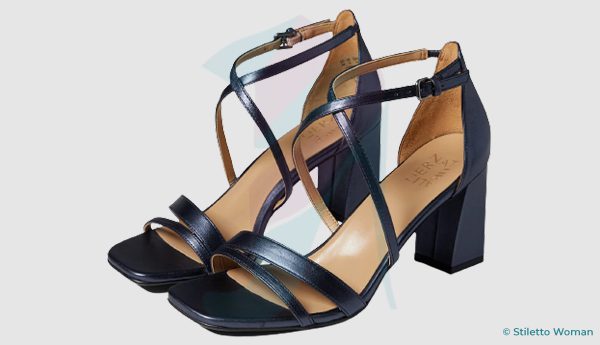 Looking for an ultra feminine and modern option? Then these heels should be your go-to. They come in a metallic navy blue colour that oozes finesse. Featuring a square toe and an x strap design, these heels can add diversity to your heels collection, so you can't go wrong with these!
11. Sam Edelman – Yaro Heeled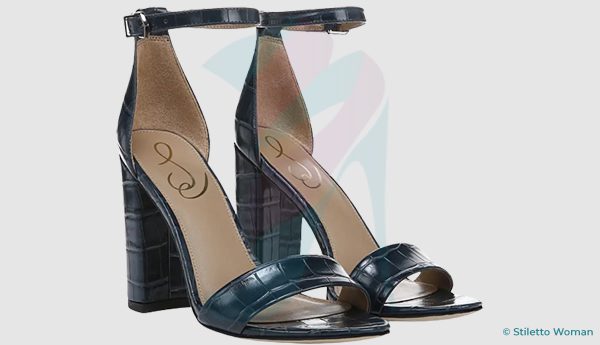 Another ultra-exquisite and high-end option for you to try in terms of navy blue high heels would be that of Sam Edelman. These navy blue high heels come with a croc-embossed finish and a natural glow which makes them eye-catching. The block heel design can add to the comfort level too.
12. Pelle Moda – Cam Low Heel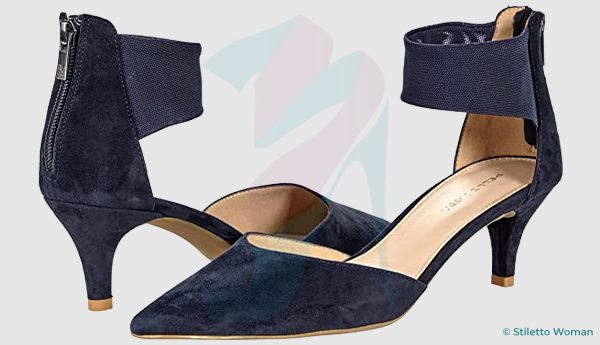 Another great option in terms of navy blue pumps low heel which you shouldn't ignore would be that of Pella Moda. These heels come with an elastic ankle band to grip your feet well and prevent slip offs. Besides that, they feature a low height which can help you walk around comfortably if you're a beginner.
13. Jessica Simpson – Accile Pump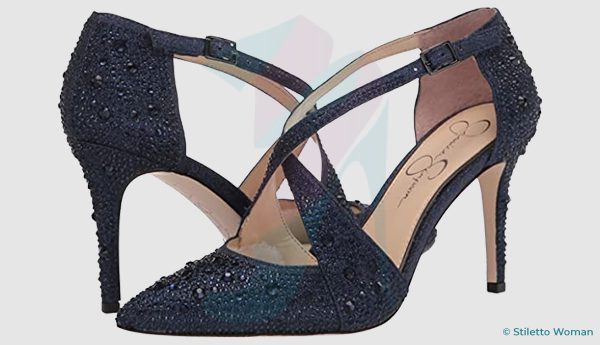 If you're a fan of glitz and glam, then spice things up a bit and get yourself a pair of Jessica Simpson's navy blue high heels. Covered with embellishments all over, these navy blue pumps feature stiletto heels, an x strap, and a closed-toe design – a combination to die for! This combo shouldn't be missed.
14. MARC JOSEPH – Midtown Pump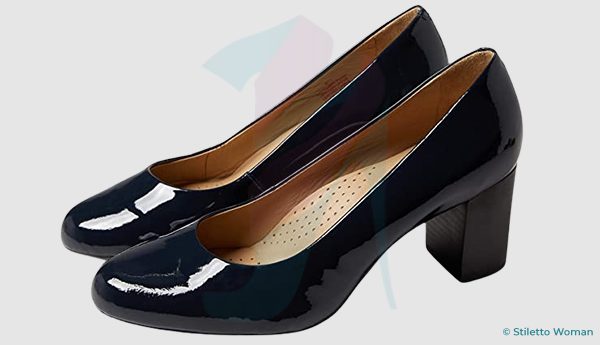 A high end and a luxury option we have for you is that of Marc Joseph. These navy blue pumps heels feature American styling and the glossy finish makes them super attractive. They would be perfect for work wear and even formal events like dinners. These heels can last you a lifetime as they are durable and long lasting.
15. Aquatalia – Pasha Dress Pump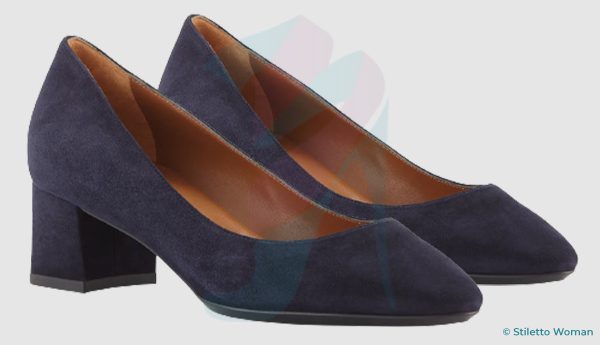 Last, but not least, these navy blue pumps low heel come with a slip-on style and a block heel design which can facilitate the walking process. Also, these navy blue block heels can be great for parties as the gold colour can uplift any dull looking outfit too.