You may have come across many of these, but never really paid attention to what they're called. You may have been impressed by their styling, but never have noticed how they can be the show stoppers. The knotted heels. The ever charming. The ever glorious. Knotted heels come with tiny knot/knots or huge one/ones. They never fail to make a statement as they create a unique look for you. Similar to how a simple bow can uplift your look – knotted heels work the same way.
What You Need To Know Before Buying Knotted Heels:
You must've had pumps, ankle strap heels, platform and even stilettos lying around in your close, but what you may be missing out on would be knotted heels. Thanks to the newer versions of knotted heels available, they are suited to many occasions and preferences. Ranging from open toe, closed toe, square toe, block heels, and many others – the choices are limitless. A few things that you need to know before investing in such heels include the following:
Your Individual Requirement

Whether it's your prom, a casual event or graduation ceremony knotted heels can be an excellent choice. But for a party type event, you should pick the ones with more creativity and flashiness, as compared to a casual event for which you can go for subtle designs.

Who Should Buy Knotted Heels?

Women who love to look creative and feminine. Those who have upbeat, bold and extravagant fashion tastes would love to go for a nice pair of knotted heels.

Features To Look Out For

Knotted heels can come with a strappy look, embellishments, buckles, various textures, heel shapes, heel height and a lot more. You can pick the one that best suits your needs as you browse through the popular designer brands like Giuseppe Zanotti, Jeffrey Campbell and others.

Gwyneth Paltrow

Millie Ford

Sara Riff
Disclosure: This post contains affiliate links. When you purchase a service or a product through the links, I sometime earn a commission, at no additional cost to you. Read my full disclosure here.
Without further ado, let's head on to our top picks.
 Stiletto Best Knotted Heels in 2023
1. Franco Sarto – Oma Sandal
Ranking at the top, we have for you is the one and only, Franco Sarto. These heels by the brand ooze creativity and innovation. They come with an ankle strap design with geometric, cylindrical heel shape which can assist you in walking too.
2. LifeStride – Talent Sandal
Moving on to LifeStride, these espadrille inspired wedge heels with three knotted bands are sure to leave you impressed. They come with a nice Slingback design which can grip your feet well too. You can't go wrong with these classy and elegant pair of heels.
3. Katy Perry – The Irisia Wedge
A fan of glamour and finesse? Then these heels by Katy Perry are sure to leave you stunned. These heels come with a square toe design with a wedge heel style that can bring comfort as well. They exude a confident and a bold vibe, making them ideal for parties.
4. Ted Baker – Slide Heeled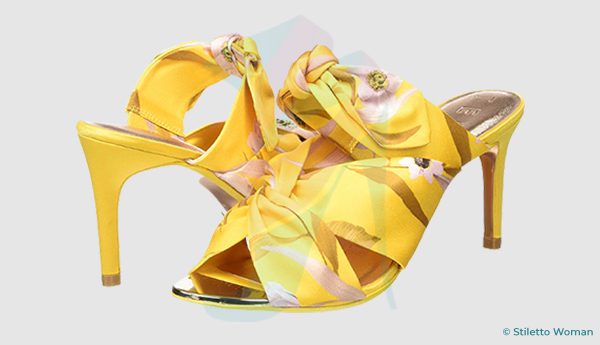 Another great pair in terms of knotted heels that you should consider would be that of Ted Baker. These heels come with a slip on style and a peep toe design which can create an alluring look for you. The stiletto heels can add a few inches to your height as well.
5. Jewel Badgley Mischka – Christen Heel
A striking, yet an upbeat pair of heels that are sure to leave you awestruck. These heels come with utmost finesse and with the block heel design, you'll be able to walk in them comfortably without experiencing any discomfort.
6. SCHUTZ – Sylvie Heels
Featuring a timelessly classy and an exquisite pair by Schutz, these heels come with small knots and a closed toe design. They come with a high heel height and a stiletto shape which can elongate your legs, making you look super attractive.
7. Gentle Souls by Kenneth Cole – Charlene Heeled
A comfortable and an easy going pair of knotted heels which you should have. These heels can last you a long time owing to the durability and sturdiness. They come with a block heel design and a Slingback style which adds a modern twist to these classy heels.
8. CHARLES DAVID – Vibrant Pump
A mesmerising pair of knotted heels which are sure to catch your attention and make heads turn as you walk into them, these heels by Charles David are a keeper. They can not only give you a nice height boost, but also make you appear super classy. You can't go wrong with these.
9. Stuart Weitzman – Pearl Block Sandal
A pair that oozes luxury and finesse, these heels by Stuart Weitzman are the ultimate stunners. They will make sure that you remain the centre of attention owing to the striking appearance. They make a breathable and a lightweight pair too.
10. COACH – Quincey Sandal
Another great option in terms of knotted heels that you shouldn't ignore would be that of Coach. These heels come with a creative, yet a contemporary look. They come with a convenient heel shape and an ankle strap design which can grip your feet well, preventing slip offs.
11. Kate Spade – Happy Hour
Looking for something unique and elegant? These heels by Kate Spade offer just that. They come with geometric heels with an ankle strap design and a knotted toe strap which can grip your feet well, allowing you to walk comfortably at any event.
12. Loeffler Randall – Bow Heeled
An easy going and an ultra modern pair of knotted heels that are sure to catch your attention would be that of Loeffler Randall. These high end he's come with a sturdy knot on the toe strap, along with an open toe style which makes them breathable. You can simply slip them on and go about your day.
13. Aquazzura – Olie Sandal
Another slip on style knotted design which can amaze you would be that of Aquazzura. The Italian inspired brand can never disappoint you. These heels may be quite expensive, but it'll be an investment that you won't regret in the long run. The heels ooze luxury and glamor at its best.
14. Giuseppe Zanotti – Twyla Sandals
A really nice pair of knotted heels that are bound to be the jaw droppers would be that of Giuseppe Zanotti. These high end and luxury heels accompanied by sky high heel size can not only elongate your legs, but also make you appear fashion forward and chic.
15. Alexandre Birman – Clarita
Last, but not the least, these heels by Alexandra Birman are the definition of simplicity with finesse. They come with an ankle strap and an open toe design, along with block heels. The ideal combination for all the newbies and beginners. These heels won't disappoint you!