Looking for some heels to assist you with the dancing? Then look no further, as you're at the right place. Without a good pair of heels, a dancer is nothing. With a ton of body control and free movement of feet, these are only some of the crucial aspects which professional dancers lay emphasis upon. Besides the professional dancers, even when we attend a party, we want to dance freely – that too, requires comfortable pair of dance heels.
Be it block heels, platform heels to low inch heels, we've got you covered for the dancing session. This list offers you a plethora of choices so that your feet stay well rested and you can move more freely. You can finally unleash your dancing skills like a pro in one of the pairs listed in this list. Available in an array of designs, these are sure to leave you stunned! What are you waiting for? Browse through the list, pick your pair and be your own Cinderella!

Beyoncé

Jennifer Lopez

Zendaya
Disclosure: This post contains affiliate links. When you purchase a service or a product through the links, I sometime earn a commission, at no additional cost to you. Read my full disclosure here.
Without further Ado, let's head onto our list.
Best Dance Heels in 2023
1. J. RENEÉ – Leonelle Slingback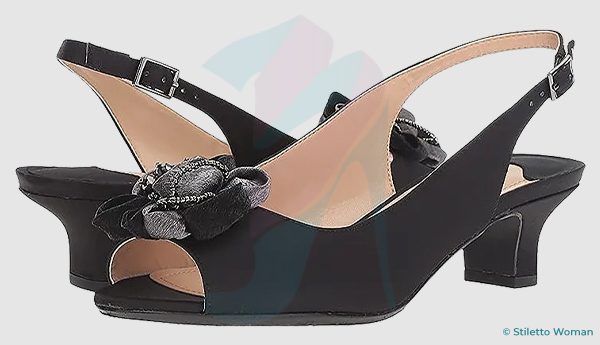 Featuring a peep toe and slingback design with low inches heel size, these classic pair of black dance heels can make sure to leave your audience awestruck. Consisting of an elegant flower embellishment on top of the toe area, they make a great pair for all the women who love to appear feminine and graceful. These heels would be appropriate for all kinds of dances, owing to the convenient designing and modern design.
2. Bloch Dance – Split Flex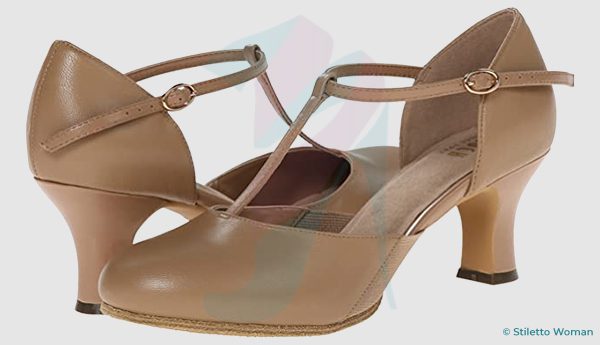 Looking for the classic pair of dance heels? Then Bloch offers just that for you. Featuring the classy nude color and thick heel design with a closed toe and strap to grip your feet well, you can be sure to pull off any kind of dance moves with these, be it salsa or any other type of dance. These Uber classy pair of dance heels are super comfortable and you'll be able to move freely while wearing them.
3. Very Fine – Delphine Ballroom
Yet another classic pair of dance heels featuring a strappy design, open toe style and grips your feet well! Coming in a silver colour which is very visually appealing, they can make your dance moves shine. Thanks to the low heel inch size, you'll be able to make moves with freedom without experiencing any kind of discomfort whatsoever. They'd be perfect for a ball dance owing to the vibrance of the heels.
4. Steve Madden – Zana Pump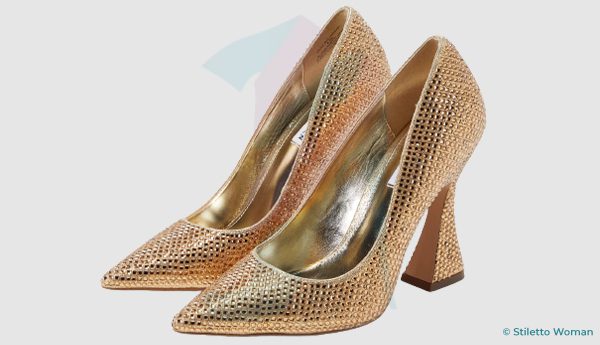 Going to a party and don't know which heels to wear? Then look no further. Steve Madden's ultra modern dance heels featuring a gold colour with glossy look will be the ultimate jaw droppers. They come with a thick heel size which makes it convenient to dance in them. Moreover, they come in a closed toe design which grips your toes well, preventing slip offs and allowing free movement. They come in an easy slip on style which saves time too.
5. Vionic – Ziva Heel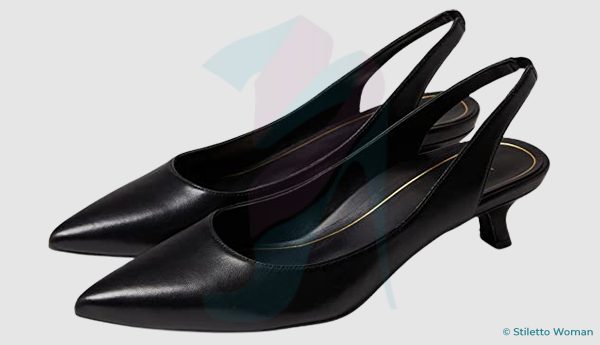 Nothing oozes classiness like a pair of black slingback style heels with a low height and closed toe design. Vionic's dance heels can be great as they secure your feet well and you'll be very comfortable. Since you'll be at comfort, you can make the most daring moves to grab the attention of the audience too. They can go well with any outfit, thanks to the black color which is a woman's favourite.
6. Franco Sarto – Devin Pump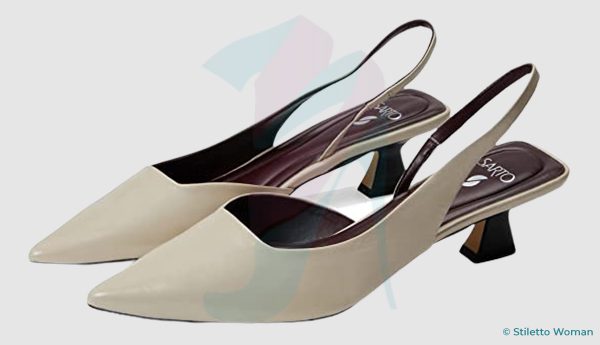 Need an even more modern version of dance heels? Then Franco Sarto's dance heels might suit you well. They feature a unique design with a slingback style and closed toe design. These heels also come in the classic black color with a glossy appeal. Putting them on means, you'll be turning your confidence on, as they will offer your feet maximum support as you navigate your way through the dance moves.
7. Vaneli – Aliz' Slingback Pump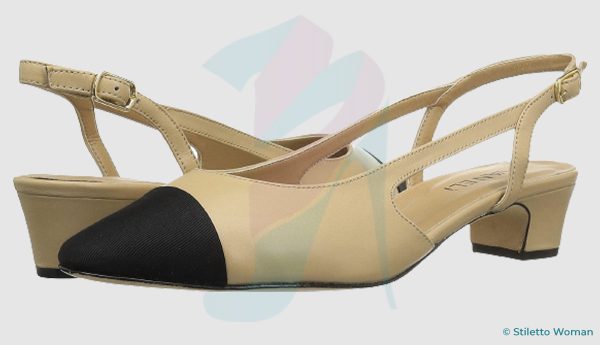 Bored of the typical black color? Vaneli brings you a nudle colored pair of dance heels characterized by a closed toe design, slingback style and a low inch heel height. You can pair these beauties with any outfit and they'll look great. They make a strong fashion statement even with the minimalistic and simplistic appeal. If you're tilted towards sophistication more than modernity then go for these dance heels which won't disappoint you.
8. Marc Fisher – Yehudi Pump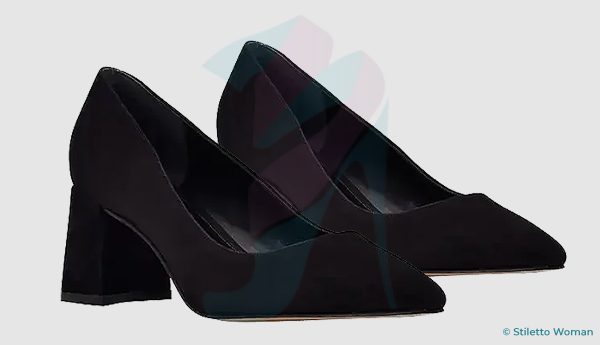 Featuring a pump heel style, block heeled pair of dance heels, Marc Fisher indeed wins the game here too. Keeping up with the fashion trends was never a challenge for the fashion forward, industry inspired brand. These heels by Marc Fisher exude timeless elegance and modernity. The black color can go well with any outfit and you're sure to make your dance moves shine with these comfortable pair of heels which allow you to do so.
9. Cole Haan – Vandam Slide Sandal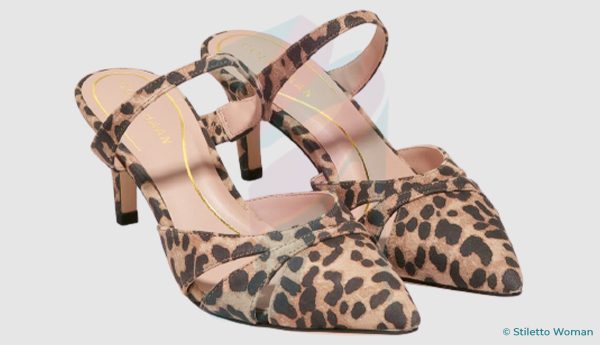 Whenever we talk about comfort, Cole Haan's heels come into our minds. The brand's block heels are known worldwide and these heels are quite unique. They come in a closed toe design with stiletto heels shape but in short inches which makes it easier for you to make your moves and own the dancefloor completely. We recommend these heels for slow dances though to avoid any mishaps, but if you're a pro at wearing stiletto heels, then give it a shot, as they're likely to make your legs appear longer and more attractive. They emphasize on your femininity and the color is quite unique too.
10. Jeffrey Campbell – Amma Platform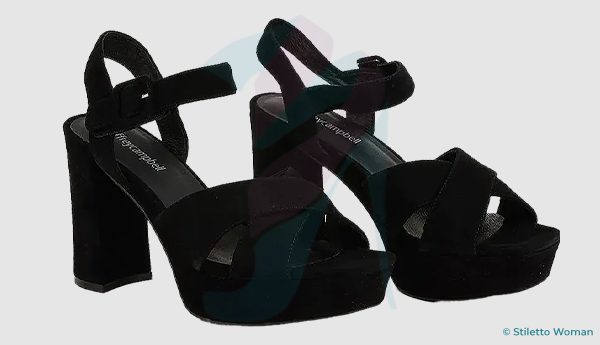 Jeffery Campbell sure knows how to pique interest of women. Featuring the classy black pair of platform heels, with a strappy design, these heels can be great for dancing too. Thanks to the support offered by the platforms, you can make quite a lot of smooth moves in these. The best part about them is that you can add a few inches to your height too, so when you dance, your legs will seem elongated, making you extra attractive!
11. Eileen Fisher – Juku Pump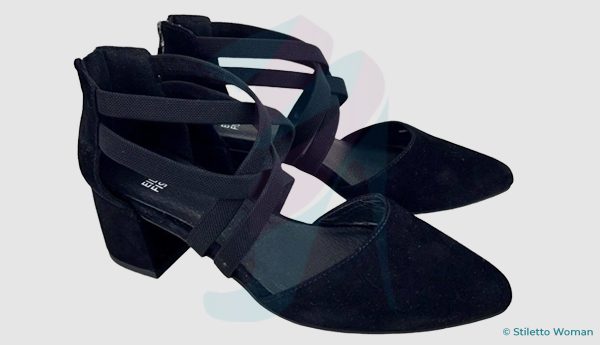 Need that extra grip and support while you're dancing? These heels by Eileen Fisher offer you just that. With strappy design over the feet and a close toe style with block heels, they make the most comfortable pair for dancing. You'll feel like your feet are secured by something sturdy which won't fall off easily. Also, the color of the heels makes it easy to pair them up with any outfit and look good any way. Investment in these heels won't disappoint you.
12. Tory Burch – City Heel
Inspired by culture, trends and travel, Tory Burch never fails to surprise its customers with stunning designs of heels. These heels by Tory Burch feature an ankle strap design and come in an all black color with block heels. They grip your feet well, thanks to the straps all over the upper area, so you can be confident while dancing too. You'll look graceful while doing it as they're not the flashy types of dance heels and rather a casual and minimalistic version.
13. Stuart Weitzman – Linsi Pump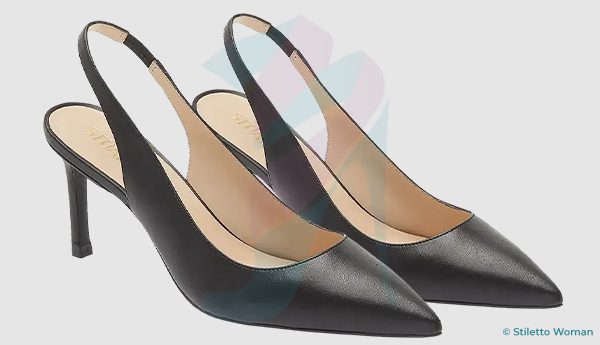 Nothing exudes luxury and finesse like Stuart Weitzman's heels collection. These heels are inspired by a slingback design with a unique color which is perfect for slow dancing, causal dancing, etc. They'd be perfect for wedding occasions, prom, pageants, and similar events owing to the timeless charm and elegance they have. They come in a stiletto heels style which makes them great for slow dancing and making your legs appear more attractive.
14. Khaite – Lexington Heel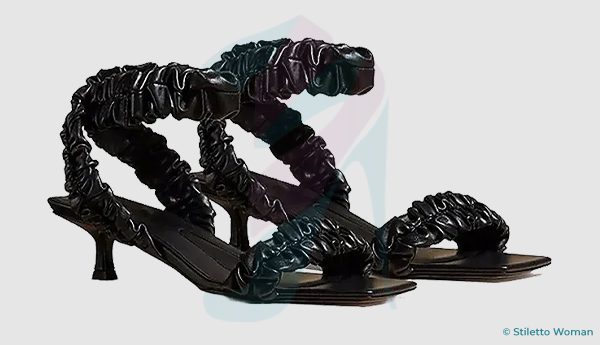 Khaite's black, frilly and strappy heels are the definition of fashion forwardness and style. They ooze chic vibes and will look great with any outfit. They're sure to make heads turn as you make the dance moves freely in them. Thanks to the convenient low heel size, you'll be able to pull off any dance move with poise and grace. These heels would be appropriate for all kinds of occasions, though they may be too simplistic for bridal events, so do weigh out your options before purchasing them.
15. Salvatore Ferragamo – Sansu Mule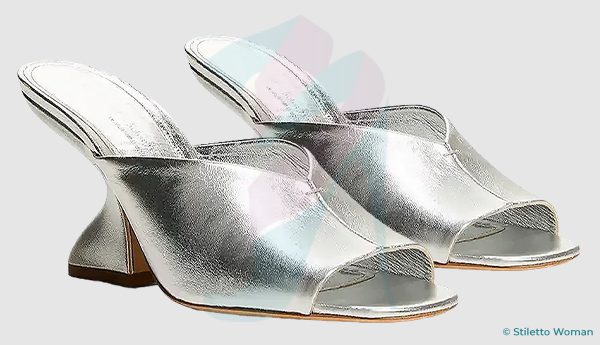 Bringing back the 40s fashion trend of the F-curve style heels, these heels by Salvatore Ferragamo, though are extremely pricey, are definitely worth it in the long run. They feature a glittery and silver color which makes them ideal for bridal events and even parties or formal events. You can pair them up with a simple dress and dance confidently, thanks to the support that these heels offer. Moreover, they come with a peep toe design which adds to the mysteriousness of the ultra modern footwear.