The one day in everyone's lives that they cherish the most – wedding day. Everything is special and elite in this event. Everyone wants to look great and have a nice event. On top of everything, what most people fret over, especially women, is the apparel. Wedding dressing can be a tricky game as you want to look sophisticated, yet stylish at the event. Not to steal the bride's thunder, but to be known as a fashionable guest.
Keeping that in consideration, while choosing a dress can be a hassle, choosing heels is somewhat more complicated. You never know which ones will suit you best. The safest option that you could opt for would be colours like silver, white or black with some embellishments. Getting heels with embellishments too, depends on the matter of closeness to the bride and groom. If you're best friends with them, then it'd be fair to wear something fancy. But if not, then you may look like the odd one out.
To find your best pair, we have compiled a list of the best bridal heels based on the brand and prices, along with styling, below. 

Jessy Mendiola

Aimee Lou Wood

Whitney Port
Disclosure: This post contains affiliate links. When you purchase a service or a product through the links, I sometime earn a commission, at no additional cost to you. Read my full disclosure here.
Without further Ado, let's head onto our list.
Best Bridal Heels in 2023
1. Kurt Geiger – Duke Crystal Strap Mule
Ranking at the top of our list Kurt Geiger London is one of the most renowned stiletto heel brands over the globe. It is known to offer comfort, quality and finesse in terms of heels. These bridal heels by Kurt Geiger exude luxury and style, with a slip on style. They also come with a stiletto heels design that make it easier for you make a strong fashion statement. These heels are durable, lightweight and can be an excellent investment.
2. Badgley Mischka – Tampa Ankle Strap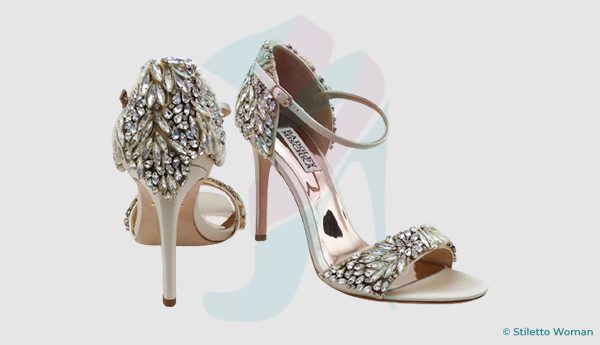 Indeed, diamonds are a girl's best friend – Badgley Mischka recognized this and came up with uber-glamourous bridal heels with attractive embellishments all over it. They are minimalistic and not tacky, yet they are super glamorous and luxurious. Wearing them will probably make you feel like a queen owing to the utmost finesse of the styling and designing of the heels, with a simplistic ankle strap. They can easily add an exciting touch to a boring outfit.
3. Bella Belle – Frances Kitten Heel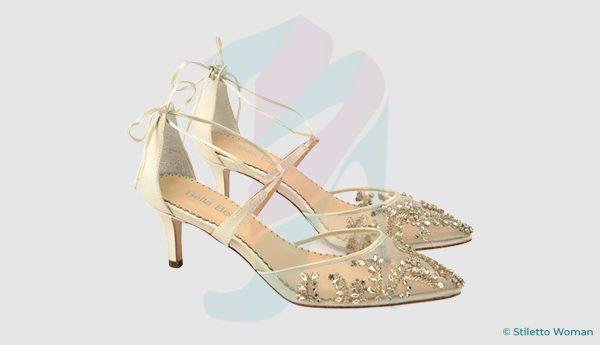 Another really great pair that you should consider would be that of Bella Belle. These heels by Bella Belle exude simplicity and grace. They do not come in the high heels size, hence make a convenient pair to invest in. They do not have excessive glitz and glam either, which makes them very useful as you could wear them to other formal events too like an annual dinner, besides just weddings. They are long lasting, sturdy and durable, so definitely worth the investment. They also exude a feminine charm like no other!
4. Loeffler Randall – Shay Crystal Sandal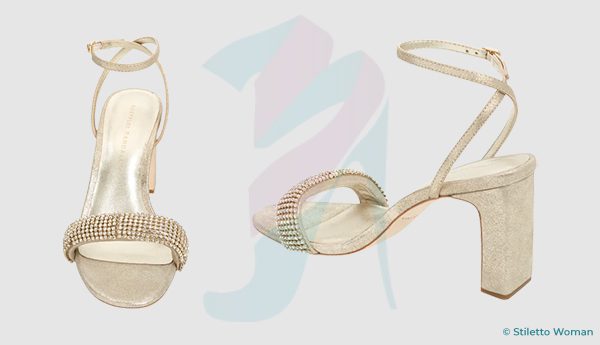 When in doubt, choose Loeffler Randall. You can never go wrong with this brand, thanks to a million of positive customer reviews about it. These heels by Loeffler Randall feature an ankle strap style with an open toe design, along with a block heel design which makes them a great pair for many wedding events. They come in a beige Sparkly look which can make a strong statement about your overall appeal.
5. Stuart Weitzman – Bow Slide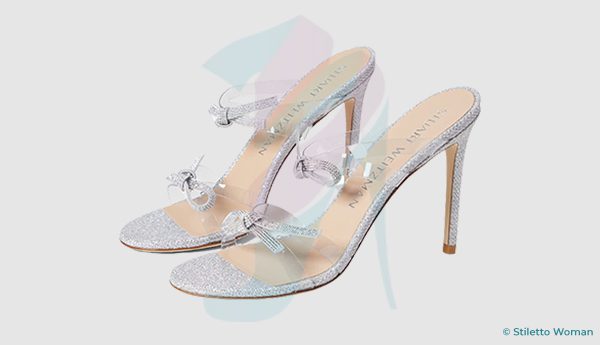 Stuart Weitzman, a brand known for gems and jewels, along with glitz and glam in terms of stiletto heels. They keep coming up with something innovative every time, hence they're found in most top designer heels lists all over the internet. These heels exude premium luxury and finesse with a beautiful bows over the bands. Not just that, but they're sure to be jaw droppers owing to their timeless beauty and sophistication. They come in a stiletto heels size though, so they can be a bit uncomfortable.
6. Alexandre Birman – Demi Crystal Sandal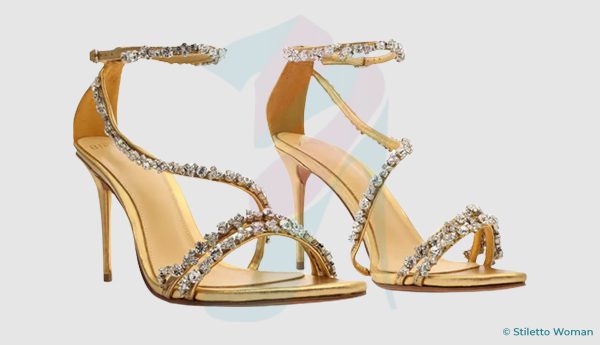 Nothing screams glitz and glam like Alexandre Birman's heels, especially the bridal range which is filled with gems, jewels and embellishments. These bridal heels by the brand ooze luxury and sophistication. They're available in many colors, but this gold color stands out the most. Since most bridal heels come in white or silver colors, gold would be something unique. The straps consisting of decorations to make the heels glamorous are the essence of these beautiful heels.
7. Jimmy Choo – Saeda Crystal Pump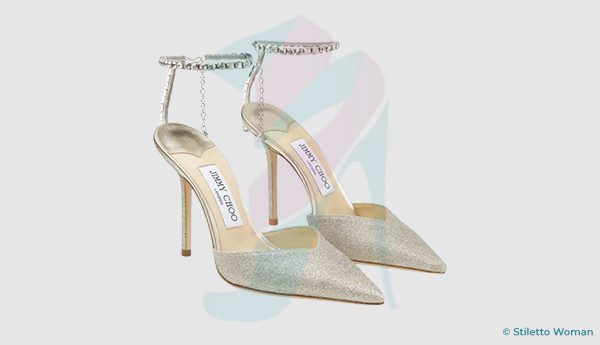 One of the market leaders in the fashion industry, Jimmy Choo's bridal heels are a dream of every girl. Just by the looks of them, you can tell that they are something above than just luxury. Such high end heels are bound to grab any person's attention, instantly. They are classy and stylish with a timeless ankle strap design, accentuating your legs and feet even more and securing them perfectly.  These heels are definitely worth the price.
8. Miu Miu – Metallic Sandal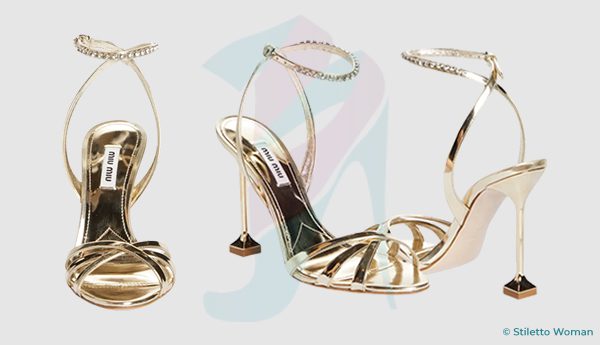 Another really great and minimalistic pair of bridal heels would be that of Miu Miu. Although the brand is known for coming up with bold and adventurous designs, these bridal heels by Miu Miu ooze grace and luxury at its best. With simple embellishments and a simple ankle strap design, they'd make the perfect pair for all kinds of weddings, be it your best friend's or your acquaintance's. Besides that, the heels would look great with all colours, so they are pretty useful too.
9. Aquazzura – Temptation Sandal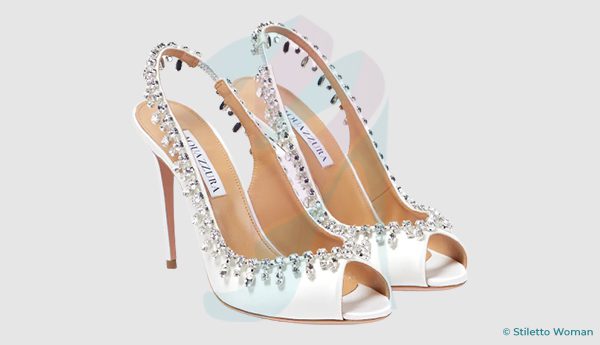 Who said that bridal heels are supposed to be a pain when you can wear something comfortable yet having a luxury look? Aquazzura's bridal heels ooze comfort, superior luxury, timeless grace and a lot more. The brand is known for coming up with high end designer heels and they are manufactured with utmost precision, so you can trust your money with these heels. They come with a slingback style and a stiletto heels design which makes them very useful and easy to carry. Best of all, they're lightweight and will look good with most outfits! 
10. Salvatore Ferragamo – Ileen Slingback Pumps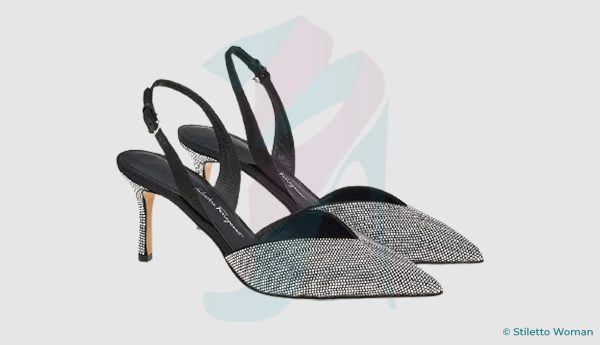 Another really great brand that is known for coming up with the best stiletto heels includes Salvatore Ferragamo. These bridal heels by Salvatore Ferragamo feature timeless elegance and sophistication. They come with some embellishments, making them seem less tacky, hence they're appropriate for all kinds of wedding events, be it a bridal shower or the dinner. These are sure to be the show stoppers.
11. Dolce & Gabbana – Keira Sandal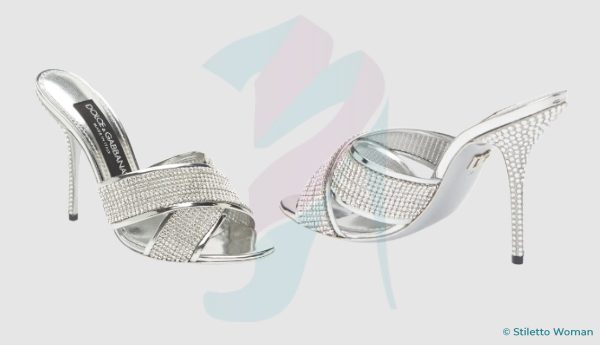 Featuring an open toe heel style with a long stiletto heels design, these bridal heels by D&G are the definition of luxury. They comprise of embellishments all over the top, along with a convenient slip on style without the hassle of buckle strap. They are useful and long lasting hence investment in these heels will do you more good than harm in the long run. They're sure to not disappoint you, thanks to the amazing brand reputation.
12. Manolo Blahnik – Lurum Jewel Mule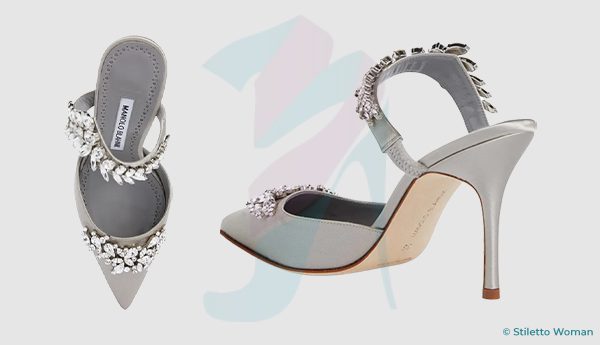 A renowned designer brand known for coming up with the most stylish pair of stiletto heels combined with modernity and grace. Manolo Blahnik aims to offer Uber-chic versions of stiletto heels to its customers by also offering them utmost comfort. These bridal heels by the brand have a glittery look but it is dulled down so it is not that flashy. Moreover, it features a closed toe design with a stiletto heel shape which can accentuate your legs too!
13. Christian Louboutin – Joli Queen Sandal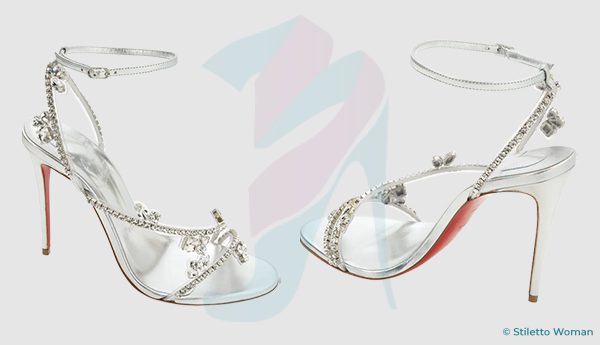 The designer who wanted to come up with a brand that oozed luxury and finesse, making no compromise on the heels quality, Christian Louboutin worked hard to achieve this aim. This is reflected in these glamorous bridal heels featuring a stiletto heel design, covered with embellishments, making them ideal for weddings or bridal wear. These heels, though have more inches, are easy to walk in, owing sturdy grip over your ankle. Hands down, these are the heels which would make jaws drop.
14. Bottega Veneta – Stretch Sandal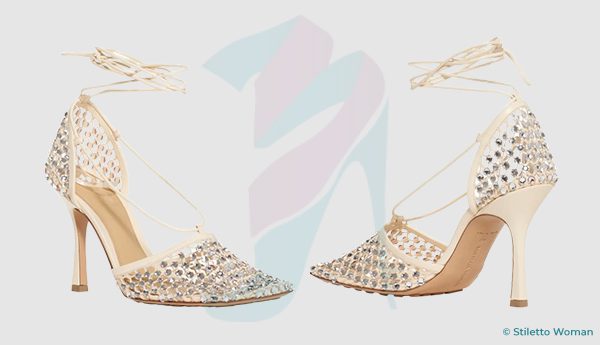 A fan of the strappy look over the embellishments look? Then these heels are the one for you. These heels by Bottega Veneta exude confidence and boldness. They come with a thick stiletto heel design and a tie up style. They have a beige shiny glow which easily makes them an excellent attention grabbing pair of heels for bridal wear. The best thing about them is that you could wear them with any outfit as this colour looks good on all outfits.
15. Valentino Garavani – Tan-go Pump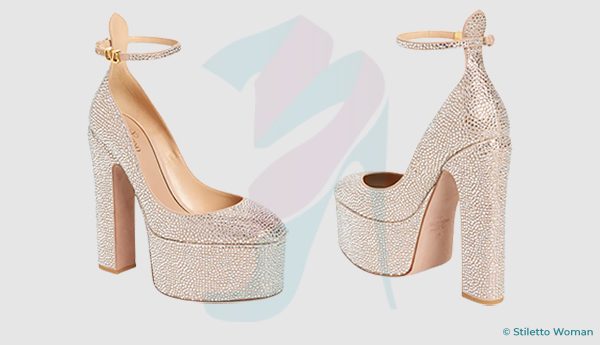 Last, but not the least, featuring the uber-chic and ultra modern – one of the most luxurious fashion brands in terms of heels, Valentino Garavani's heels are sure to have you stunned. These bridal heels come in a platform style which makes them quite unique. To add more to the finesse of the footwear, the designers added an ankle strap to it too which makes them all the more elegant. If you want more balance and support, along with utmost detailing then go for these bridal heels without any confusions.